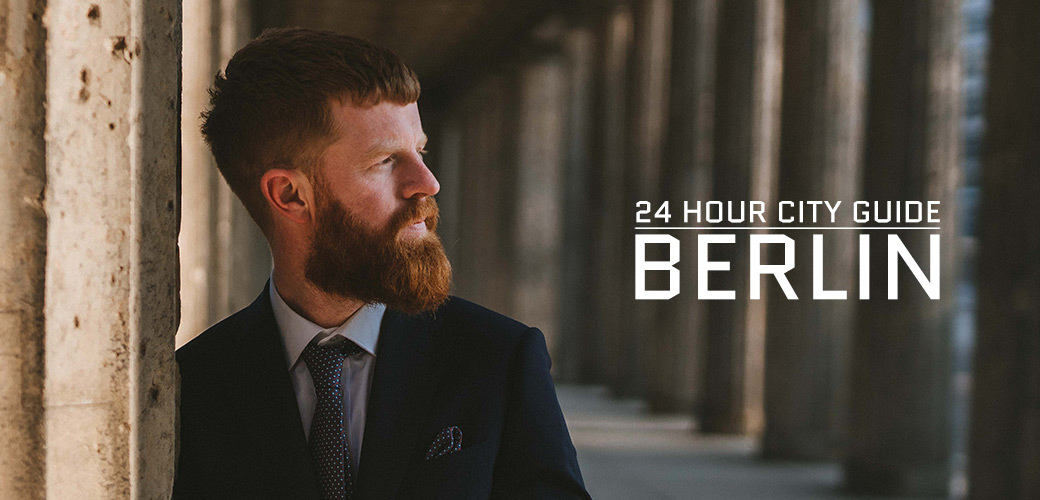 If you've got 24 hours in Berlin, this is how to spend them.
Time is tight in the city and the day-to-day is stressful, so when the chance comes to get away, you've got to make the most of it. Even a fly-in, fly-out business trip presents an opportunity to squeeze in a little downtime, but you're going to need an outfit that can go the distance.
The kit to do it in? The iTravel suit. Its pure wool cloth comes from Italy's prestigious Lanificio F.lli Cerruti Dal 1881 mill and has been woven with a high twist yarn to offer natural resistance to creasing, while a special finishing makes it waterproof and stain resistant. In other words, it's the ideal companion for life lived on the move.
With that in mind, we sent travel blogger Allan Edward Hinton (@chaiwalla) to put the iTravel suit to the test over 24 hours in Germany's capital. Here's his guide to the best spots around town to make the most of those free moments before, during or after work trips.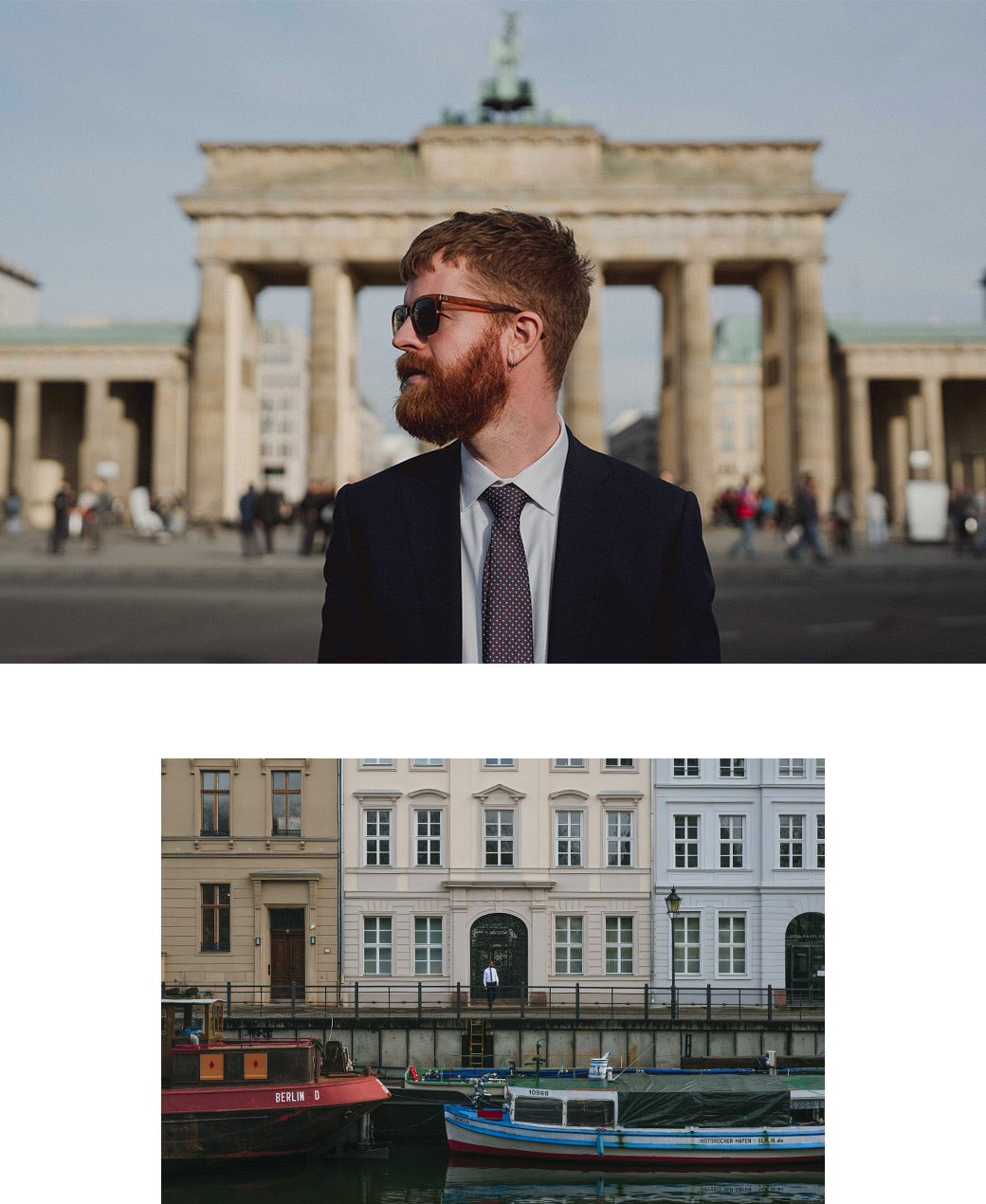 WHAT TO SEE
"When I discovered I was heading to Berlin, a city with fascinating history, I knew if I had time to spare the first landmark I'd want to see would be the Brandenburg Gate; an 18th-century neoclassical monument that went on to form part of the divide between East and West Berlin after the Second World War. It's such a grand and imposing structure you can't avoid being mightily impressed.
"The gate is also just a short walk from the unmissable Jewish memorial site and if you book in advance you can get a place in line for the giant spiralling glass dome of the historic Reichstag.I also walked over to the Seigesäule (the victory column) and for a couple of euros I climbed the winding steps to the top, caught my breath and got an amazing view over Berlin with the Tiergarden (a huge park similar to Hampstead Heath) below. This micro-walking tour was all done within a few hours and I didn't have to take public transport once.
"If you're feeling adventurous, Berlin also has its own version of London's Boris bikes and you can whizz around exploring the park. There's even a section facing the zoo where you can get a glimpse of some wild animals. Finish that off in German style at the Cafe am Neuen See biergarten; paddle boat hire on the lake optional (and depending on how many tankards of Bier vom Fass you've had)."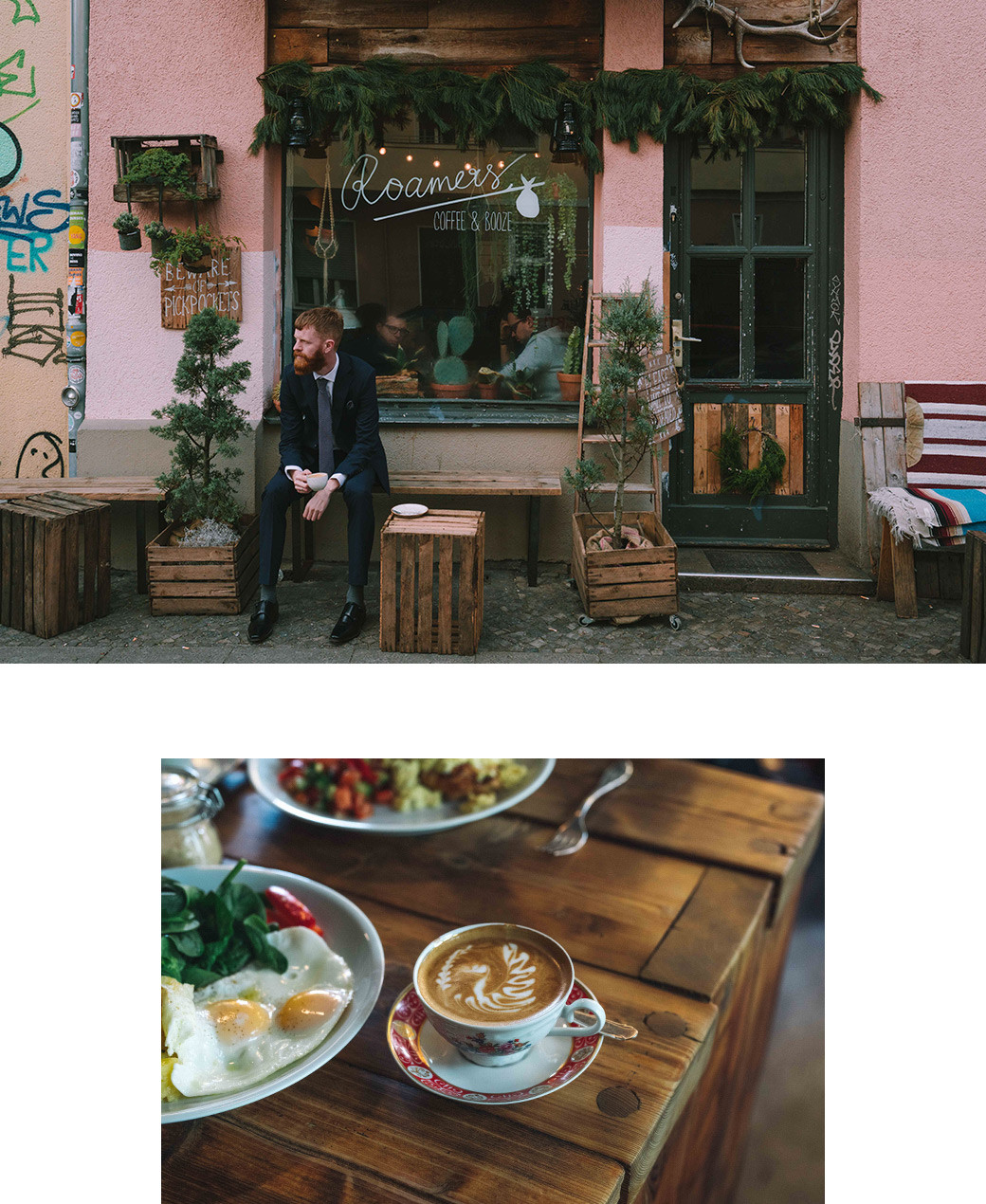 WHERE TO EAT
Brunch
"Roamers is a true hidden gem set in the up-and-coming neighbourhood of Neukölln. It's a small place but it's busy and atmospheric and the interior looks like something straight out of a Kinfolk magazine with a southern American twist. Plants and cacti adorn the tables and hang from the ceiling, and there's lots of exposed dark wood and interesting vintage Americana ornaments on the walls. The food is the star though, presented elaborately on trays. You can't help but want to take a photo. I went for poached eggs and avocado on toast and my friend had the full works with a hearty farmer's breakfast."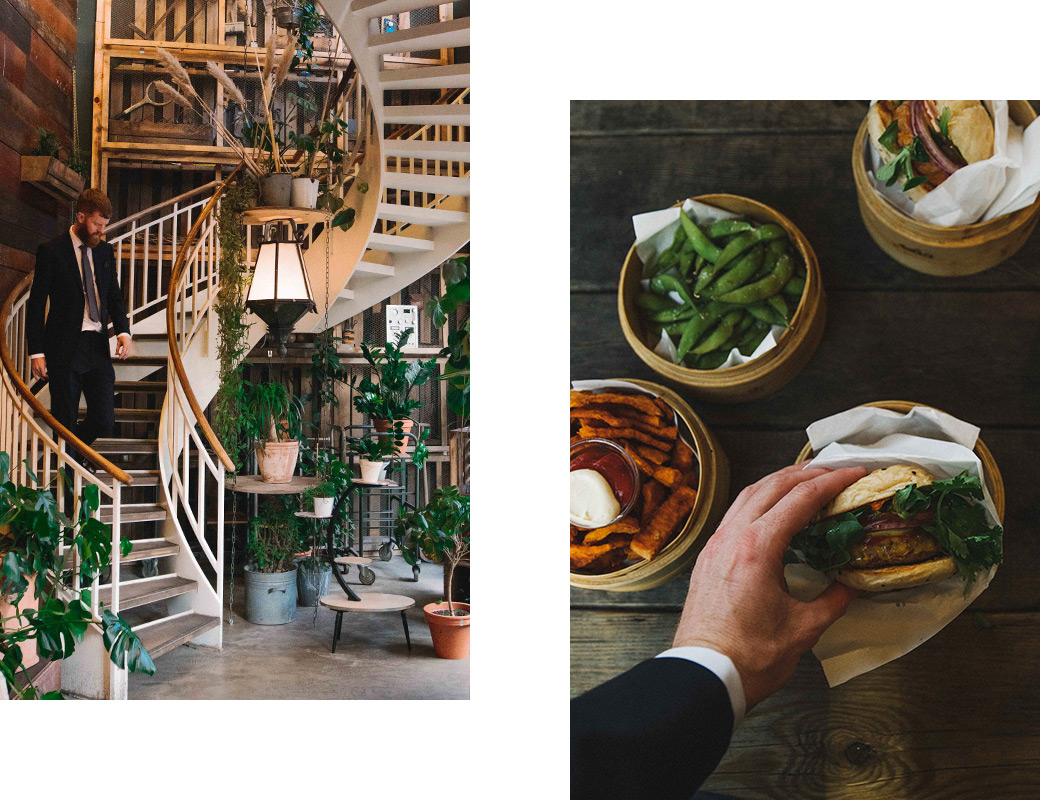 Lunch 
"Perhaps you've seen the staircase of my second option already on Instagram? The House of Small Wonders could have the most photographed interior of Berlin! It's pretty stunning, I have to be honest. It's located in central Berlin just off Friedrichstrasse and to get there you have to walk between impressive bold East German architecture. Once you're in the front doors, though, the place is very warm and inviting with the seating area up the glorious staircase. Surprisingly, the menu was a Japanese-American fusion all-day breakfast theme. I wasn't too brave with my choice and went for the potato gratin. It was dripping with cheese and thoroughly delicious and kind of perfect for a cold winter's day."
Dinner
"Shiso Burger is an innovative and novel concoction of two of my favourite things: burgers and Korean food. The flavours are intense but mouthwatering and for just £2 more I upgraded my beef to Wagyu. This place is apparently loved by the masses in Berlin and I can totally understand why. I highly recommend it if you're looking something fun, delicious and a little different."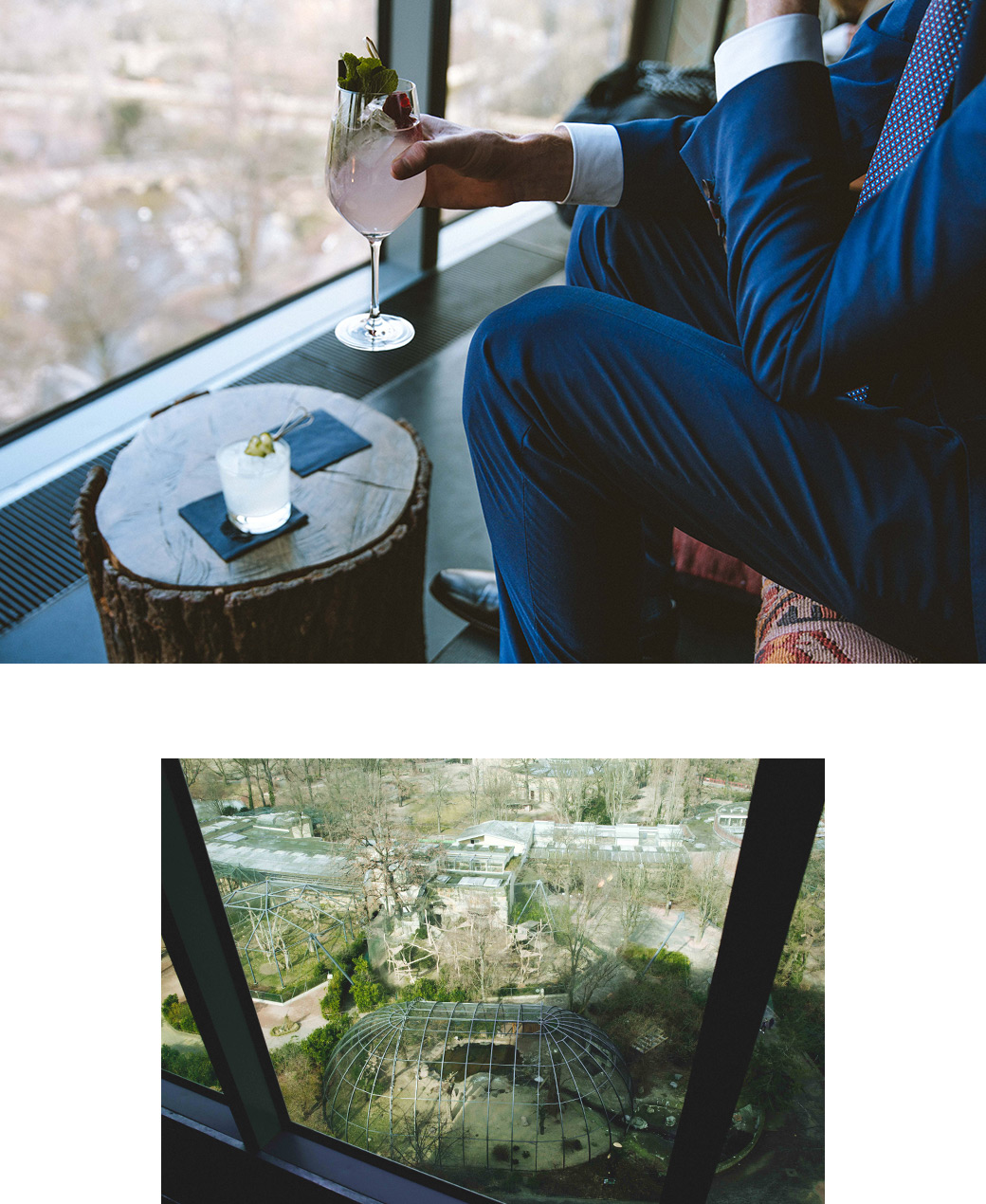 WHERE TO DRINK
"If you're on the lookout for a bar that has a view over the city, Monkey Bar should be top of your list. Not only do you get a view as far as the eye can see but the bar overlooks the local zoo — thus the name — and you'll be able to make a long checklist of all the different kinds of animals that you spot.
"The bar is modern and brightly coloured, but has kept the Berlin lounge vibe going by having different cosy and comfy locations where you can relax and unwind. There's an outside terrace to get some fresh air on the hotter days and it would be a great spot to watch the sun go down. The cocktail menu is focussed on traditionally recognised creations but presented with colourful touches and there are also other options such as beer and wine."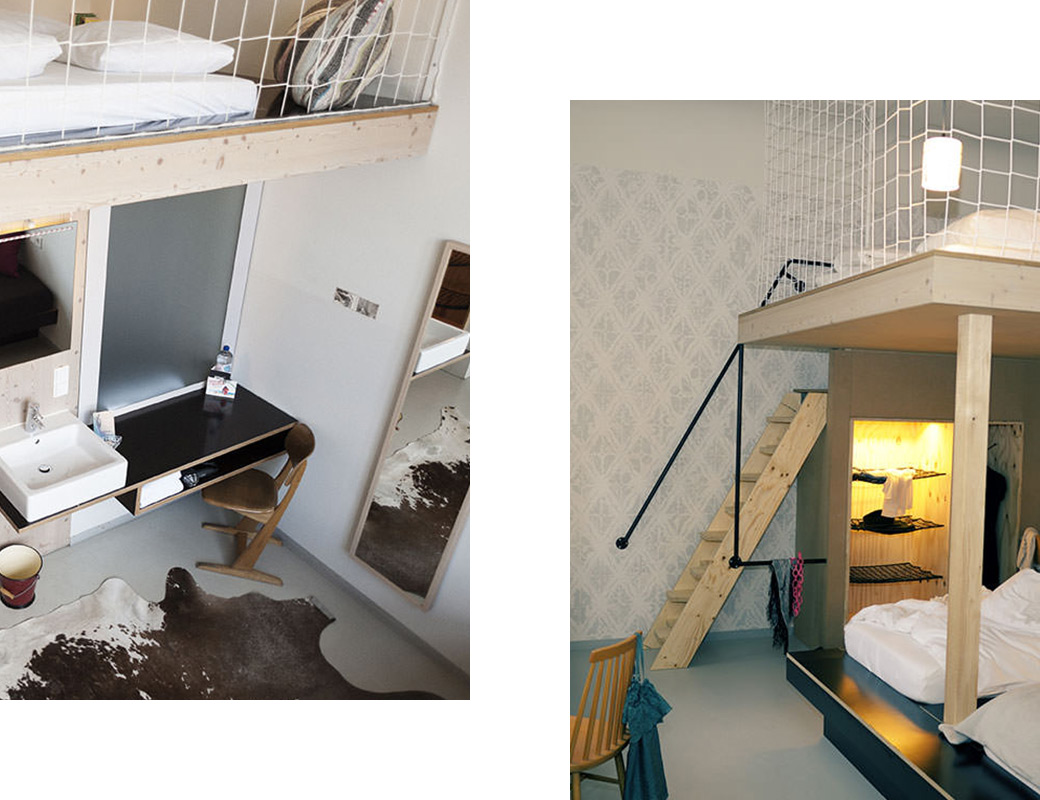 WHERE TO STAY
"25 Hours Hotel right in the heart of West Berlin is, in their words, "wild like the jungle, multifaceted like the city" and is a funky hotel set in a former 1950s highrise building with playful interior design by Werner Aisslinger. Bicycles hang from the ceiling, walls are littered with eye-catching slogans and illustrations, and the public areas have hip furnishings. The rooms are not huge but are packed with personality, envious views and tons of exposed concrete.
"I recommend the Michelberger for its style and value for money. Bang on-trend rooms are available for as little as £65. It's is over on the east side of Berlin and just a stone's throw from the East Side Gallery (worth checking out if you want to see a large stretch of the original Berlin wall that stands intact and covered in Instagram-worthy graffiti) and the impressive Oberbaum Bridge. Rooms are individually designed and filled with Berlin-style vintage furniture. There's also a courtyard that doubles as a beer garden and the bar stays open all night – there's a hearty breakfast available if you manage to stay up all night."
GO PLACES