How to copy your favourite celebrity wedding looks from 2022, with a little help from Moss.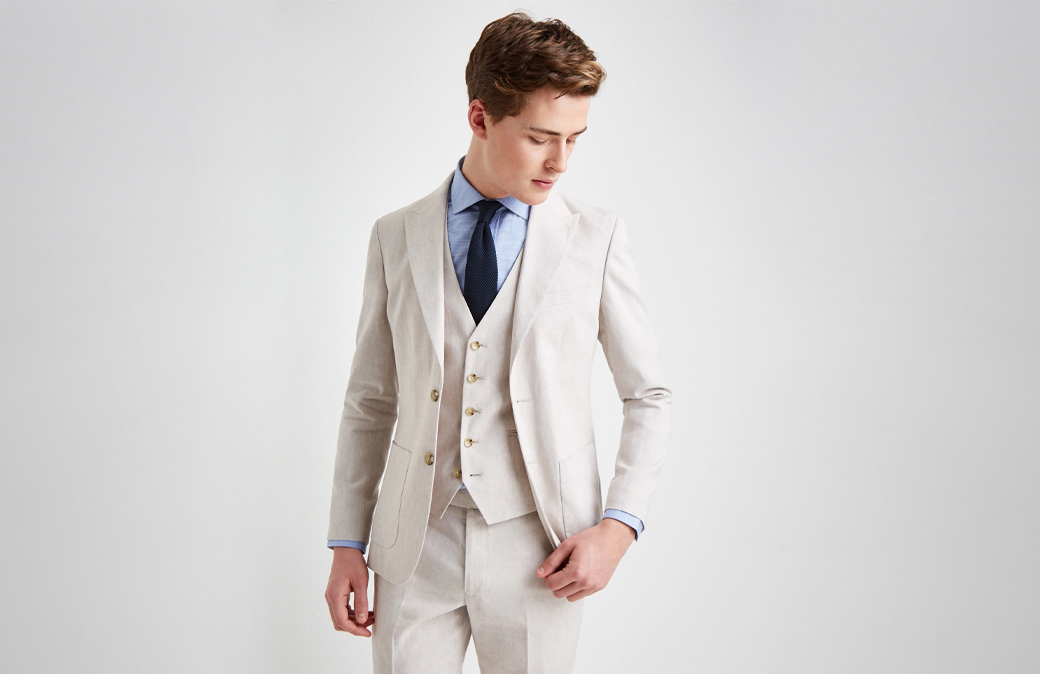 WEDDING SUIT INSPO FROM STYLISH CELEBS
Although the pandemic has caused a lot of disruption to weddings, there are a few lucky grooms who managed to say their vows.
While it's usually a wedding dress that gets all the attention, we've always got an eye on the suits when it comes to our favourite celebrity weddings.
How to get the celebrity wedding suit look
From Brooklyn Beckham's classic choice in a custom-made peak lapel tailcoat to James Middleton's bold choice for a summer wedding, recent celebrity weddings are a great source of inspiration for men's wedding suits in 2022.
Whether you're looking for some help with what to wear to your wedding (in that case, congratulations!) or simply looking for the latest trends in men's wedding suits, we've compiled a few of our favourite men's wedding suit looks and how you can recreate their outfits.
Brooklyn Beckham
View this post on Instagram
Brooklyn Beckham and Nicola Peltz's wedding was one of the most talked-about celebrity weddings this year. The two were able to tie the knot and say their 'I dos' at the Peltz family oceanfront Palm Beach estate.
Standing out in a custom-made suit from Dior, Brooklyn Beckham opted for a classic wedding suit including a black wool peak lapel tailcoat with a silver chain and matching trousers. He also wore a white cotton wing-tip collar shirt with plastron pique and jewellery buttons, a white bow tie and pocket square, and black polished leather shoes.
Brooklyn's choice was a great example of less is more, and that you can make your groom's outfit stand out by adding a few smaller touches like metal chains, or additional detailing to your shirt.
Below are a few pieces we've picked out to help you get a similar look to Brooklyn Beckham.
James Middleton
View this post on Instagram
Brother of the Duchess of Cambridge, James Middleton, married Alizée Thevent in France last September and looked incredible.
Pairing a classic choice of colours, the groom opted to wear a stone-coloured linen suit with a blue cotton shirt and blue tie, perfectly complimenting the beautiful weather and the location, Bormes-les-Mimosas.
If you are looking to complete the aesthetic of your farmhouse or summer wedding, we have you covered.
Juan David Borrero
View this post on Instagram
Juan David Borrero, the son of Ecuador's current Vice President, recently tied the knot with Victoria Secret model Jasmine Tookes. The wedding took place in the capital city of Ecuador and looked like an absolute fairytale.
While Jasmine looked like a princess, our attention was just as much on Juan. The groom chose to wear a custom-made suit by Armani, with a double-breasted tuxedo and black polished leather shoes.
Are you taken by Juan and Jasmine's wedding looks as much as we are? Here are a few pieces we have picked out so you can look like a royal at your wedding, too.
Harry Herbert
View this post on Instagram
The Honourable Harry Herbert, godson of the Queen, tied the knot with TV chef Clodagh McKenna. The wedding took place at the 5,000-acre estate of Highclere Castle in Hampshire, more commonly known as the Downtown Abbey Estate.
A high society union like this one can only mean one thing: a high-class dress code. Whilst Clodagh looked stunning on their big day, our eyes were on Harry Herbert's wedding suit. The Earl opted for a classy look in a morning suit he paired with a double-breasted cream waistcoat and a light blue tie, with a floral boutonniere to complement his bride's bouquet.
Mix and match your colours, patterns and textures to suit your personality. Shop to get your high society look here.
Harry Maguire
View this post on Instagram
Just this week, Manchester United footballer Harry Maguire married his childhood sweetheart, Fern Hakwins, at a stunning chateau in France.
For the lavish French affair, Harry chose a taupe three-piece suit with contrasting buttons, a crisp white shirt and chocolate brown accessories. It's a modern update on a classic look thanks to the monochrome feel and the single-breasted jacket and waistcoat.
Go monochrome with your summer suiting look and opt for a taupe linen with tonal brown or beige accessories, and a pocket square that ties it all together.
How to style a wedding suit like a celebrity
If you are looking at styling your wedding suit like a celebrity – the key is to focus on the smaller details, remembering less is more.
When shopping for your wedding suit, it's important to make sure you don't look like you're going to the office. You can avoid this by paying attention to the finer details like pinstripes or three buttons on suit jackets. You want to stand out from the crowd, so why not consider a three-piece, one-button or peak-lapel suit?
Another way to style your wedding outfit to look like a celebrity is by customising your suit. Book an appointment for our Custom Made service to get a look that's inspired by your favourite celebrity look, but unique to you.
For men's wedding suits, finishing touches, like personalising your handkerchief and matching your suit lining to your bride's flowers, can help make your big day feel even more special. To sharpen up your look even more, add a set of gold onyx or mother of pearl dress studs to complement your dress shirt.
Complement your partner. Accessorise your suit. Shop now to find your celebrity look.