A DEFINITIVE JACKET GUIDE
In need of a new jacket but can't work out what to wear? We've got the lowdown on three different styles – sports jackets, blazers and suit jackets – that you need in your wardrobe right now.
What are sports jackets?
Sports jackets – also known as sport coats – were originally designed to be worn during traditional sporting activities like hunting. Over time they've evolved into something that men used to wear for occasions that were less formal and didn't need a suit. They're still considered a smart outfit, though they're no longer linked with the outdoors or sports.
You can pick up sports jackets in lots of different colours and patterns (some of the more old school styles still have elbow patches, ticket pockets and pleats). Flannel, tweed, herringbone and houndstooth are some common fabrics you'll find them made from. They also aren't as structured or fitted as a suit jacket.
Sports jackets are the least formal jacket style versus blazers and jackets, so they're best paired with jeans or casual trousers. Just try not match them with trousers that are the same colour or fabric as your jacket to avoid that matching suit look. Because they're a looser fit, they work well when it comes to layering. Think men's knitwear like chunky sweaters, jumpers and turtlenecks under your sports jacket.
What are blazers?
A blazer is more fitted and formal than a sports jacket, but is still less formal than a suit. It sits in the middle of the two and helps to smarten up an outfit that would otherwise be way more casual. This style of jacket was originally inspired by naval uniforms, but quickly became more popular as workwear and leisure wear.
Traditionally, all blazers were navy blue but this has changed over time. You can now grab a blazer in most colours, fabrics and textures. They're more tailored than a sports jacket and usually have buttons down the middle. There's no rule about whether you wear them double-breasted or single breasted either, it's totally down to your own preference.
Wear your blazer with denim, khaki or chinos and a T-shirt for a more dressed-down look. If you're wanting to make it more formal, try a shirt and tie or a turtleneck. You can wear them with any type of shoe, just match them to the rest of your outfit.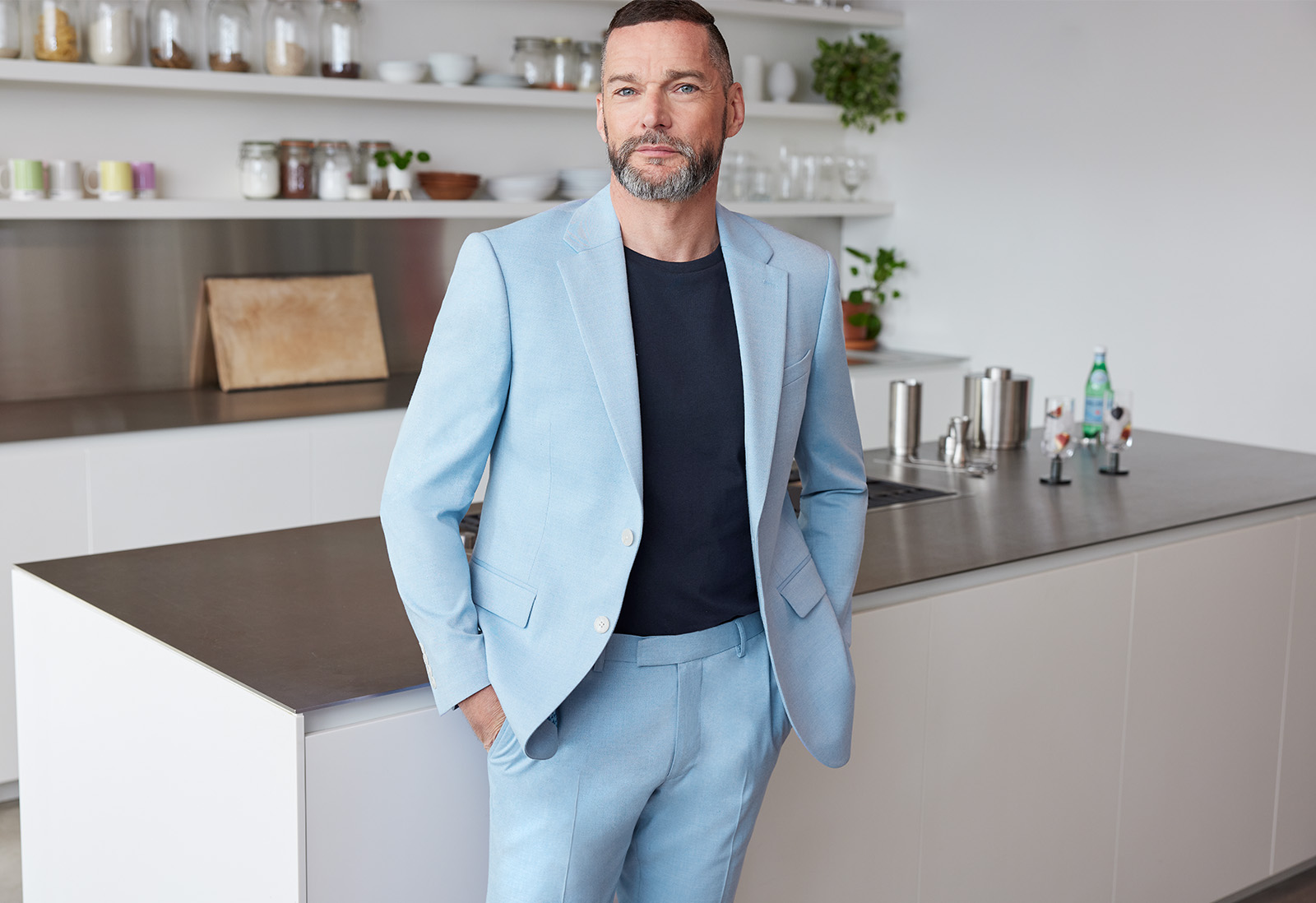 What are suit jackets?
Suit jackets are the most formal style out of the three different types. The biggest difference with a suit jacket is that it's designed to be worn as part of a suit, and has a matching set of trousers (and sometimes a vest or waistcoat too). This doesn't mean that you can't wear your suit jacket by itself, it just means that they come as a pair.
Suits tend to be worn for work and dressier events like weddings, dinners and the races. There are lots of different styles of suits depending on where you're headed. You can get a men's suit in most colours, materials and patterns, but a key difference is that they usually have less embellishments than blazers or sports jackets. They're also usually the most fitted of the three pieces, so don't usually work as well for layering with other items of clothing.
The best way to wear a suit jacket is the classic way: as part of a suit with a crisp shirt and tie, depending on the occasion. Still, if you wear them with jeans or chinos for more dressed-down events, no-one ever needs to know. They usually work best with a more formal footwear to match with their fitted, formal style.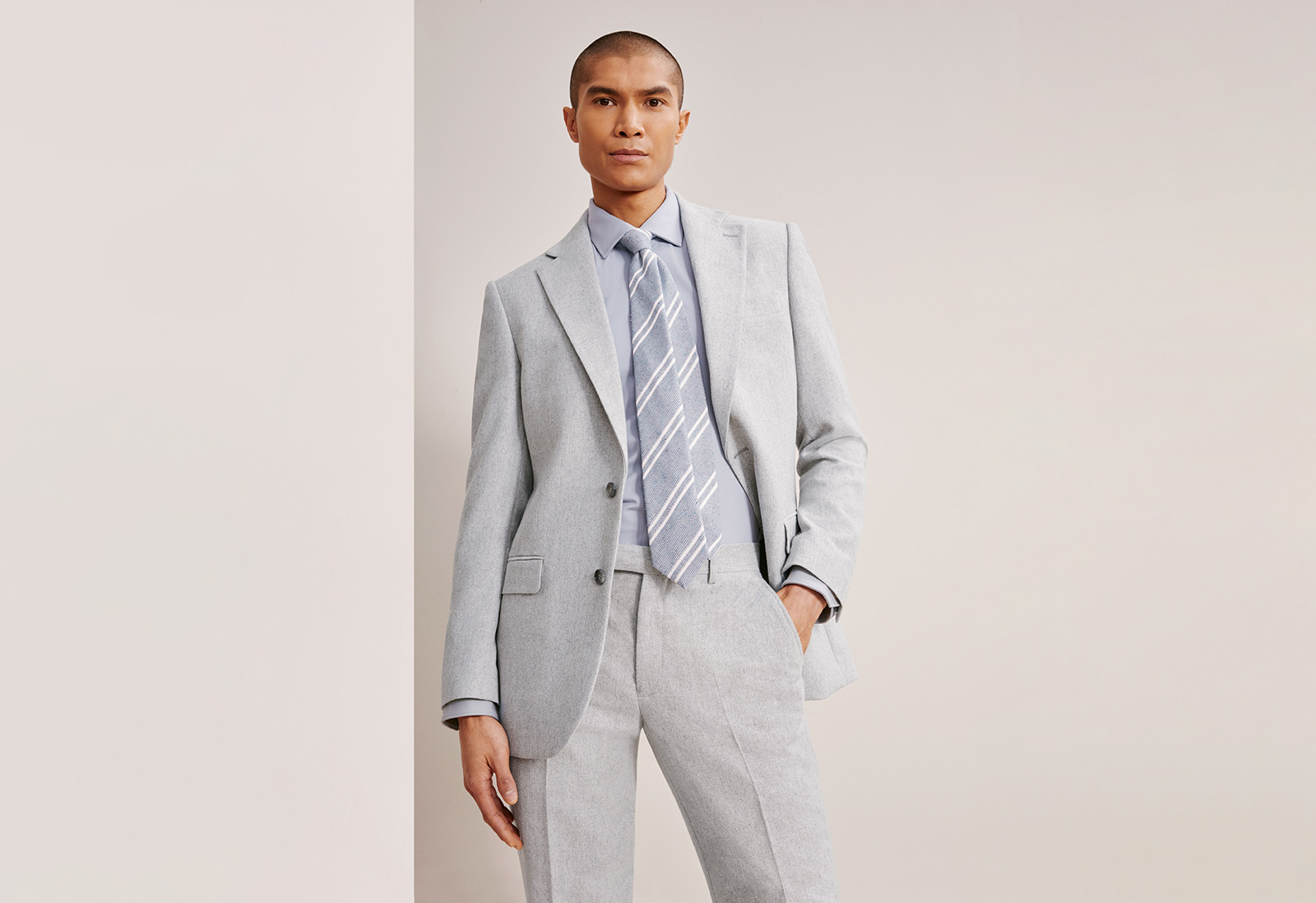 What other jacket styles do you need to know about?
There are a lot of other men's jacket styles out there, all of which work with different outfits and for different occasions. They come in different fits and styles too, so if you prefer a slim fit, or a looser one, it's worth experimenting with different styles and types of jackets to find your favourite fit. Experimenting with styles, colours and fabrics can totally change up your look.
For really formal events there are dinner jackets, dress jackets and tuxedo jackets. These traditionally come in black, navy and neutral tones but this does vary depending on the look you're going for. In some cases – such as black tie – you usually need to stick to the dress code.
If you're keeping it casual, then something like a shacket or bomber jacket can be a great finishing touch to your outfit. Both fits are relaxed and work well for dressed-down, casual days. These definitely aren't the outfit to throw on for a formal event, but they'll keep you looking stylish for when things are more chilled.
Check out men's smart jackets on Moss.