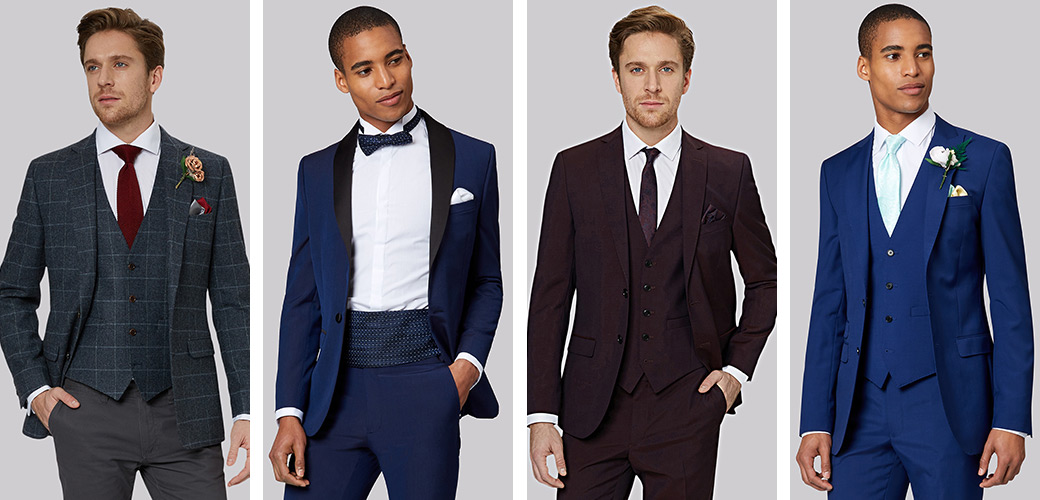 Whether you're marrying in a rustic barn or a grand classical ballroom, your wedding suit should complement your surroundings so the marriage of these two styles is pretty key.
Written by Emma Hla, Coco Wedding Venues
There are usually twitchy knees a-plenty during the festive season, so if you're one of the ones that got engaged over Christmas and New Year then congratulations! How ruddy exciting!
Whilst I always advise taking a little time to enjoy the just-engaged bubble, it's also very tempting to start the wedding planning ASAP – especially the venue search as locations can book up one to two years in advance… gulp.
But, once you've found the dream spot to marry, then it's time to turn your attention to the fashion. For the bride, the wedding venue and the wedding dress go hand-in-hand and I don't see why it should be any different for the groom!
To help guide you through this style dilemma I've selected eight of my most-loved venues and matched them with the perfect suit. Pretty handy right?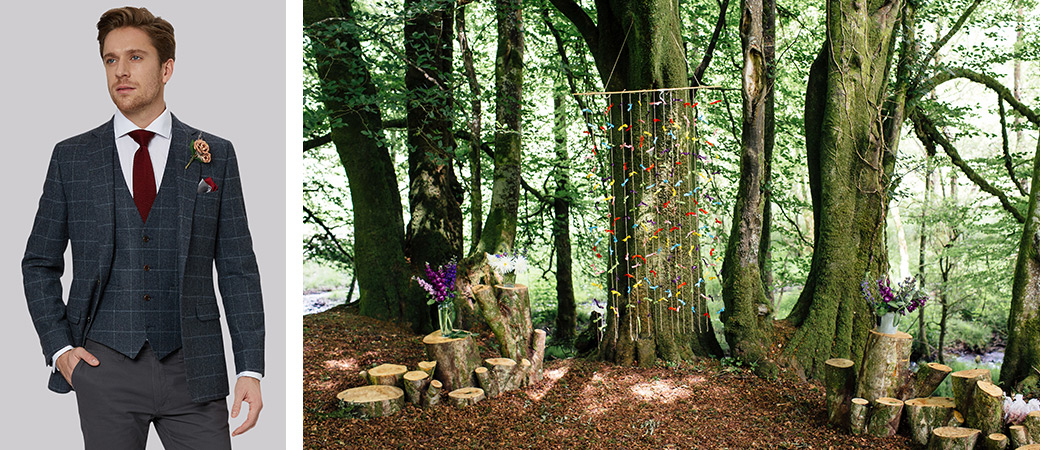 Venue: Streamcombe Farm; Photo: Freckle Photography
THE BOHO ONE
Streamcombe Farm is a magical venue completely 'off the beaten track' and unspoiled by modern farming. The meadows are wild and very natural, the streams are crystal clear, and with no near neighbours, you often hear no noise other than the stream and the buzzards calling.
Beautifully wild, it's the perfect location for an outdoor boho celebration and what could be better than a bit of tweed to reflect this outdoor vibe. For me, boho always airs on the side of being a little bit dark and moody, so I've opted for this tweed-style jacket and waistcoat in grey.
Tweed is a key trend for groomswear that shows no signs of slowing down; for the modern goom it offers a more relaxed feel. To ramp up the bohemian look pair with floral shirts and contrasting patterns such as another check. Cut in a smart, tailored fit (so it's not like your Granddad's boxy tweeds!), you can buy the coordinating chinos from Moss Bros.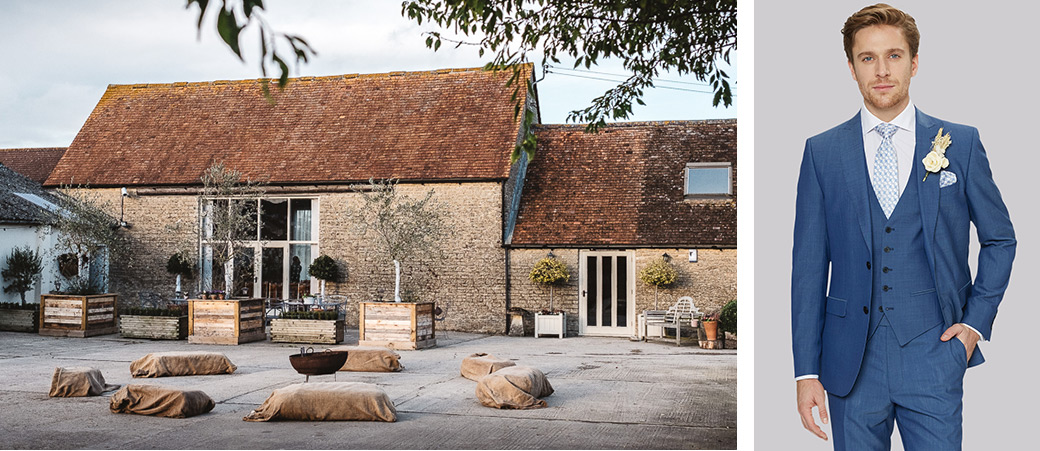 Venue: Stratton Court Barn
THE RUSTIC ONE
I'm crushing on this lounge suit – a contemporary option that looks rather at home in rustic locations thanks to its soft, faded blue hue. Brown leather shoes match really well and I love the geometric detailing on the lining. Cut in a fashionable slim fit, the package includes the full look (slim-fit shirt, tie or cravat and a pocket square). So now we have the look we need a rustic venue, but which one?
Meet Stratton Court Barn – it's found at Pool Farm, set amidst rolling Oxfordshire countryside, yet only 10 minutes from Bicester. Once you enter the venue by the gorgeous tree-lined drive, the peace and quiet of the countryside will surround you and provide a gorgeous backdrop for your celebrations.
Originally built in 1870, and thoughtfully refurbished, the barn has kept its rustic charm, making it the perfect setting for wonderfully intimate, relaxed and happy celebrations.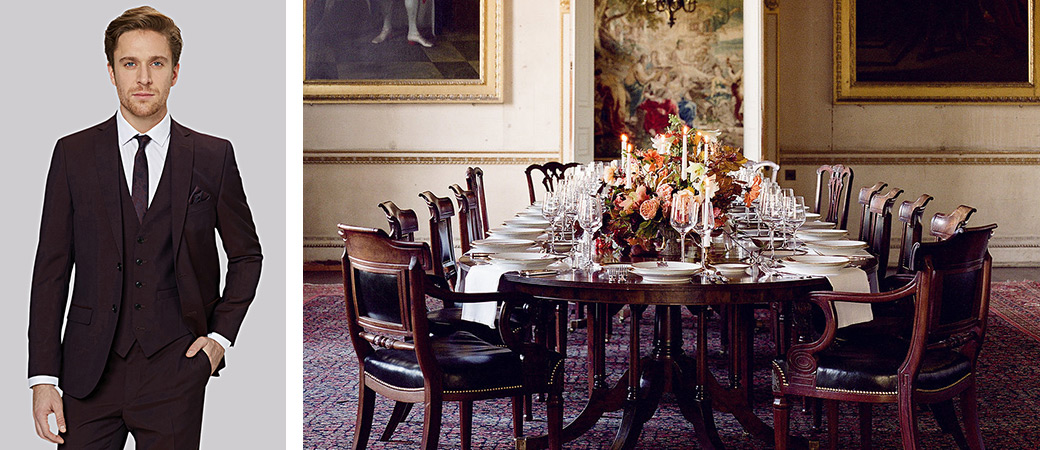 Venue: St Giles House; Photo: Taylor and Porter
THE LUXE ONE
Nothing says luxe more than a deep, sexy burgundy and this limited edition, fashion-forward lounge suit is my pick for a wedding at St Giles House.
At this fine-art county house located in Dorset you can marry surrounded by fireplaces and old master paintings or in their intimate and romantic grotto. This delicate Shell Grotto forms part of the 'Pleasure Grounds' built in the early 18th Century using shells brought back from the Caribbean. It's perfect for couples looking to wed in a unique and magical setting.
The Moss Fuchsia Berry Lounge Suit is a bold, richly hued fabric and has depth and surface interest for a luxe finish. A truly standout look for the groom, it's a wedding suit that's cut in a fashionable slim fit. Pair with tonal damask accessories with a metallic edge and you'll fit right into this location.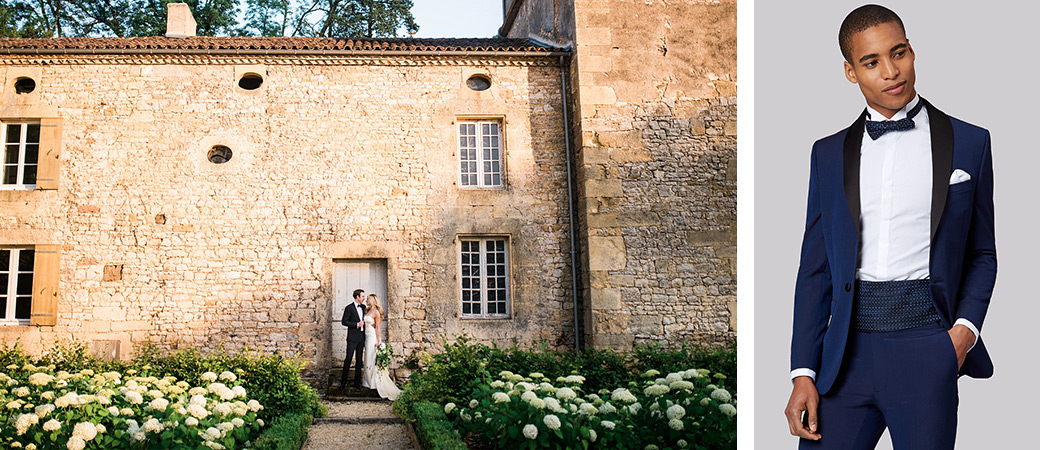 Venue: Chateau de Redon; Photo: Ryan Flynn
THE DESTINATION ONE
Chateau de Redon is a romantic French venue in a unique, relaxed and natural landscape. Set in a 2-hectare private park with rare, century-old trees it offers a perfectly secluded and exclusive location for your wedding. The Chateau has been completely renovated in 2013 with a taste for modern design and respect for all the authentic elements: century-old oak wooden floors, chimneys with majestic mirrors, fine handcrafted mouldings and woodwork.
To complement such a location the high fashion Moss London Blue Tuxedo is a luxurious option. Cut in Moss London's fashionable skinny fit, there's still a nod to the venue's history with its formal eveningwear vibe. The full hire package includes the cumberland and bow tie so you can relax knowing you're faultlessly turned-out for such a flawless venue.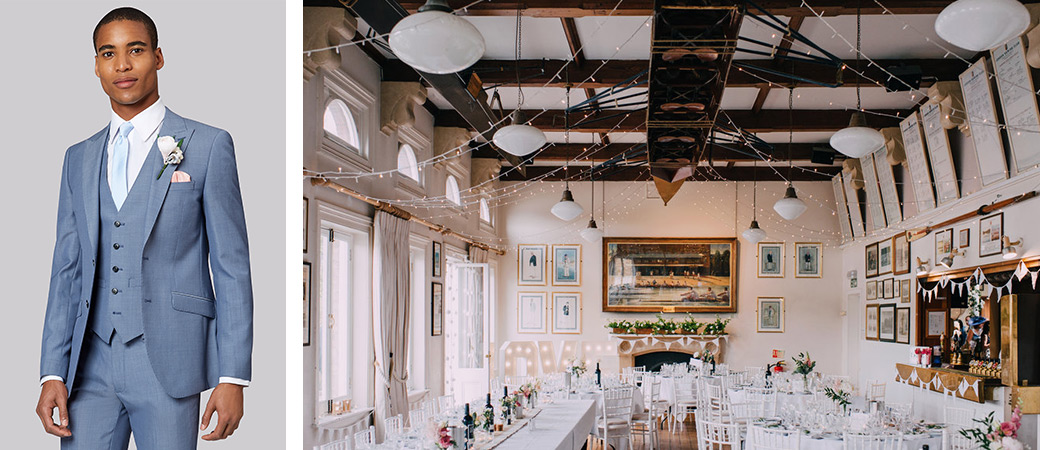 Venue: London Rowing Club; Photo: Anne Shwarz
THE VINTAGE ONE
The London Rowing Club is a new addition to our collection of venues so what better than to pair it with a new suit for 2018! This limited edition, sharp, skinny fit wedding suit comes in a perfect vintage-inspired iced pastel shade which is super on-trend for this new year.
The Light Blue Suit has a 'preppy' appeal in-line with the venue's rowing-themed décor. The London Rowing Club is the oldest club on the Thames embankment, established in 1856, so the club's interior is full of memorabilia, including pictures of the club over the years, awards, oars and even a boat on the roof!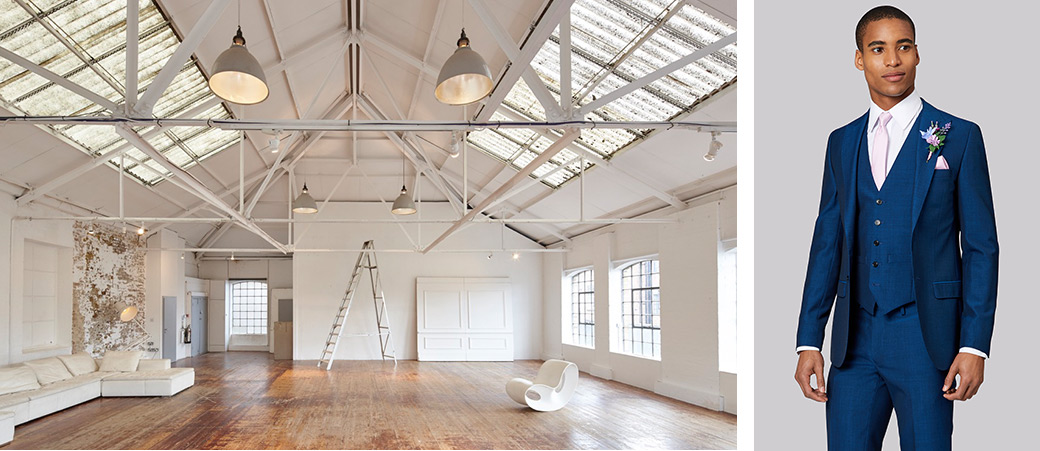 Venue: AREA
THE CITY ONE
AREA is a wonderful blank canvas venue and the perfect space for a vibrant city wedding. Located in London's creative capital, Shoreditch, this is one of the most fashionable hangouts where innovative bars, restaurants, shops and clubs pop up every day alongside traditional east-end trades. AREA is all distressed wooden floorboards, exposed brickwork, a high vaulted ceiling and original Victorian windows, all of which give this space the wow factor.
So, if you want all eyes on you in a space like this then we think you need a wedding suit which also has the wow factor! Step in the Moss London Blue Suit in this fearlessly bold shade of blue. It's cut in a sharp, slim fit suit with fashionable notch lapels that add to its 'special occasion' feel.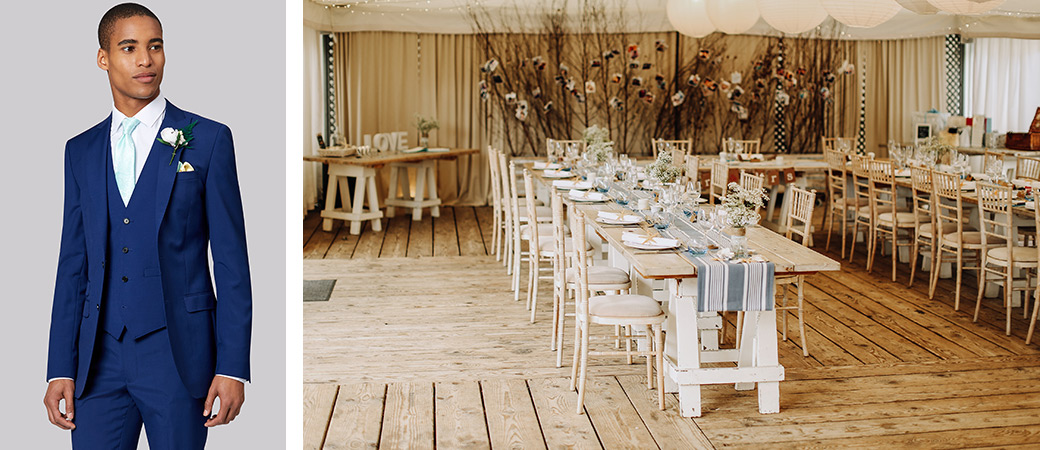 Venue: The Gallivant
THE COASTAL ONE
French Connection has got you covered should you choose a seaside wedding. This Sky Blue Lounge Suit hue nods to the ocean but it also just so happens to be a huge trend for groomswear.
French Connection suits are cut slim around the shoulders and waist for a flattering, modern fit and the wool-blend gives it a nice handle (the name for how the suit fabric feels) but still comfortable and cool enough to wear all day – especially important if you hit the jackpot and have a glorious summer's day wedding! This particular style is also available in Junior sizes so your little guys can match the older guys.
So, which venue? Well, The Gallivant is a pretty epic venue on the raw coastline of Camber Sands in East Sussex. Weddings at The Gallivant always take place on an exclusive basis, meaning guests can enjoy the entire hotel and its 20 individually-styled bedrooms for themselves.
In the warmer months, guests enjoy weddings naturally flowing between the beach and the coastal styled marquee. In the cooler months, the open log fire in the New England Room and the heated marquee creates a beautiful Scandinavian/Hamptons themed environment.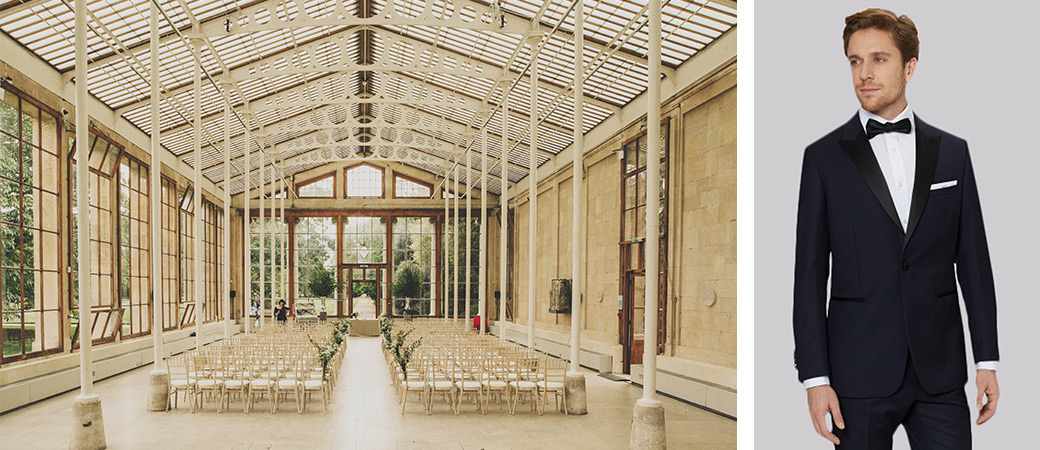 Venue: Kew Gardens; Photo: Ali Paul
THE CLASSIC ONE
I've saved my favourite venue for last – the incredible Royal Botanic Gardens in Kew, London. With floor-to-ceiling windows on three sides, the Nash Conservatory provides an abundance of natural daylight for your wedding celebrations. The Conservatory is the oldest of the 19th Century glasshouses at Kew and is of major historical and architectural importance making it a unique venue for your event. The style of this venue is super versatile but I think it's the perfect backdrop for a classically elegant wedding.
Classic doesn't necessarily mean traditional, and while tails would certainly suit this space, I urge you to opt for a dinner suit instead. There's something very dashing about a man in this particular attire and, believe me, your bride or groom will go a little weak at the knees when they see you in one.
Emma Hla is founder of Coco Wedding Venues – a curated collection of wedding venues and big day inspiration for style-focused couples. Browse her directory of beautiful and unique venues by style or location and find more wedding inspiration on Instagram and Facebook.