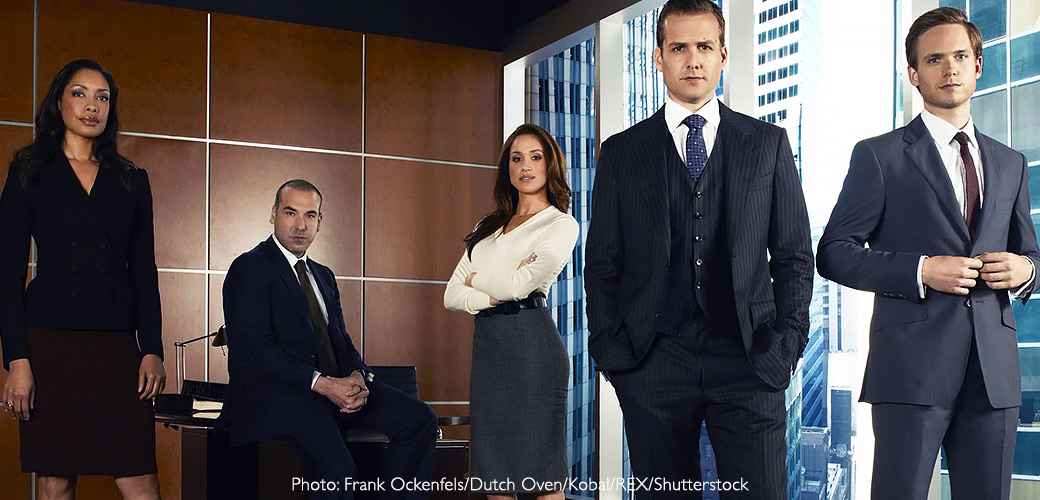 TV series Suits is a lesson in sharp dressing. Whether you're more like Harvey or Mike, this is how they get their looks – and how you can too.
There's a reason Suits is called Suits, and it's not just because Lawyers would fall a bit flat. The suit is a timeless symbol of power, which is what this series is all about. In fact, Harvey sums it up a treat in the very first episode: "People respond to how we're dressed, so like it or not this is what you have to do".
But the stark contrasts between how the two main characters Harvey Specter (Gabriel Macht) and Mike Ross (Patrick J. Adams) dress goes to show that smart doesn't mean the same for all men. Here's how dressing for power and personality looks like for each of them.
ARE YOU AN ULTIMATE CLASSIC LIKE HARVEY?
As senior partner, Harvey shows he means business in everything he does, including what he wears. You can tell he spends a lot of money on his suits, and not just because he's a VIP customer at a high-end New York tailor.
Harvey goes down the traditional route with his outfits. You'll often see him in a 3-piece, finely tailored for breadth across the shoulders and chest, and slimmer around the waist. He usually wears a dark plain or pinstriped material, with ticket pockets for that classic finish. And he always goes for a wide peak lapel – he clearly wants to get noticed.
His entire look says 'bigger is better'. He selects the widest silk ties he can find and often goes for a thick spread collar. You'll also rarely see him without a pocket-square folded presidential style – the definitive business look.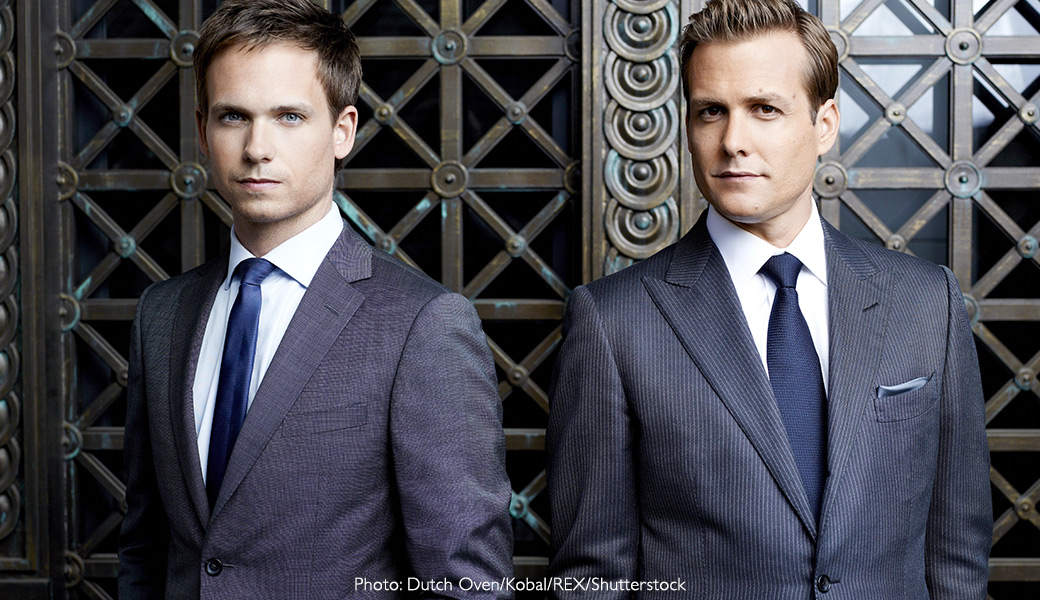 GET HARVEY'S LOOK
To follow Harvey's lead, go for a tailored fit suit, or go all out with a suit made just for you. Our Moss 1851 suits are cut in a tailored fit, as are Ted Baker's, which also have a loud lining for extra impact. Look out for ones with peak lapels, and choose a silk tie that mirrors the width of your lapel to complete the look. Harvey wouldn't waste his time with a schoolboy knot either – a full Windsor is a far more refined choice for those at the top of their professional game.
…OR ARE YOU MORE LIKE MIKE ROSS?
Young Mike, however, isn't your typical lawyer – in fact, he doesn't even have a law degree. He goes for a much more laid-back style in line with his place in the firm's pecking order and his more carefree attitude.
Mike's slim fit suits with narrow lapels have a younger feel. He tends to keep things pared back with plain 2-pieces and notch lapels. After all, he's the more understated character and he's less inclined to show off.
Like lots of millennials, he keeps his ties skinny. And when he wants to dress up, he goes for a tie-bar – simple but it makes a statement.
GET MIKE'S LOOK
Want the look for yourself? Reach for a slim or skinny fit suit in navy or grey. Our Moss London suits are skinny fit, or you could go for brands like French Connection or DKNY for a slim fit. Finish the look with a close-fitting white shirt and a simple skinny tie – easy.