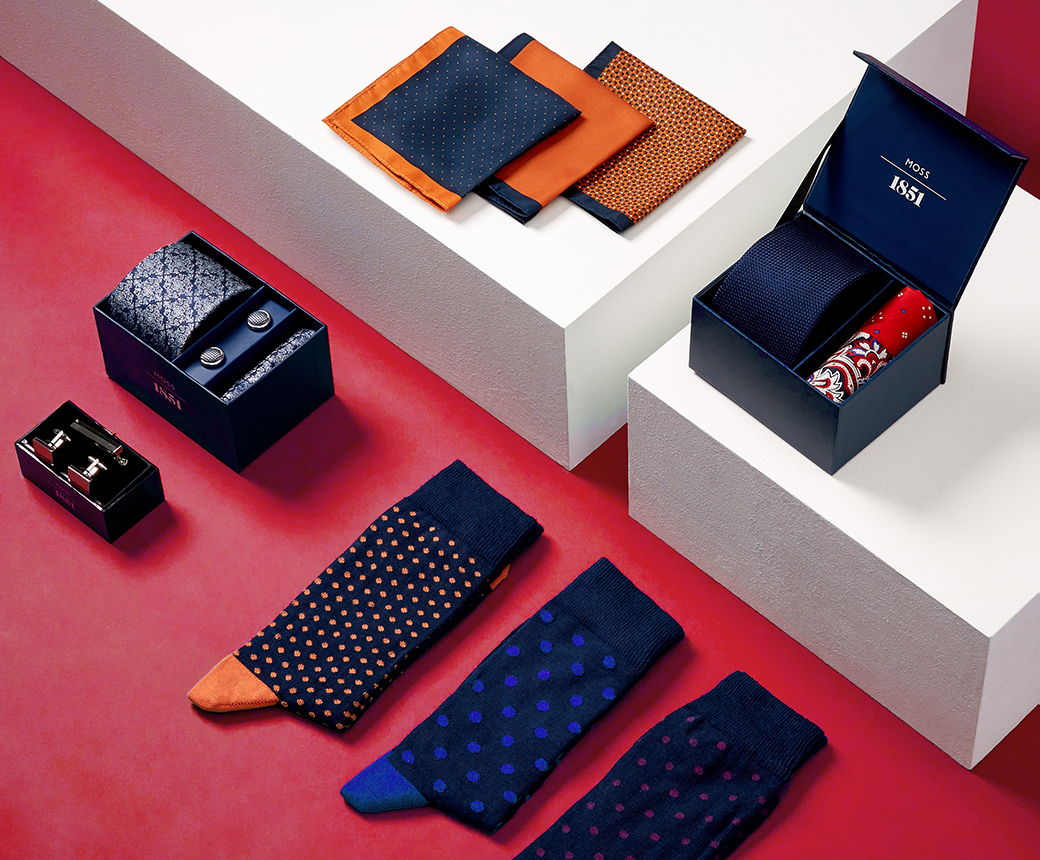 It's sale time. A fine excuse to pick up a bargain or invest in something that might otherwise be a little out of your reach. But where do you start? With so many sales on at the same time, and so many items to catch your attention, it's hard to know how to get the best return on your hard-earned cash.
If anyone knows what makes a good purchase, it's our buying team, so we've enlisted their expertise to help you shop the sale like a pro. Their advice? Go in with an occasion or a certain look in mind. Here's their pick of the smartest buys in our summer sale:

Got a wedding coming up? Break free of the same old suit you pull out every time and use the opportunity to try something new for less. An ice-blue suit is a crisp option for summer occasions and makes a great alternative to greys or darker blues. This version also comes in all 3 of our fits – skinny, tailored and regular – so there's an option for every shape and build.
A coordinated sky blue knitted tie and pocket square is an unexpected choice for weddings and this matching set makes it simple to stand out against more traditionally dressed guests. The sale's also a great opportunity to upgrade your white shirt with a textured jacquard version and pick up a pair of always-wearable brown dress shoes, such as this stylish monk pair by John White.
Though it's a trend-led option, an ice-blue suit offers remarkably versatile styling opportunities. Switch out the white shirt for a pastel blue or pink version and either keep things tonal with darker blue accessories or take advantage of sale prices to be a bit bolder with colourful floral braces.

Maybe you've left it to the last minute to get your outfit sorted for prom (we understand – it happens). If that's the case, may we suggest a skinny fit grey 3-piece suit as a great investment that will see you stylishly suited up for prom night and beyond? Add interest with bright and bold accessories. Top tip – look out for ties with tie bars included to get even more bang for your buck.
Already got your prom suit? Use the sale to pick up a standout shirt to amplify your prom look.
From puppytooth to floral to a slick black version: anything goes, so be brave!

By the time the middle of the year rolls around, it's easy to feel a bit stuck in a rut with what you wear to work every day. Now's a great time to invest in something a little more interesting that'll refresh your weekday wardrobe now and still work when the new season kicks in.
Texture was key for this season and will continue to be for AW17 and beyond. Why not upgrade your daily uniform with a textured wool suit in on-trend airforce blue or silver grey?
Now you've got the base sorted, brighten up your business look for the summer with light blue, pink and lilac. Carry on the textured theme with geometric or striped patterns – a simple way to lift a so-so look to something much more interesting.
And finally, pick up some classic accessories that'll see you through the rest of the year and into next, such as leather brogues or monk shoes and pastel-patterned accessories.