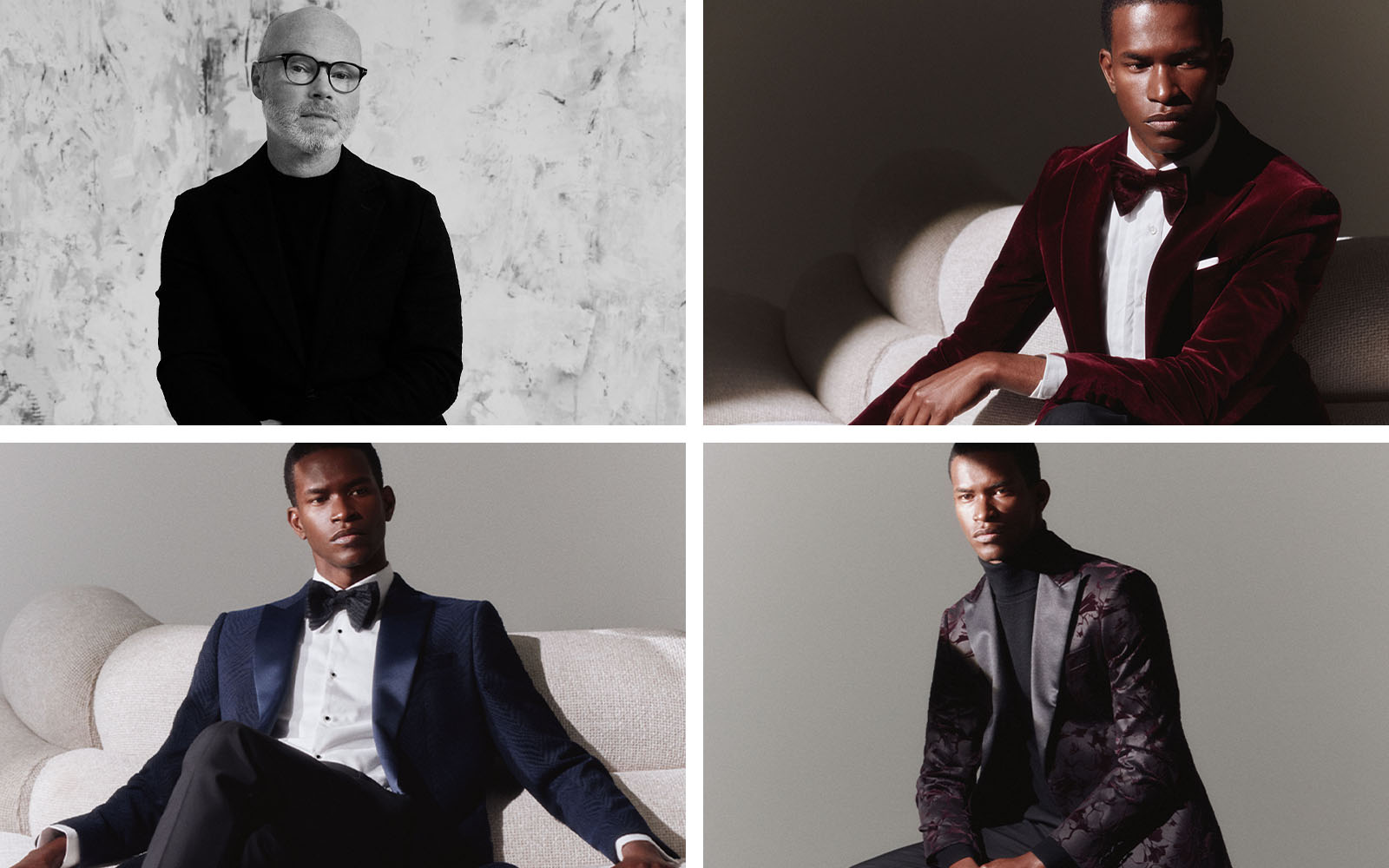 It's time to step into the spotlight
Gareth Scourfield is contributor to GQ, Esquire and Gentleman's Journal, stylist to high-profile clients like Ben Whishaw and Daniel Craig – and our guest editor for AW23. Here he reports on the evolution of the black tie dress code and gives his tips on how to embrace a little black-tie bravery yourself.
Getting invited to a formal event with a black tie dress code can be overwhelming. The classic black tuxedo, white shirt and bowtie combination might feel safe but can often feel a little restrictive too. However, as any recent red-carpet event or award ceremony will testify, lots of men are now being more daring and creative with their evening looks. And you can too: with a little thought and creativity, you can step up your look to embrace the spotlight this black-tie season, while still looking elegant for the occasion.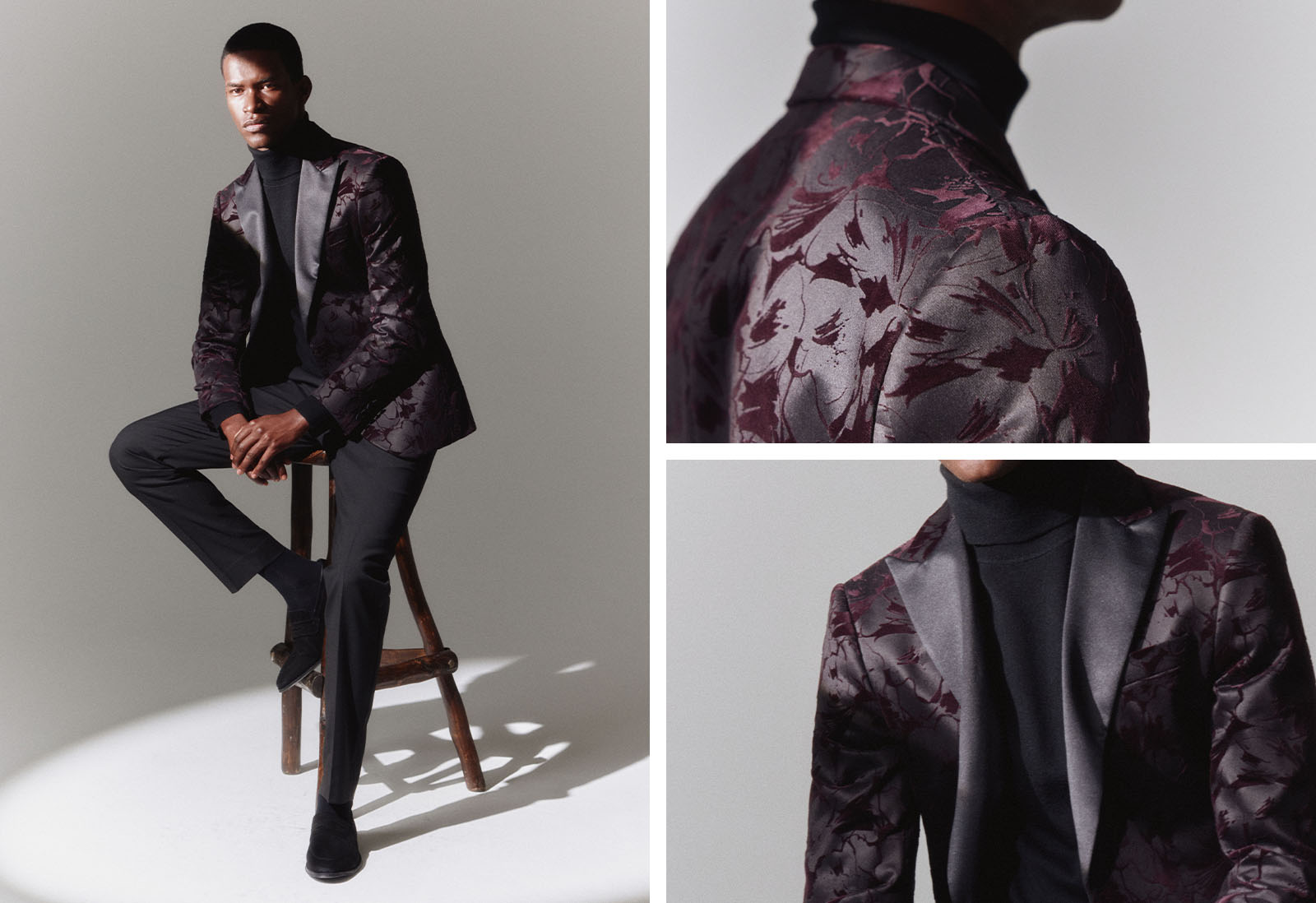 The evolution of men's eveningwear outfits
Look over any number of recent red-carpet events and you'll see men have been pushing the boundaries of eveningwear with unique design details and daring choices. No longer confined to the classic black suit, they are experimenting with different colours, textures, and patterns that reflect their individuality. Rich-coloured velvet blazers and midnight blue textured tuxedos offer up a bolder alternative to the traditional black tuxedo.
The design influences of 1970s evening wear, which first filtered down from the designer runway shows a few seasons ago, continue to make an impression on the traditional tuxedo suit – wider lapels, more generous proportions, fuller bow ties and louche silk shirts, often unbuttoned, have Saturday Night Fever all over them. Popular colours of the '70s such as dark browns and creams along with pale blue and pink ruffle-front dress shirts are also having their moment at glittering events.
This shift towards more confident dressing can be attributed to several factors. Firstly, society is becoming more accepting of diverse expressions of masculinity. Us men are no longer limited by outdated notions of what is considered 'appropriate' or 'masculine'. Secondly, there is an increasing emphasis on self-expression in today's culture. We're realising that our wardrobe choices can be an extension of our personality. With so many more options now available, we all have the freedom to curate our own black-tie looks that truly reflect who we are.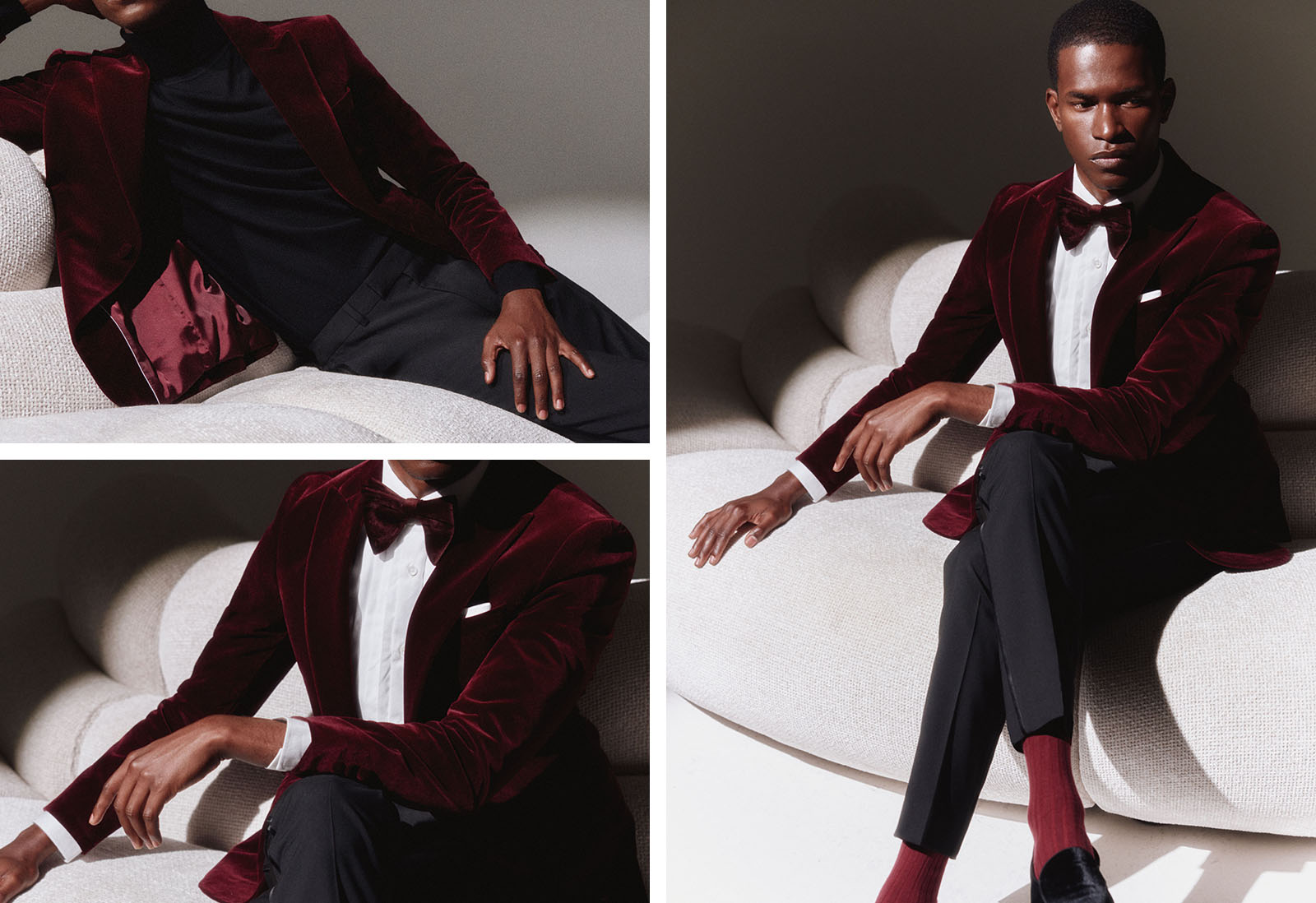 step up to the black-tie dress code
Over the last decade, I've witnessed first-hand this subtle shift in black tie dressing with the celebrity clients I style for red carpet events. The expanding choices in men's evening wear has allowed me to introduce new interpretations of the traditional black tuxedo, bringing out more of the individual's personal style and taste. It can be very nuanced, with only subtle changes such as switching from a black patent lace-up to a velvet slipper, adding a piece of jewellery or choosing a velvet jacket or textured jacket rather than the traditional black tuxedo.
The sophistication that comes with donning a well-tailored tuxedo is unmatched. It's not just about the garment itself, but also the confidence it instills in the wearer. Achieving that perfect fit and selecting garments with elegant proportions are key factors in creating your impeccable look, as are the tuxedo's design details like satin lapels and pipe-seam trousers. Every element should be carefully curated to enhance the overall aesthetic – small details like making sure your bowtie is properly tied and your shoes are well-polished can be the difference between appearing polished and leaving a positive impression versus falling short on it.
Beyond the glamour, black tie dressing teaches us an important lesson – that confidence comes from within. When a man feels comfortable and stylish in his outfit, it comes through in his demeanour and interactions. It reminds us that dressing well is not just about impressing others, but also about feeling our best selves.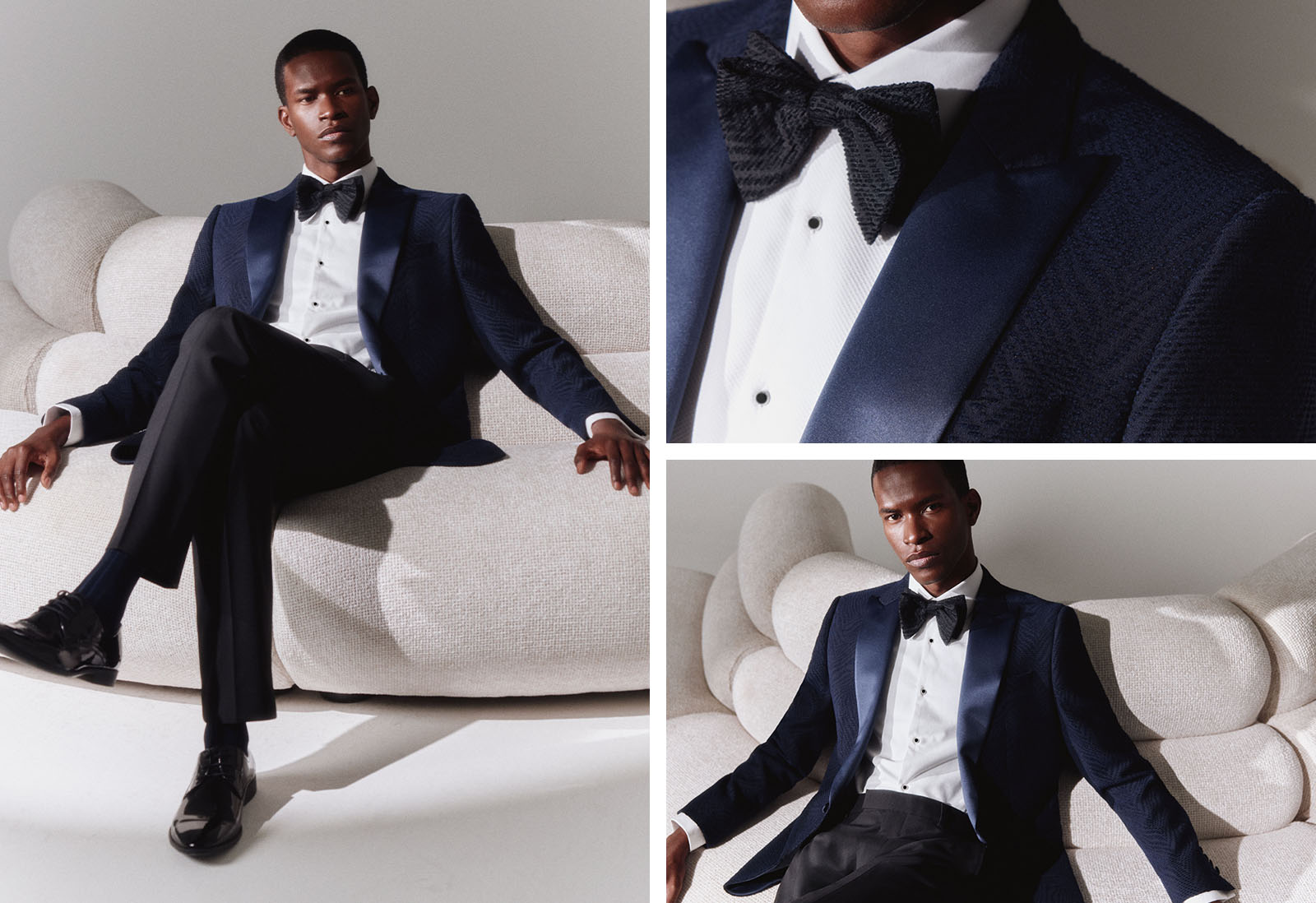 6 tips for the perfect black tie outfit
FIT: Make sure the tuxedo and trousers are tailored to your body shape. Jackets should fit neatly across the shoulders and chest. Bulging biceps and pulled lapels are not a good look. Sleeve length should stop short to show about half an inch of shirt cuff. Trouser length should have a small break, meaning very little fabric around the hem and ankles.
FOOTWEAR: Patent leather shoes, either lace-up or loafer. A velvet shoe or slipper is an elegant alternative. Your scruffy work shoes won't cut it.
SHIRTS: should always be well pressed. A dress shirt should always have a bibbed front, either narrow pleats or a textured Marcella bib front. I'd replace buttons with black or silver shirt studs, but if you find studs too fiddly, your buttons should be either mother of pearl of hidden completely with a placket front.
TIES: Can't tie your own tie? I get it, life's too short, but it's a life skill you can show off about. Be generous with your silk or velvet bow tie. Puff out the fabric a bit so it appears you have tied it yourself.
ACCESSORIES: Resist comedy accessories. Cufflinks should be smart and classic in silver or gold with the option for mother of pearl or black onyx decoration. A colourful precious stone can elevate a white cuff. Socks should remain dark – a plain black or navy or go for a subtle texture in knitted silk or cotton.
PROPORTIONS: Know your proportions. Taller men look elegant in a double-breasted jacket. Narrow shoulders? Go for a wider lapel, as it gives the illusion of broader shoulders. Stockier frames suit single-button jackets, drawing the eye downwards with a peak or shawl collar lapel. Keep trousers tailored with side adjusters on the waistband for a smoother line. Always consider the outside seam – a flat grosgrain silk panel is more obvious, a silk piped seam more discreet. The trouser hems should just be kissing the top of your shoes, with a small break or clean line. NEVER have your evening trousers puddling over your footwear. It just looks sloppy.