CORD IS BACK – HERE'S HOW TO WEAR IT NOW
The origins of corduroy are somewhat shrouded in mystery. Was it really, as some would have us believe, a velvety cloth only permitted to be worn by French kings? Or is its lineage more down to earth, with this durable textile probably originating in industrial towns where workers required a cloth that would stand up to the rigours of a hard day's graft? Who knows? But whichever tale you choose to believe, what isn't in doubt is that this long-lasting fabric has stood the test of time.
Which type of cord should I buy?
The ridges that give cord its characteristic feel are called wales, coming in various degrees of thickness such as needle and jumbo. As its name suggests, needlecord is the thinner and more flattering of the two and should therefore be your go-to when it comes to including cord on your latest shopping list.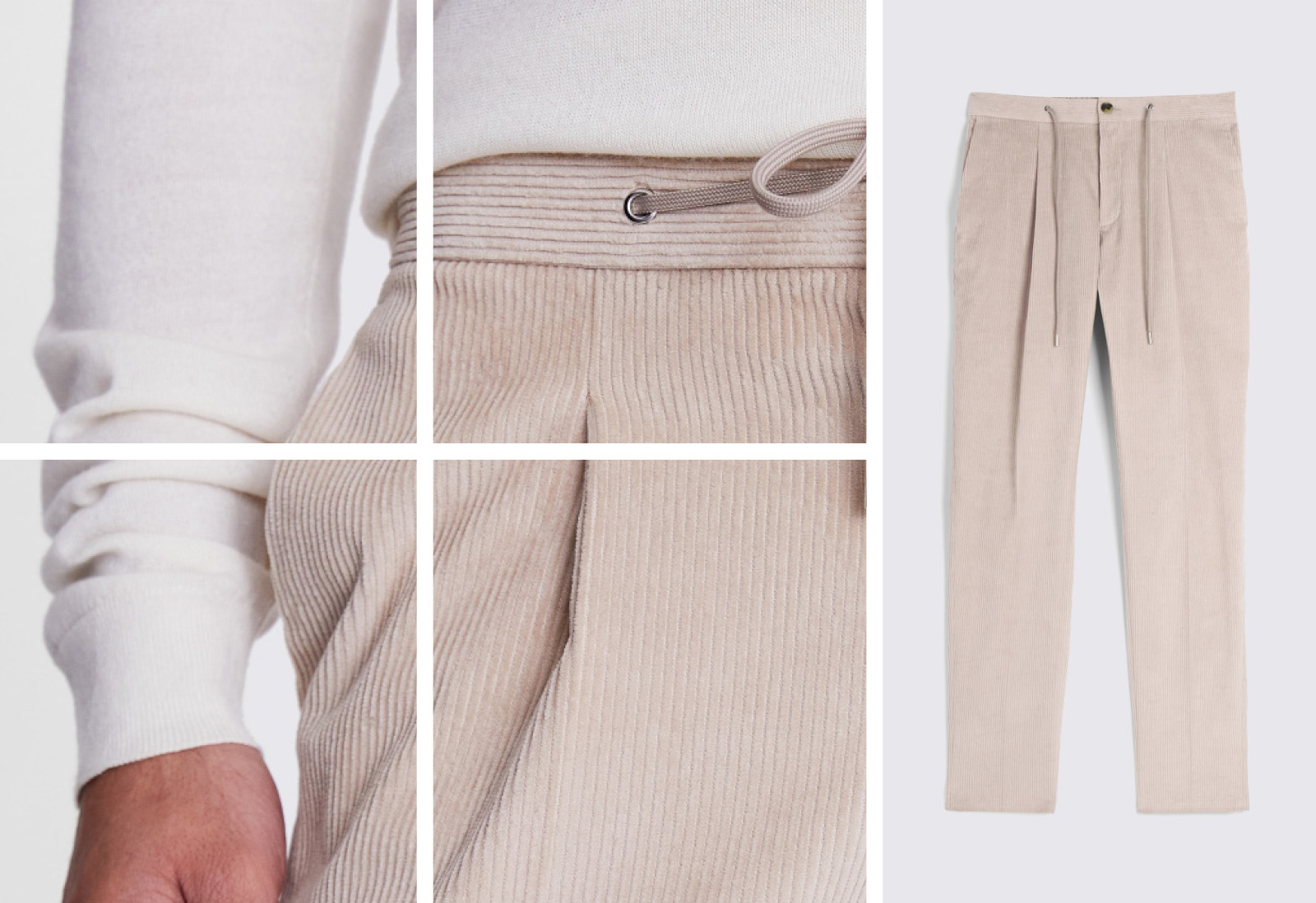 How should I wear cord?
Wearing cord on a daily basis is a cinch. A medium-wale cord trouser is a welcome alternative to a standard chino or worker jogger – ours comes with a dropped crotch and an internal drawcord that softens the look, making it a great transitional piece. Wear yours with a tonal fine knit roll-neck and finish with the matching suit jacket.
Cord is a warm, soft fabric that works well for the cooler months, which is why it lends itself well to light jackets and overshirts. A great layering piece, taupe overshirt is a smart addition to your transitional wardrobe and can be worn over t-shirts or roll necks, or under thicker coats when the temperatures drop.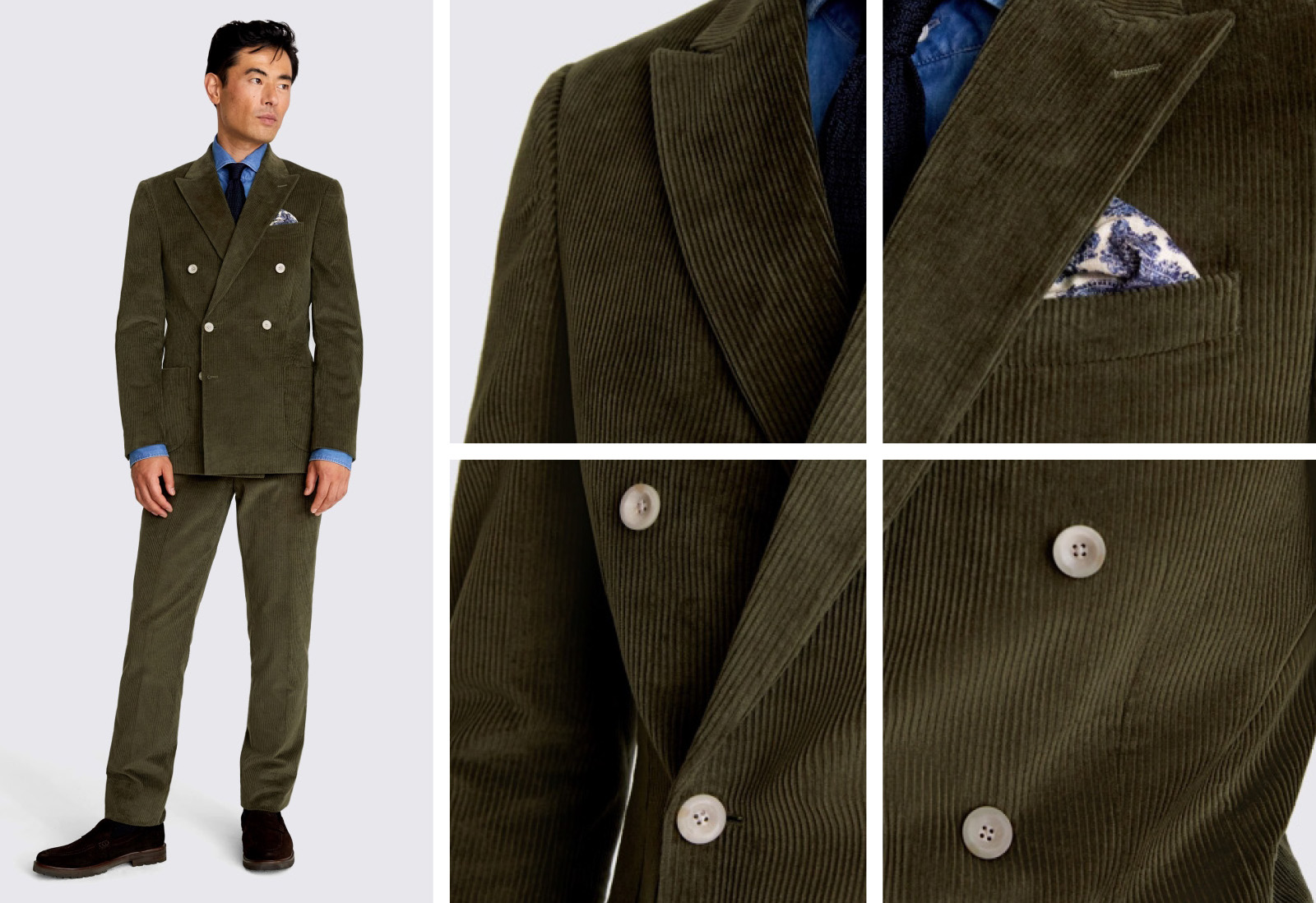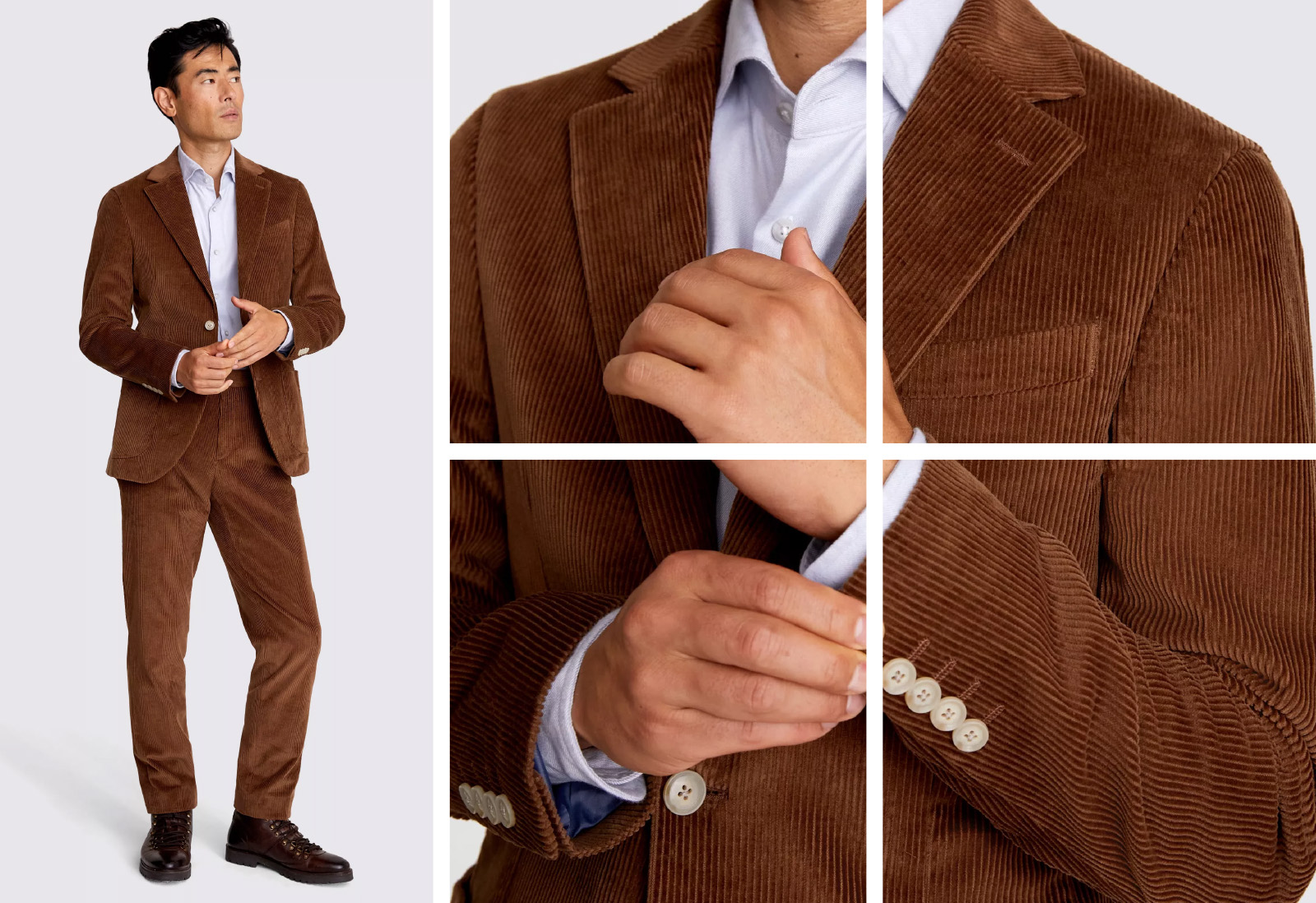 Can I wear a cord suit?
The cord suit has had a bit of a resurgence, which is great news for this versatile getup. It's a classic British look, worn throughout the year but specifically in the colder months due to it's weight and durability.
Ours have received an update, and this season we've combined classic colours with more contemporary hues. Our olive-green double breasted offers up sophistication as a suit, but works equally as well as separates and is a fitting colour for the season. It's also cut to a more current tailored fit, modernising the overall aesthetic. Wear with an Oxford shirt and a silk tie for a refined finish.
A copper cord suit has a vintage feel – ours has been modernised through the soft shoulders and relaxed look. As workwear, it can be combined with a smart shirt and loafers. Transition into evening dinner or drinks by swapping the shirt out for a soft, merino wool roll-neck.
If you want to elevate your look further, our slim fit ink suit has a very fine wale and works well with crisp shirts and fine knits alike. The deep ink hue complements most neutral tones but if you're feeling extra bold, wear over a red-toned knit and watch the heads turn.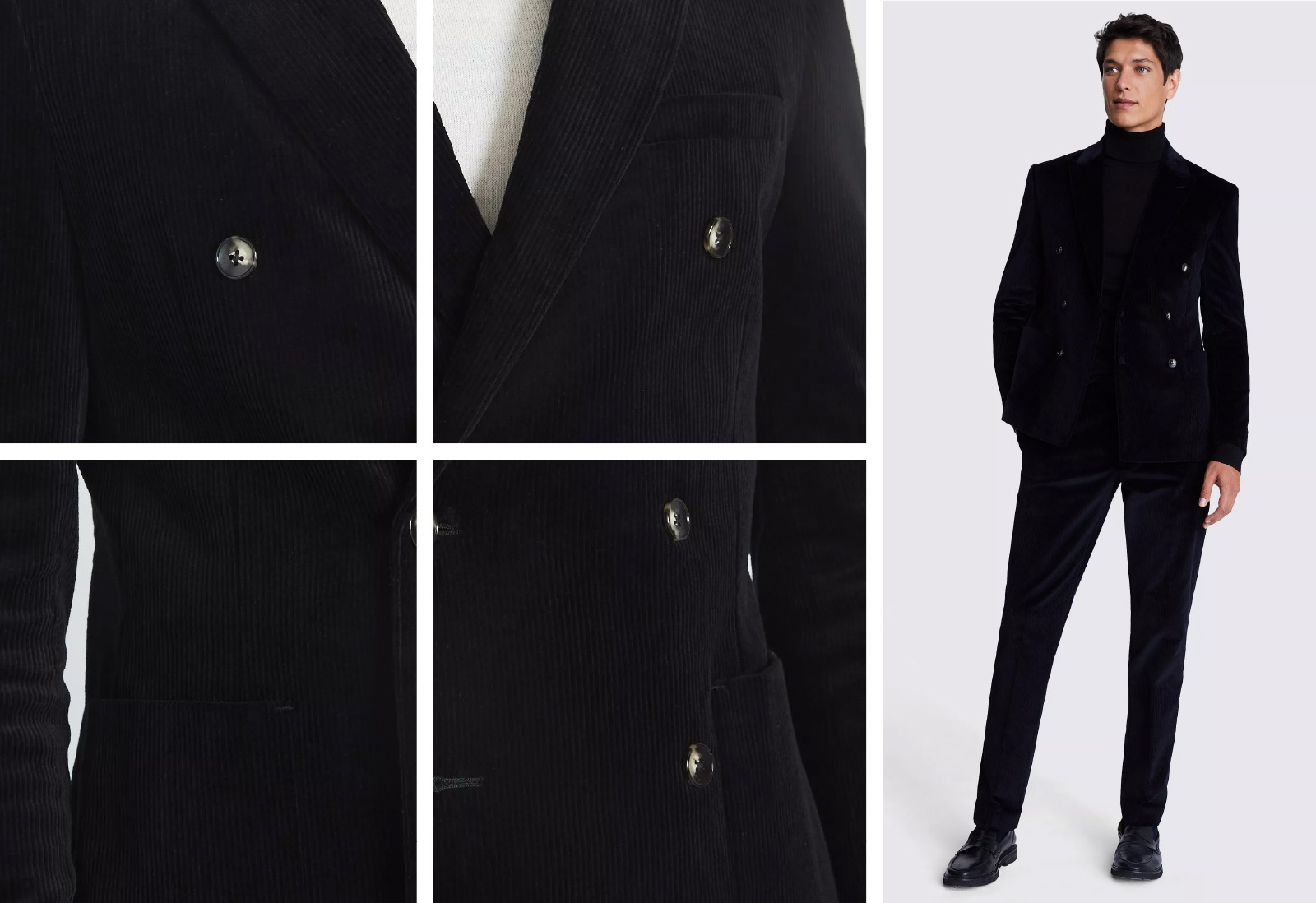 What if I want to wear a cord suit as separates?
Cord suits can easily be split up and worn as separates. Less formal than a pair of standard suit bottoms, the trousers can be worn with chunky knits or casual shirts depending on the weather and occasion. For those tricky smart/casual events, trade your black jeans for a pair of inky cord trousers and combine with a mock neck for a bit more sophistication.
The versatility of the cord blazer means you can get a lot of looks out of one item. Our winter white cord jacket may be double breasted, but that doesn't mean it can't be dressed down for a more casual feel. Throw on top of a crew neck and chinos and you have Sunday lunch dressing sorted.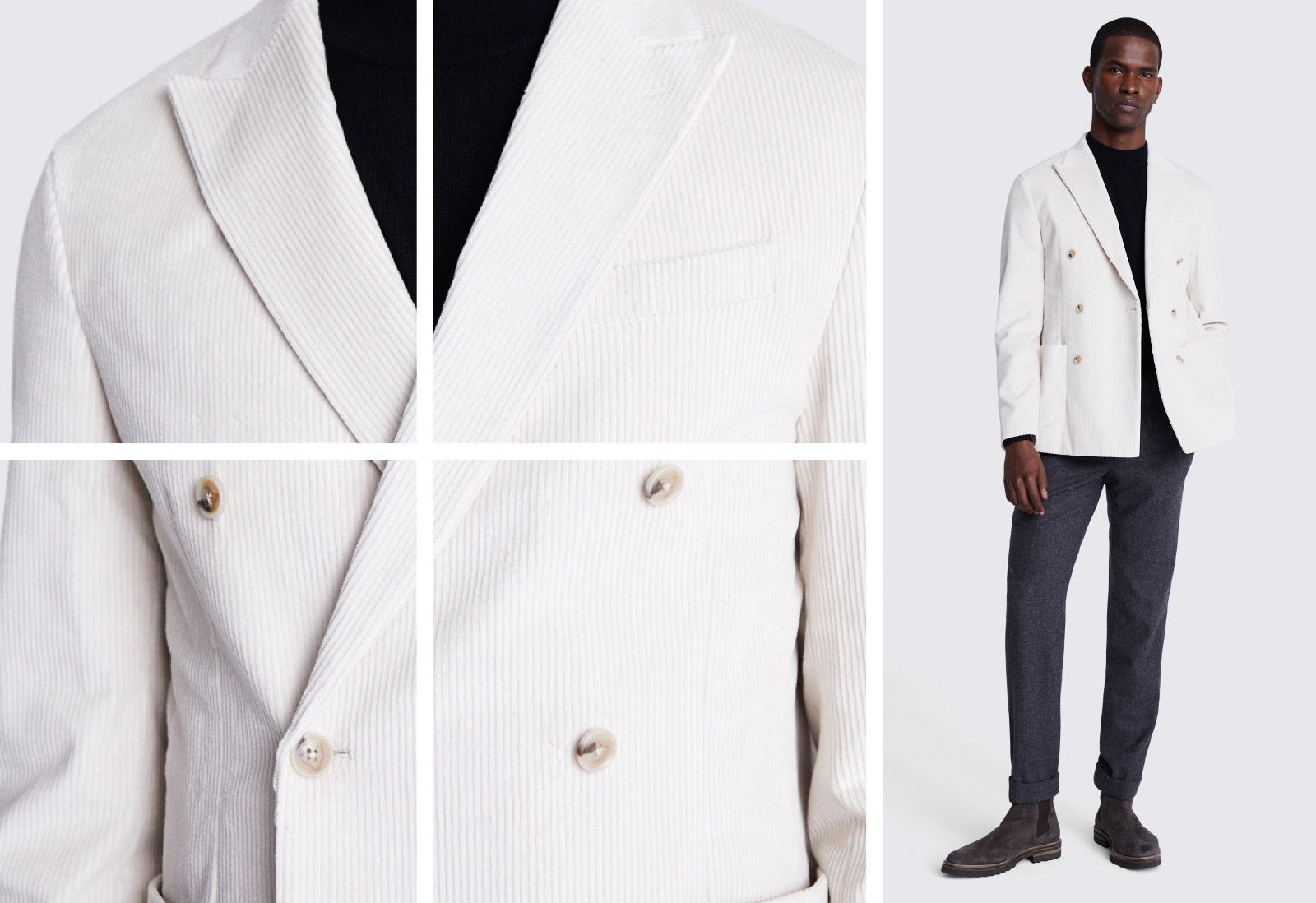 What about cord accessories?
Cord isn't just for suiting – headgear has also been upgraded this season, with the fine wales of cord lending themselves to hats too. Our winter white cord baseball cap is soft to touch and will keep your head warm and cosy through the colder months. It's a great casual addition to an outfit, whether that be head-to-toe cord or something a bit sportier. Finish with a pair of neutral trainers and your weekend look is ready to go.