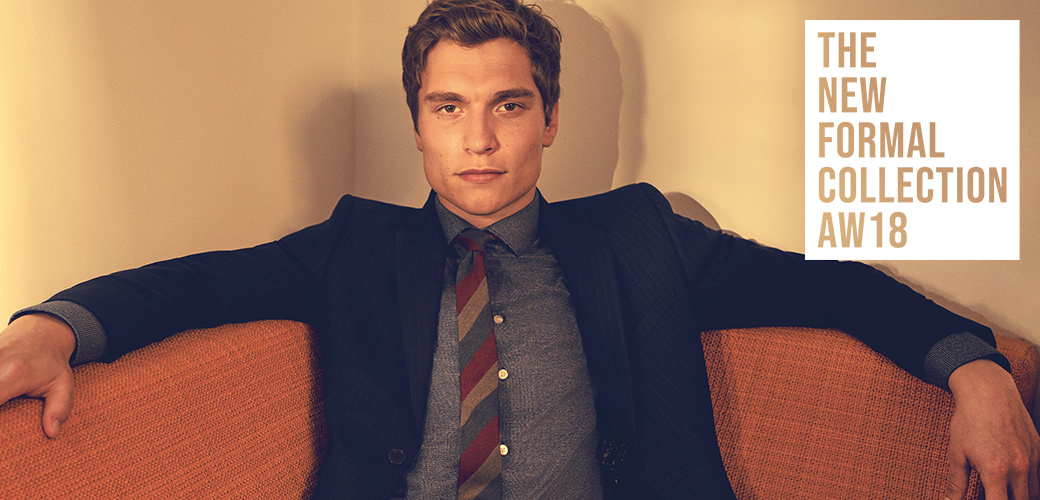 Colour, texture and suits styled for living in.
This season power dressing's had a reform: gone is buttoned-up, stiff tailoring and instead is a relaxed and layered approach that's made for the colder days ahead.
The New Formal collection is all about mix-and-match menswear. Suits and separates in tactile cloths and eye-catching patterns sit alongside brushed cotton shirts, fine Italian knitwear and suede or leather trainers. A colour palette of warm grey, soft stone and muted blues is designed to mix easily with earthy shades of camel, mustard and red with flashes of bold, bright teal.
But as much as there are key pieces in the collection, the emphasis is firmly on styling that updates classic looks with a laidback feel. Really, it's all about comfort. Because the more comfortable you are, the more confident you feel. Here are four ways to get the look.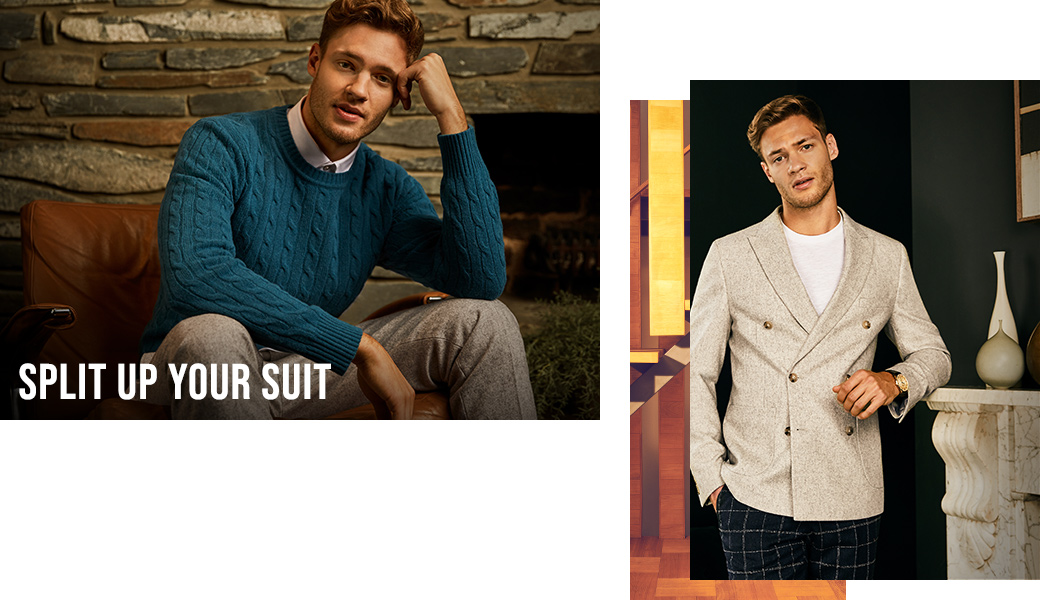 SPLIT UP YOUR SUIT
A suit will always look great worn as a matching set, but the new relaxed menswear mood has loosened the rules and encourages you to treat your suit as separates. Yes, it's time your jacket and trousers went solo.
The easiest way to get more mileage out of your suit trousers is to let them out and about with a more casual top half. Smarten up for work by layering an always-reliable white shirt underneath. Note the shirt collar tucked into the jumper – a small detail that makes the look less schoolboy and more streamlined.
As for your jacket, you'll be amazed how versatile it can be when you set it free from the usual shirt, tie and matching trousers. A touchable double-breasted jacket worn over a plain white tee and contrast windowpane check trousers? Now you're talking. The key here is to make sure colours are complementary and both parts are in a relaxed cloth of a similar thickness or weight – think this season's flannel or bouclé, something with texture and softness.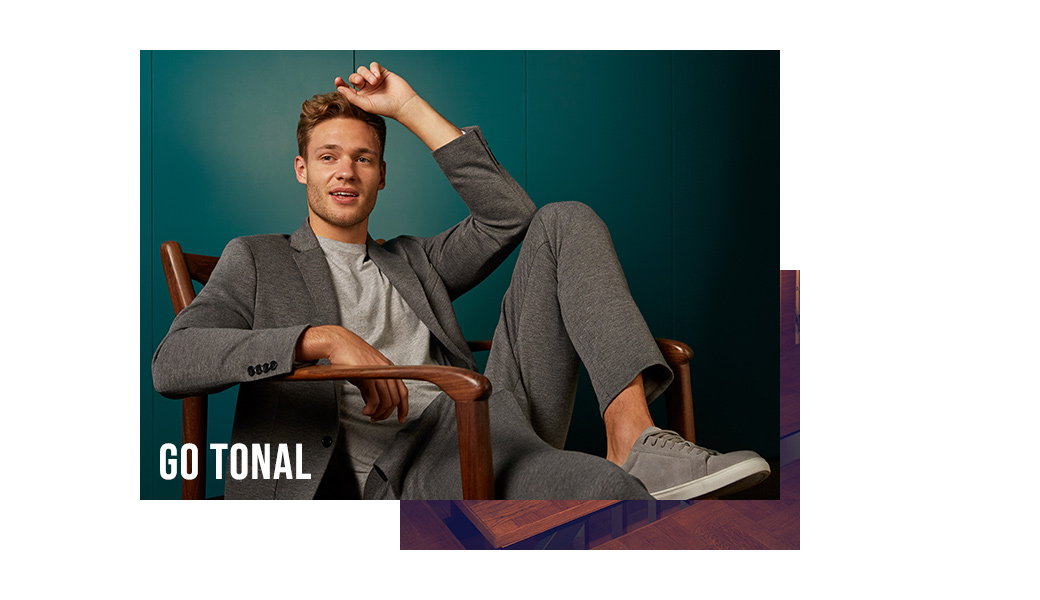 GO TONAL
Styling straight from the menswear shows, but also actually something easy to pull off? It might sound hard to believe but we promise it's true. Head-to-toe tonal outfits look like you've made more effort than you have, as the effect is pulled-together and deliberate. But all you've had to do is layer a similarly toned t-shirt under your already-matching two-piece suit. And because it's really that easy, we suggest going the whole way and finishing the look with smart trainers in the same shade.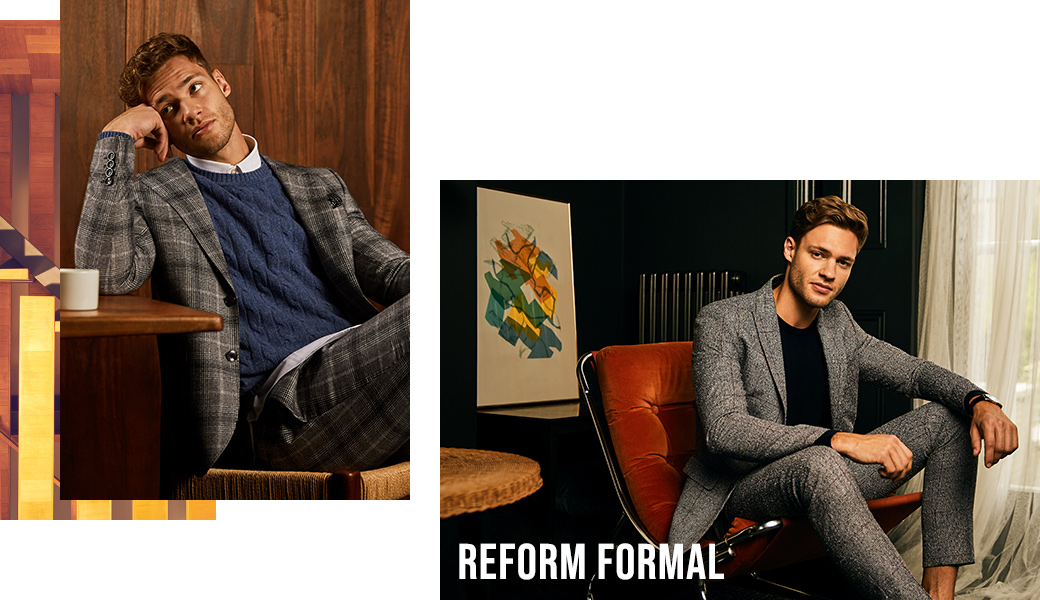 REFORM FORMAL
While we're encouraging you to mix it up this season, there's still plenty of love left for wearing the suit as it's intended: the matching two-piece. But what is different is how you wear it. This season's bold checks and textured cloths are ripe for a more casual approach. Dial down the formality by wearing your suit jacket open over a jumper – worn on its own at the weekend and over a shirt for work. For added casual points keep your shirt untucked at the waist to achieve the New Formal's multi-layered look. And since you've got that extra layer of warmth on the top you can afford to skip socks and go for bare ankles, which is a simple but effective way to make a suit feel more casual.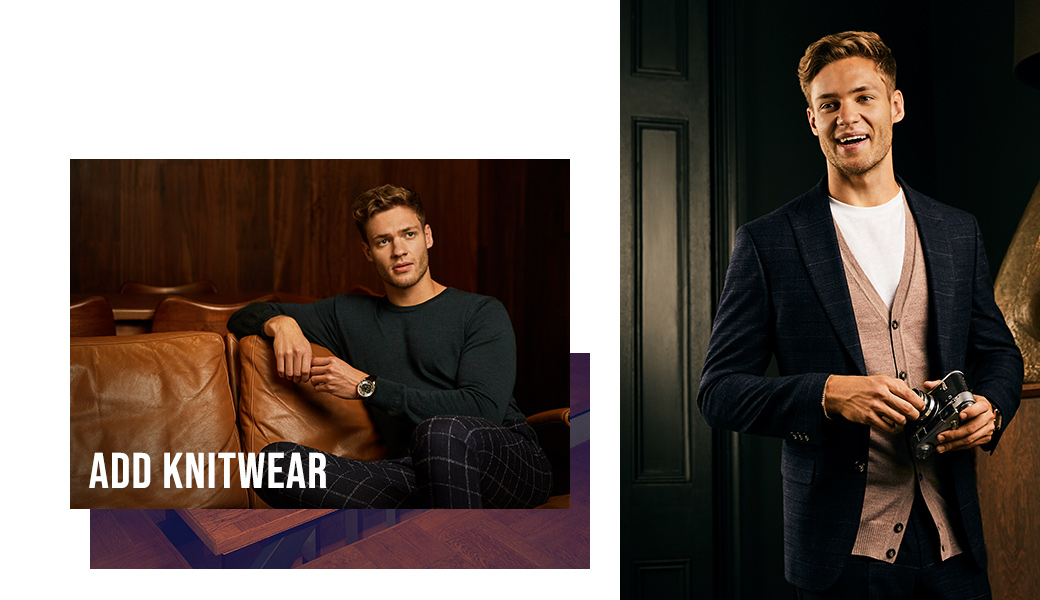 ADD KNITWEAR
Yes, we've mentioned knitwear twice already, but since it's so integral to the New Formal look it deserves extra attention. This season, we've spun our lightweight knits from Italian wool in inky blue, green and teal, warm shades of red, wine and mustard, and soft neutrals like oatmeal, charcoal and dusty pink. A colourful crew-neck is foolproof to pull on with a pair of tailored trousers, but the look is easygoing, elegant and as great for a date as it is worn to work in more casual offices.
And it's not just jumpers: the humble cardigan is making moves back into the menswear limelight. Layered under your suit and over a crisp white t-shirt, the look is contemporary (and warm). If you're just dipping your toes back into the cardigan pool, try it in a tonal shade as talked about above, but we think the look works best worn without apologies in a contrasting shade