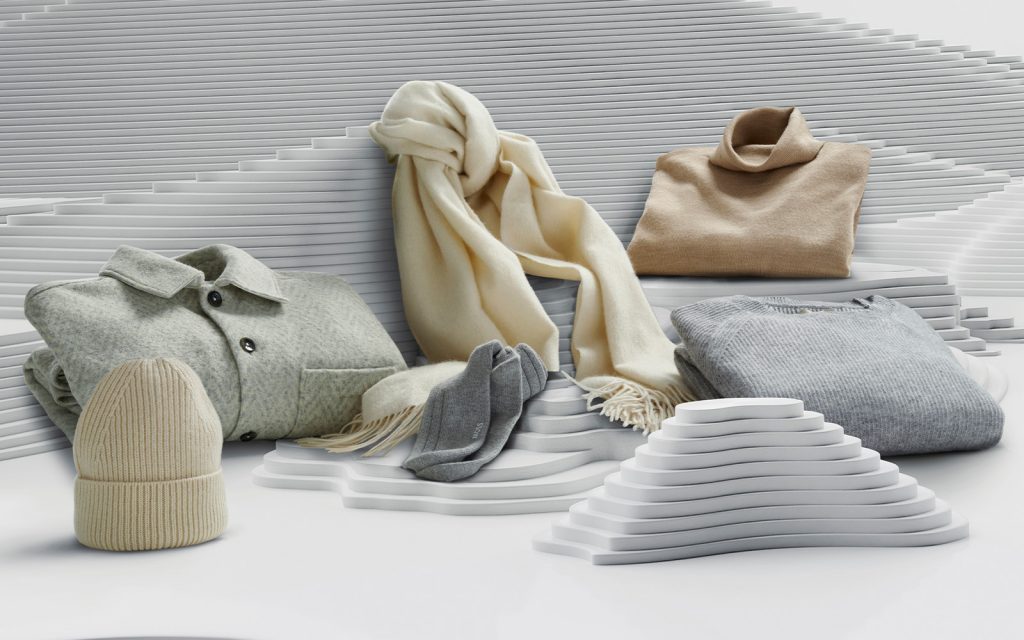 GIVE THOUGHTFULLY THIS SEASON
Sure, it's the thought that counts, but give thoughtfully and it'll mean so much more.
This year, it's about the personalities in your life – their hobbies, their wants and their needs. It's about what they've always wanted, and what they didn't know they needed. Whether they've caught the travel bug and are going places this year, or are just looking for something soft to hunker down in this winter, we've got something for everyone.
This year, we've thought about every detail so it's easier than ever for you to give thoughtfully.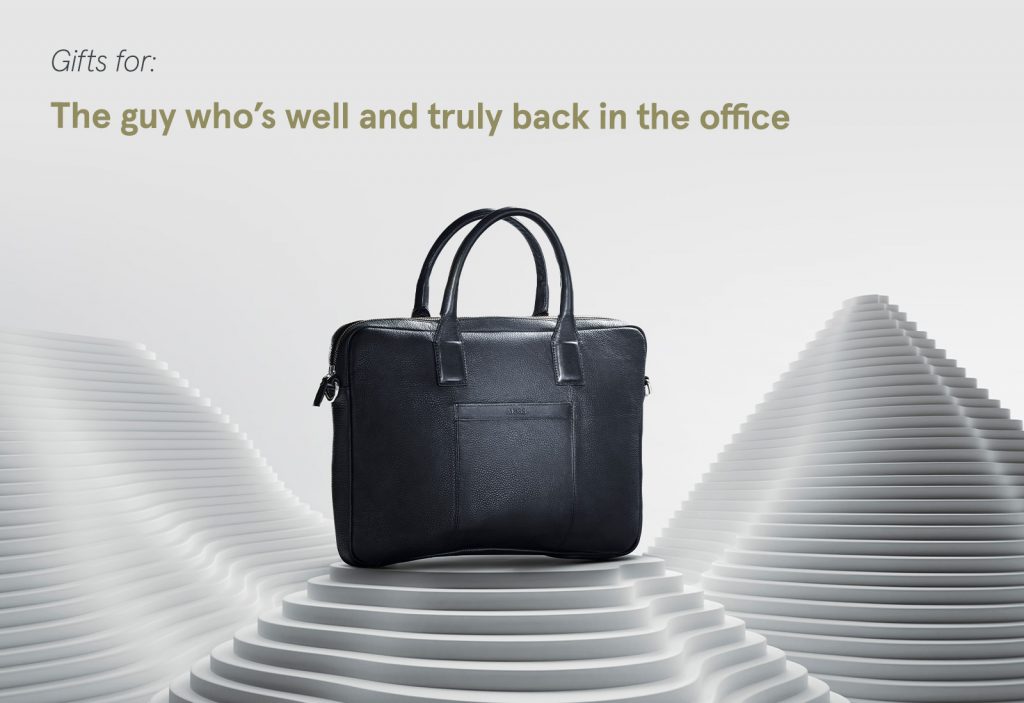 Refined daily wear his colleagues will covet
Make their office return just that little bit smoother with pieces that'll make the working week a pleasure. A briefcase crafted from the softest sustainable leather, to hold all that's important. An Oxford shirt, with a washed finish that gives the lived-in comfort of an old favourite. A cosy merino zip neck that's lightweight and super soft on the skin, and a pair of cashmere socks, mercerised to make them extra smooth.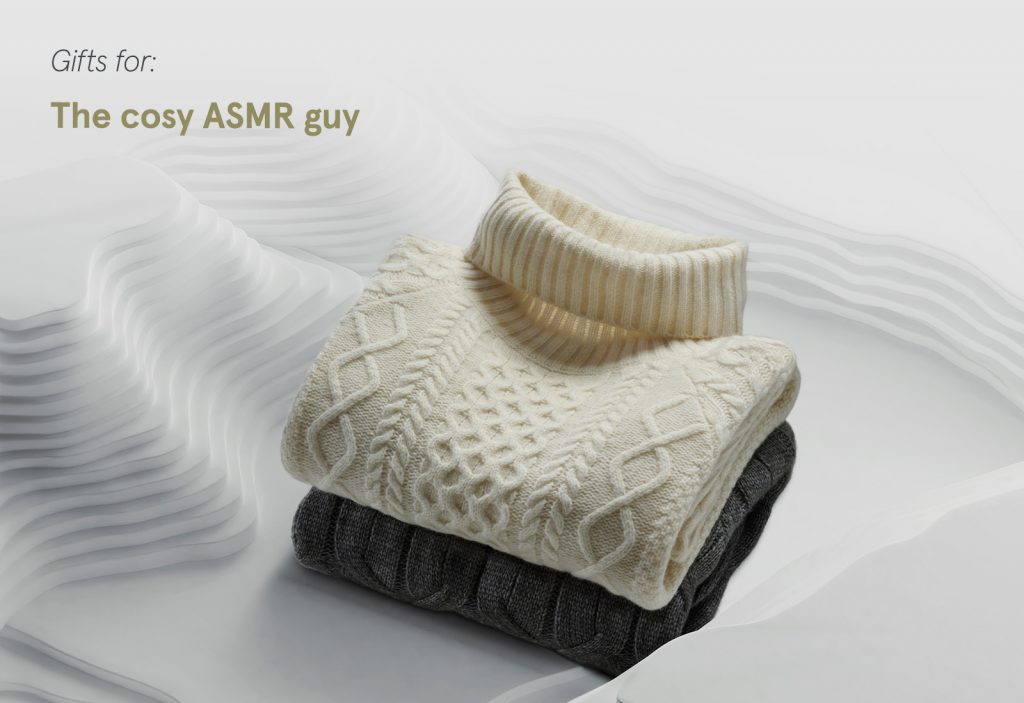 Soft scarves, chunky knits and plenty of cashmere for hunkering down in
Silky, knitted, fleecy or ribbed – whatever the texture, these pieces are designed to feel good in their hands. A cable roll neck, crafted from the softest lambswool blend that is a joy to wear (and run their hands over); a velvety cashmere and wool blend scarf that their neck will thank you for, and a matching pair of cashmere socks that will feel like they're walking on clouds; and a moleskin overshirt, crafted from 100% Italian cotton, for weekend walks that need a bit of suede-like softness.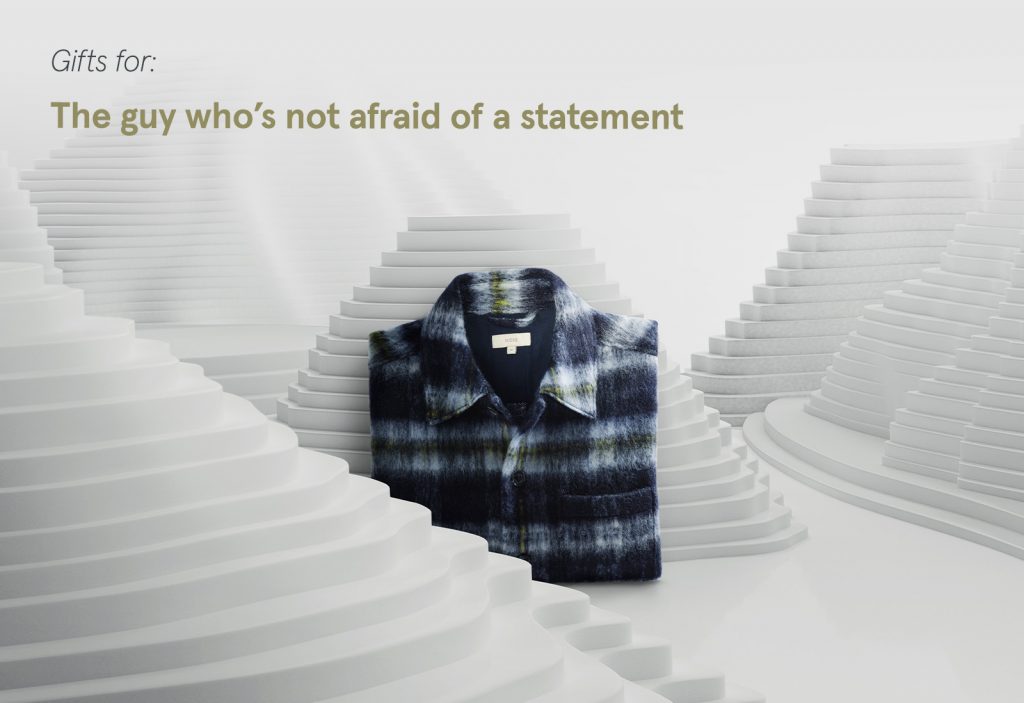 Bold tones and sundry of textures to get him noticed (just as he likes it)
Give them something that'll make sure they get all the right attention. A brushed overshirt with shots of acid green yarn amplifies plaid for limelight lovers; a chunky quarter zip neck with an oversized cable knit; cotton slub socks worth rolling their trousers up for; and an scaled-up scarf in acid green recycled fibres for impactful accessorising.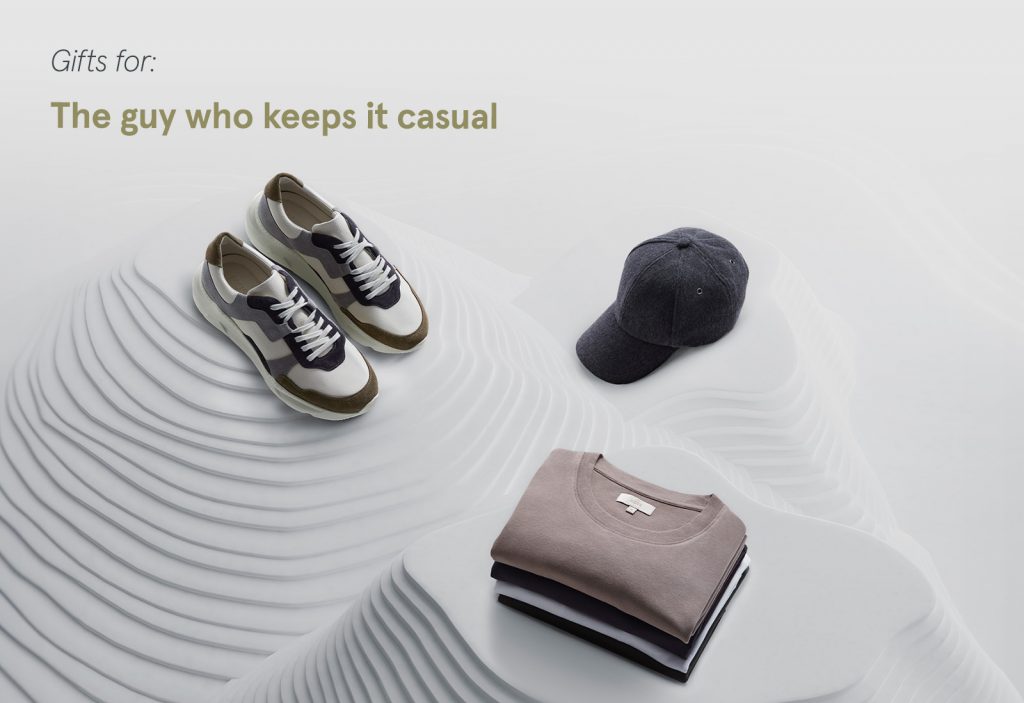 Laid-back looks for the suit-and-tie shy
Suits just aren't their style, but that doesn't stop them looking (and feeling) the part. Everyday essentials aren't so basic when they're crafted from the finest fabrics – a heavyweight t-shirt with a peached finish, that drapes just-so and can be styled thousands of ways; a baseball cap made from brushed wool that just completes an outfit; a wool-blend skipper jumper that's just the right amount of slouchy for relaxed looks; and a grained leather backpack for those casual weekend strolls.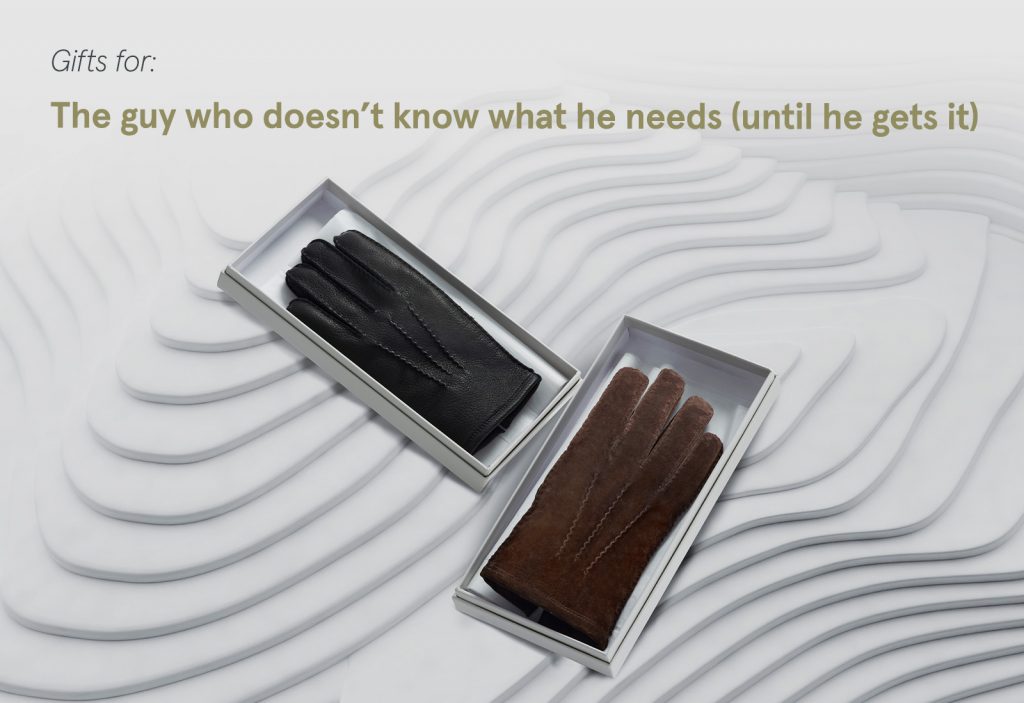 Thought-through essentials he'll wonder how he survived without
No more cold hands or loose change – these pieces will make sure they have everything they need for the new year, even if they don't know it yet. A pair of leather gloves, lined with shearling for next-level warmth; a leather washbag to keep their wandering toothbrush at bay; a business belt to remedy their loose trouser predicament; and a leather wallet for all the misplaced cash and cards.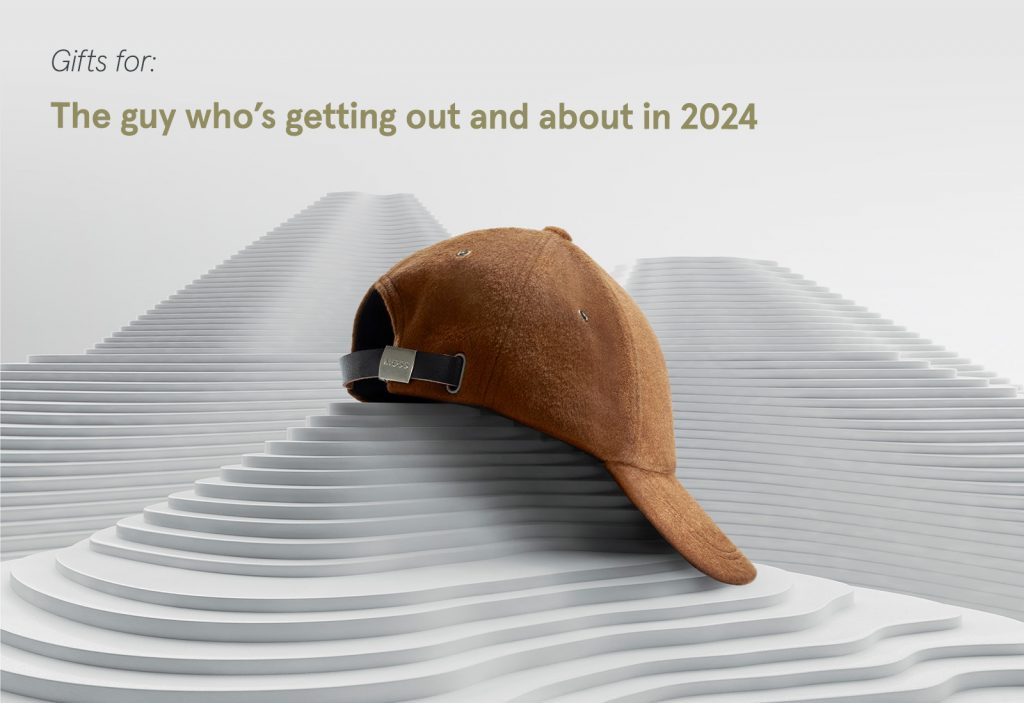 Transit-friendly gifts to help him reach his travelling goals
Travelling is on his bucket list and these pieces will get him there. A chestnut baseball cap crafted from soft brushed wool, to protect from the everchanging elements; a grained leather holdall to elevate his item storage; a vicuna cord overshirt, made from the finest needlecord, to wear over tees or under coats for maximum layer-ability; and a sophisticated merino zip neck that is breathable and light enough for walking through the city – and beyond.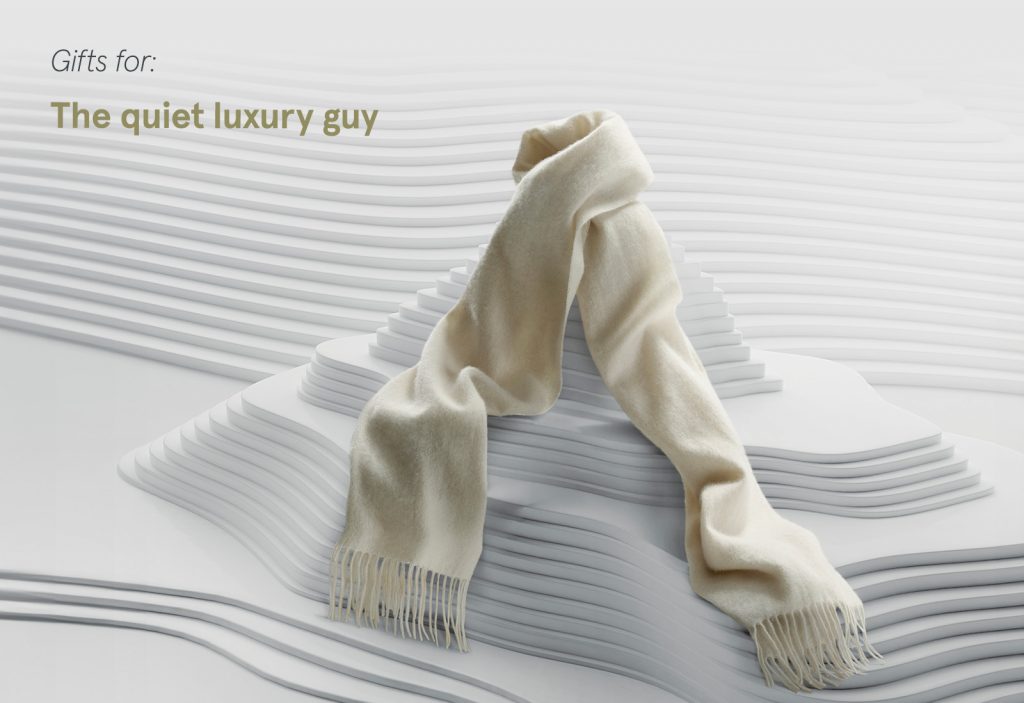 Italian fabrics and premium knits when understated elegance is his forte
Soft, rich fabrics, clean lines and neutral palettes exude refinement, and that's right up their street. 100% premium cotton t-shirts for when anything else just won't do; a cashmere crew neck with an extra nice handfeel, and a matching sock because their feet deserve to indulge too; and a cashmere and wool scarf that couldn't be any softer if it tried.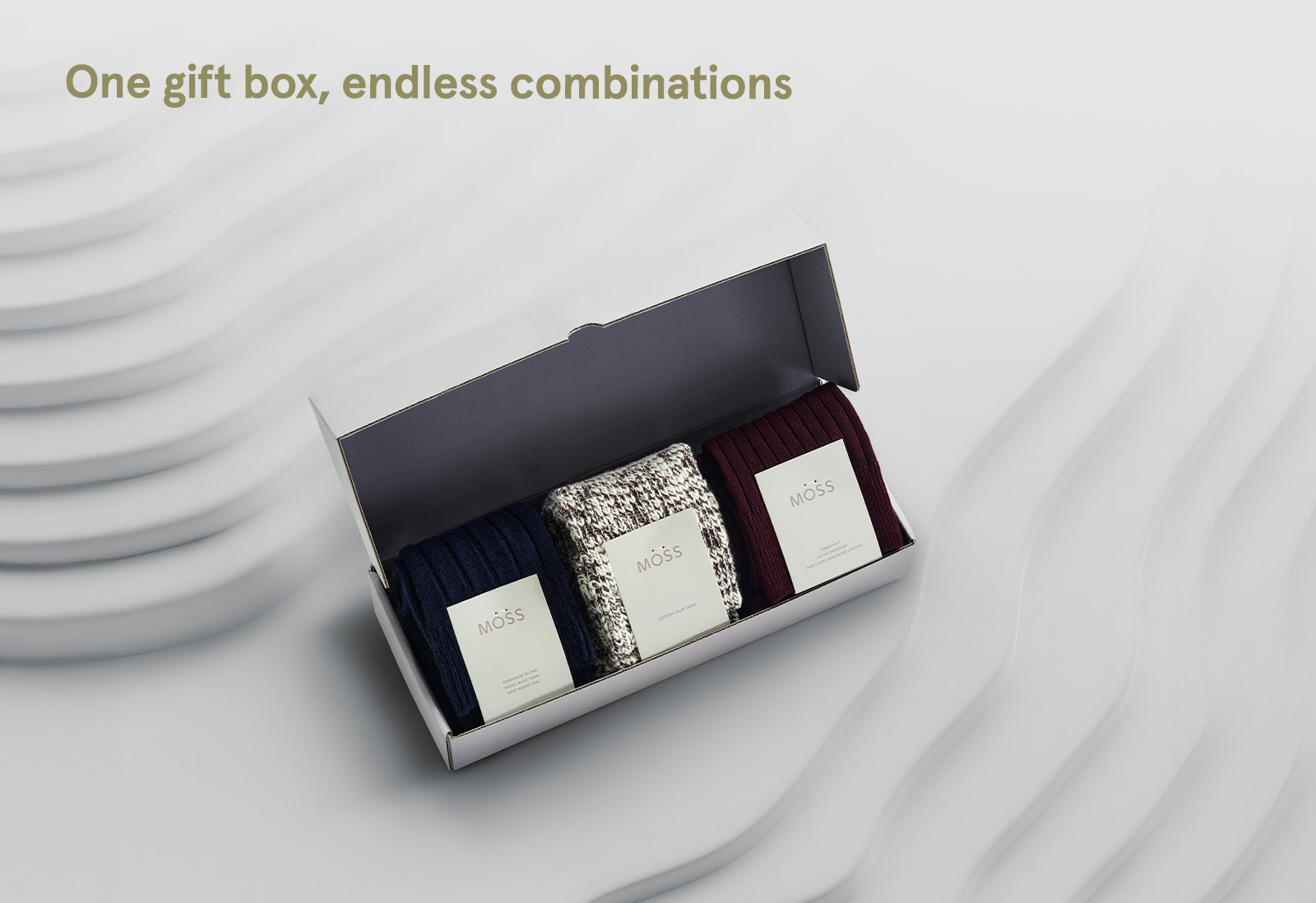 Treat their feet with a sock gift box you've curated
With tones and textures this good, socks are more than just a last-minute offering; choose any three socks and have them packaged up in a beautiful gift box, ready to gift to the person you love.