Ever been confused about shirt styles, wondered 'what is an Oxford shirt?' or found yourself unsure of when (or where) to wear one? Our latest shirt style guide will help you get up to speed on this traditional, preppy style that everyone needs in their wardrobe.
What is an Oxford shirt?
You've probably seen, or even worn, an Oxford shirt before – but you might not have realised. The name Oxford refers to a type of cloth originally made in Scotland. It's heavier and has a rougher weave (also sometimes known as a basket weave) than other types of shirts, which means it's sometimes more durable. Oxford cloth tends to hold its shape well and is often stiffer than other types of fabric too.
An Oxford shirt sometimes has a two-tone appearance when different colour threads are woven together, but single colour shirts are just as popular. A white Oxford shirt is a classic look that works for all sorts of events, from laid-back days through to formal affairs. It's a versatile and timeless look, wherever you're headed.
Where to wear an Oxford shirt?
Because an Oxford shirt is durable, simple and stylish it works well for almost anything you've got going on. Pair it with a smart men's suit for more formal invitations like a wedding, Ascot or a corporate event or scale it back for more something more casual. This type of shirt also lends itself well to more everyday plans like work, family gatherings, business meetings or drinks too.
If you choose this style of shirt for work, then check out the dress code in your office. Between working from home, hybrid visits and Zoom calls lots of offices have eased off on formal wear, so now what you choose to wear and how you style it is pretty much up to you. [can you add something here about why an oxford would be a good choice for this new relaxed office dress code – maybe because it's still smart/feels like you're in work mode/ it styles down pretty well on more casual days but up if you've got a meeting with the boss or something?]
Because of its heavier weave and weightier fabric, an Oxford shirt is usually a better choice for the cooler months. That's one of the reasons why we love them for winter weddings or outdoor weddings, especially when you can't always rely on the great British weather. When paired with a jacket, a heavier weave Oxford shirt can be a little on the warm side so it's usually better to go for something lighter when the weather's warmer.
Getting the right fit
Need some help styling your shirt? Here are our quick tips to get the right fit for your Oxford shirt, without having to overthink it.
When it comes to the cut, you'll usually find slim, tailored and regular are the most common options available. Your shirt shouldn't feel too tight across your chest, even if you prefer a more fitted style. Ideally the shoulder seams should sit on the spot where your chest and arm meet, this will mean that it's not stretching across your front.
Collars are usually button-down style which means that the ends of your collar can be fastened to your shirt with discreet buttons to make things neat without being overly stuffy. Ideally you want to be able to fit two fingers between your neck and closed collar so that it stays looking neat whether you're buttoned up or a little bit open.
With a long-sleeved shirt style, you want to make sure that the hem of your sleeves ends where your arm and hand join (if you've ever worn a shirt with sleeves that are slightly too short, you'll know exactly where this should be).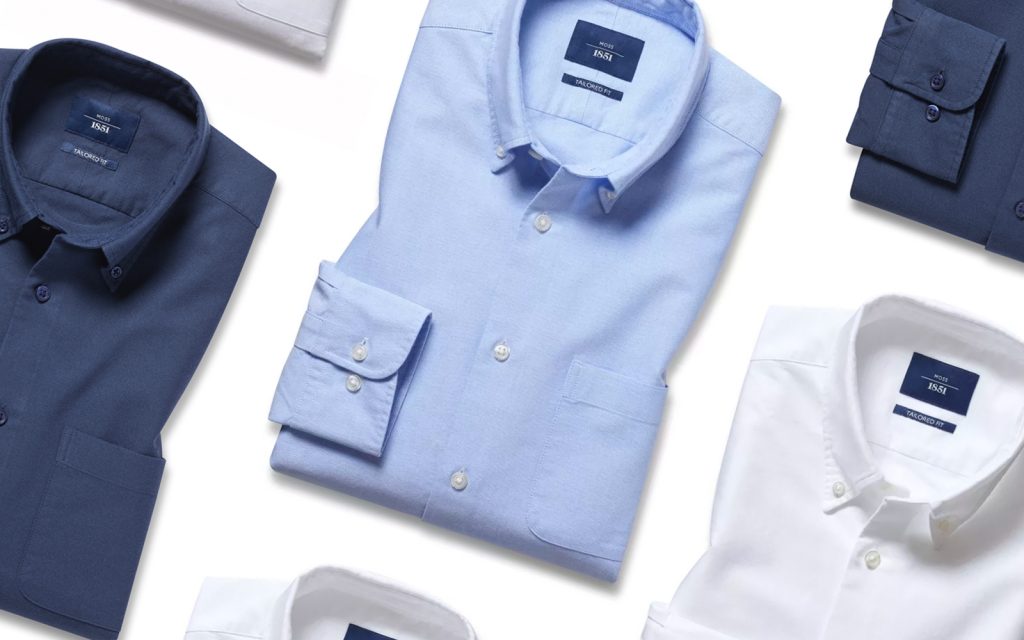 How to style your Oxford shirt
How you wear your shirt is all up to you, but if you want some guidance on styling your Oxford shirt, then we've got you. Things tend to be a bit more relaxed overall nowadays, but it's still easy to get caught out by the different interpretations of formal and business/casual out there.
Take a look at our overview of how to wear your Oxford shirt in any situation (here's a hint: you don't have to wear a tie).
Formal and semi formal events
Heading to a formal wedding or event? The dress code will usually be pretty clear. It's normally a white Oxford shirt and a black suit or a navy blue suit – you can even explore other neutral suit tones if you'd prefer something a little less formal. With other types of events (including less formal weddings where you're a guest rather than part of the wedding party) you can have a bit more fun with your outfit choices. This might mean adding some different colours and accessories like a watch or cufflinks.
For events classed as semi-formal, you can usually get rid of the tie and mix up your colour choices a bit more. You can also move away from styling your shirt with a suit and try more casual picks like a less formal blazer or chinos.
Business casual and smart casual
If you've ever looked up 'what is business casual?' – usually in a panic – then you'll know that there really isn't one single definition of what this style is. It's very much open to interpretation, and we think that's a good thing.
As a general rule this dress code focuses on more modern styles and casual fits. It's not about being buttoned up, uncomfortable or overly formal. You can play with colour, add in more of your personality and a more relaxed style with business casual.
Smart casual is less about the workplace and more about sunny days, outdoor weddings and dinner out in a nice restaurant. You can tone down the formality by pairing your Oxford shirt with tailored trousers or even wearing it open with a t-shirt underneath. If you really want to move towards the more casual end of the scale, smart shorts can work well too.
Casual
Oxford shirts can work well for layering and will keep you warm in autumn and winter. Pair it with a jumper or a rollneck, jeans or chinos. Rolled up sleeves, opening up your shirt or unfastening the top two buttons can also up the casual factor of your outfit. You can wear your Oxford shirt untucked or half-tucked when it comes to a more casual style too.
Upping the style stakes with an Oxford shirt
When it comes to shirts for men, we think an Oxford shirt is up there as a versatile wardrobe piece that can be dressed up or down. It's easy to wear, simple to style and fit in with the rest of your wardrobe so easily. If this versatile, timeless look is for you, then check out our line up of Oxford shirts.