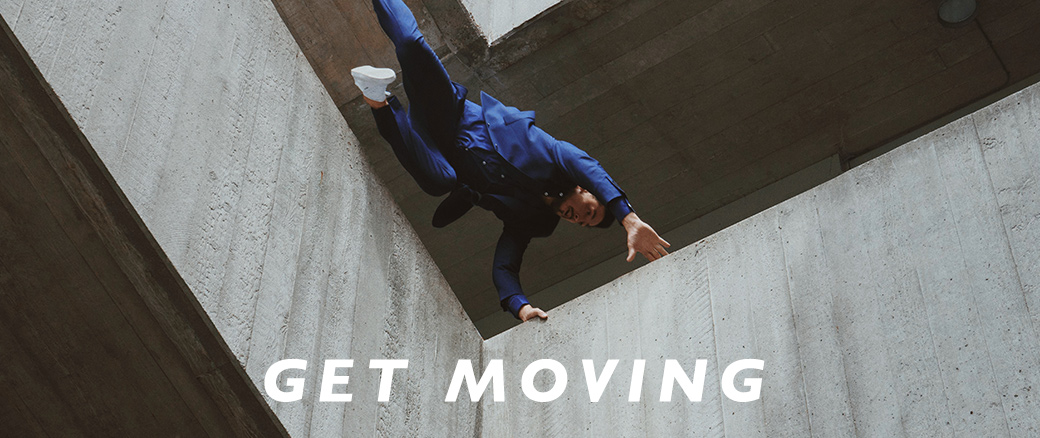 What you wear should never hold you back.
Designed for motion with flexible elastane woven right into the fabric, our stretch suits are taking tailoring out of the office and into new territories.
To prove it, we took to the streets with three men that are making moves on wheels, boards and, well, any surface available and asked them to put our stretch suits through their paces.
Meet Daniel, Galih and Liam – and keep your eyes on our social channels next week to see the guys in action.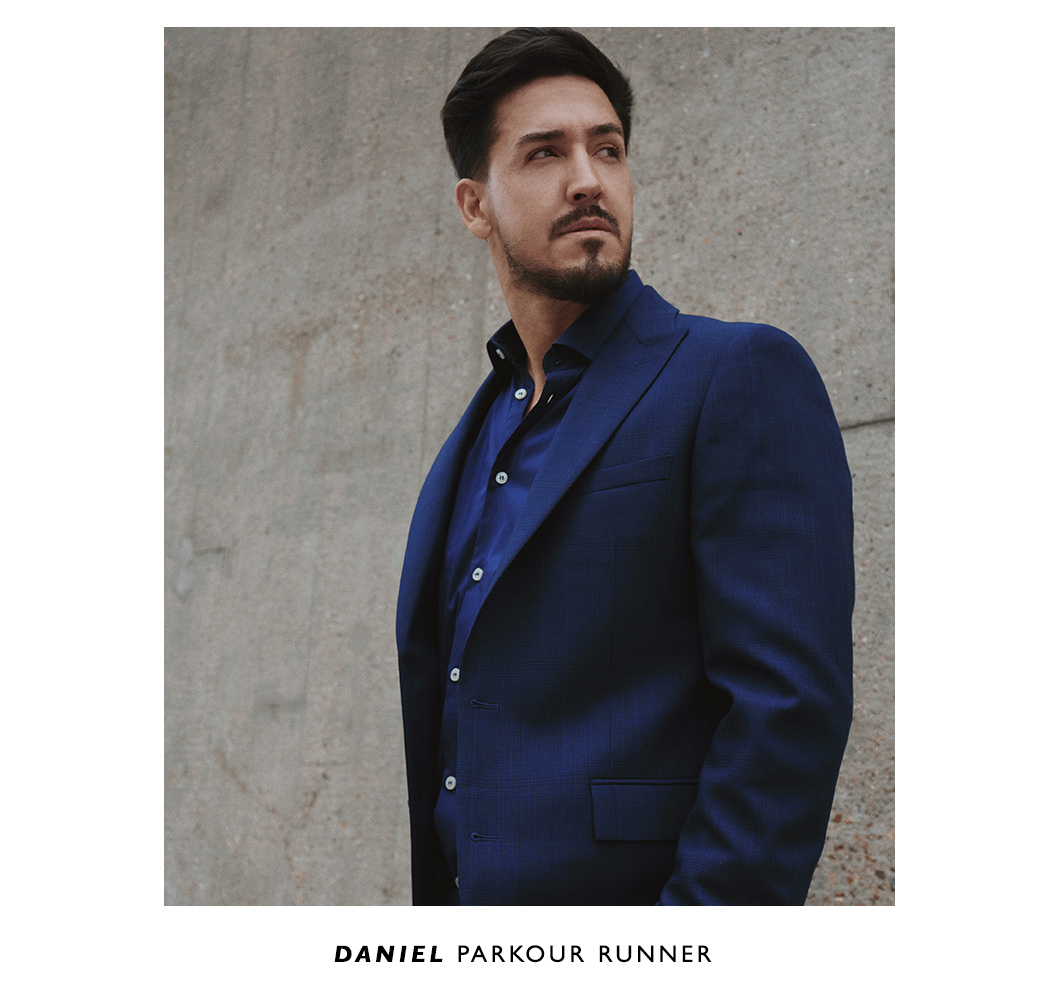 When did you discover parkour and what made you get into it?
I've always been an active person and can't remember a moment in my life where it actually all started for me… though I would say it was 17 years ago I discovered the name 'parkour' for something I feel I've done all my life.
Who do you admire in the world of parkour and why?
I admire the connectivity that takes place in the community… being surrounded by people who are constantly looking for ways to paint the streets!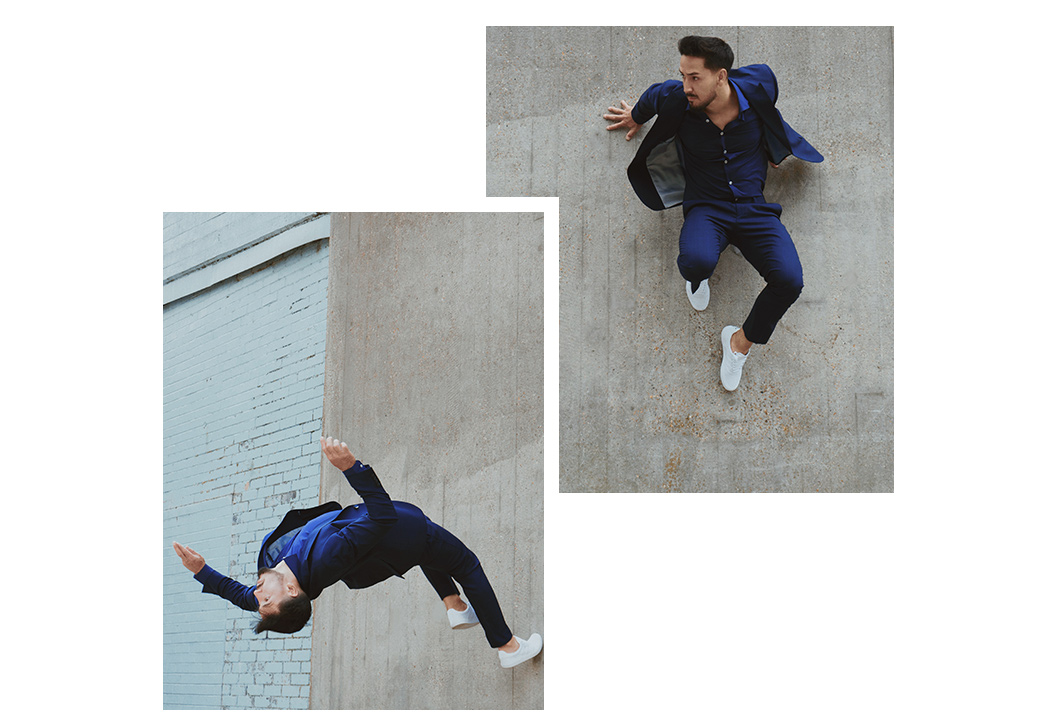 Tell us about a time you've stretched yourself and what you thought you were capable of – in your sport or in life?
There's never been a moment where I feel like I've stretched myself because I'm a firm believer that if you have a good enough reason to overcome the obstacle in front of you, nothing can stop you! So until such a reason comes by, I just play in the space I'm in!
The suit we've dressed you in might not be your usual parkour gear, so what's essential in your normal kit to make sure you're free to move?
Having the right pair of shoes!! Haha, but no, having clothing that has stretch is essential. Hence why I was so eager to get involved with Moss. I was really curious how much it would enable me to move and I came away impressed and surprised by how much give the suit actually has!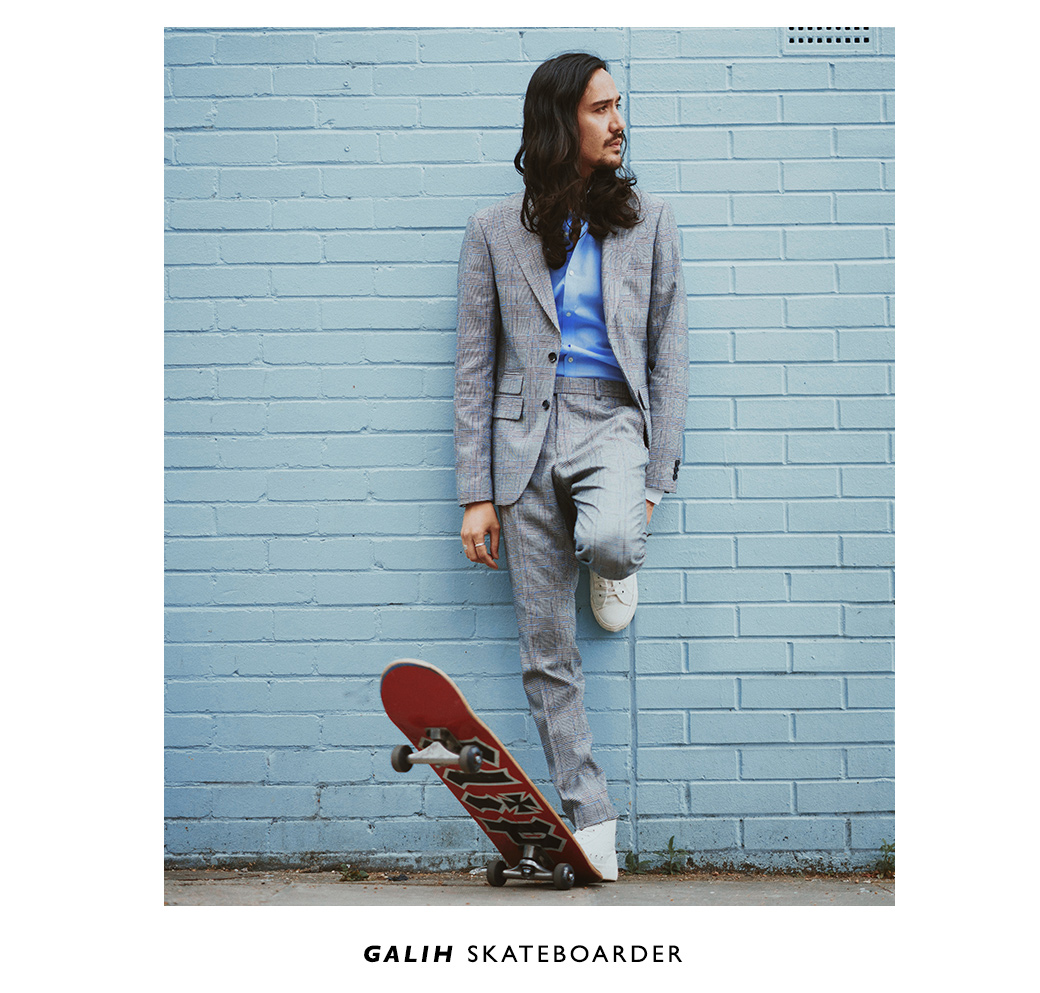 Tell us what got you into skateboarding?
Started as a kid, skipping school to go to the skatepark in Kemang in Jakarta, Indonesia when I was 15/16. I got into it 'cause I wanted to impress this one girl Dalia that hung out at the skatepark. And I thought Rodney Mullen was amazing!
What is it you love about it?
Freedom. I was never a good skater, but I liked stairs and vert a lot. I liked to find equilibrium with the board, where the movement was fluid and there was a symbiosis between me and the board.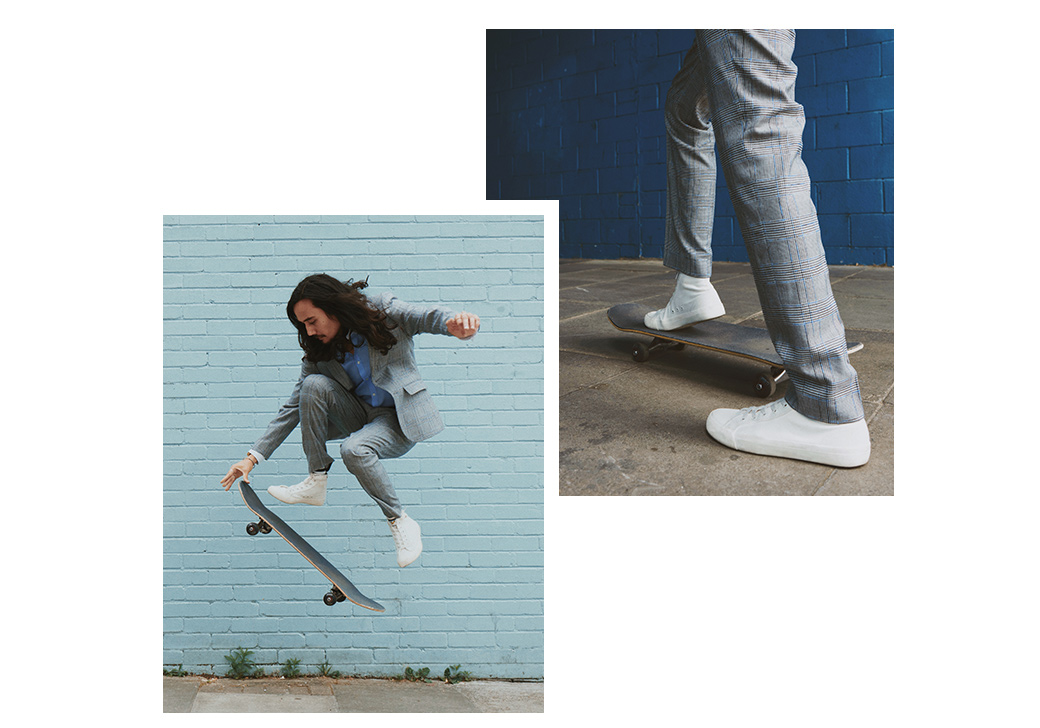 We think feeling comfortable is a big part of feeling confident – that's why we've reworked our tailoring to have comfort at its core. What helps you feel confident and able to get on with the task at hand?
I feel like when I work for myself, I'm in control of all the variables and the success and failure of the task is down to me. I am most comfortable and confident at these times. However, the workplace is wrought with people riding on your ideas and creativity and that can often be challenging. In a world where everyone has the capability to seem 'creative' at their fingertips, you need to stand out. Part of that is going outside of your comfort zone and doing things you're not used to. Breaking boundaries to gain confidence, never being too comfortable to stop challenging yourself.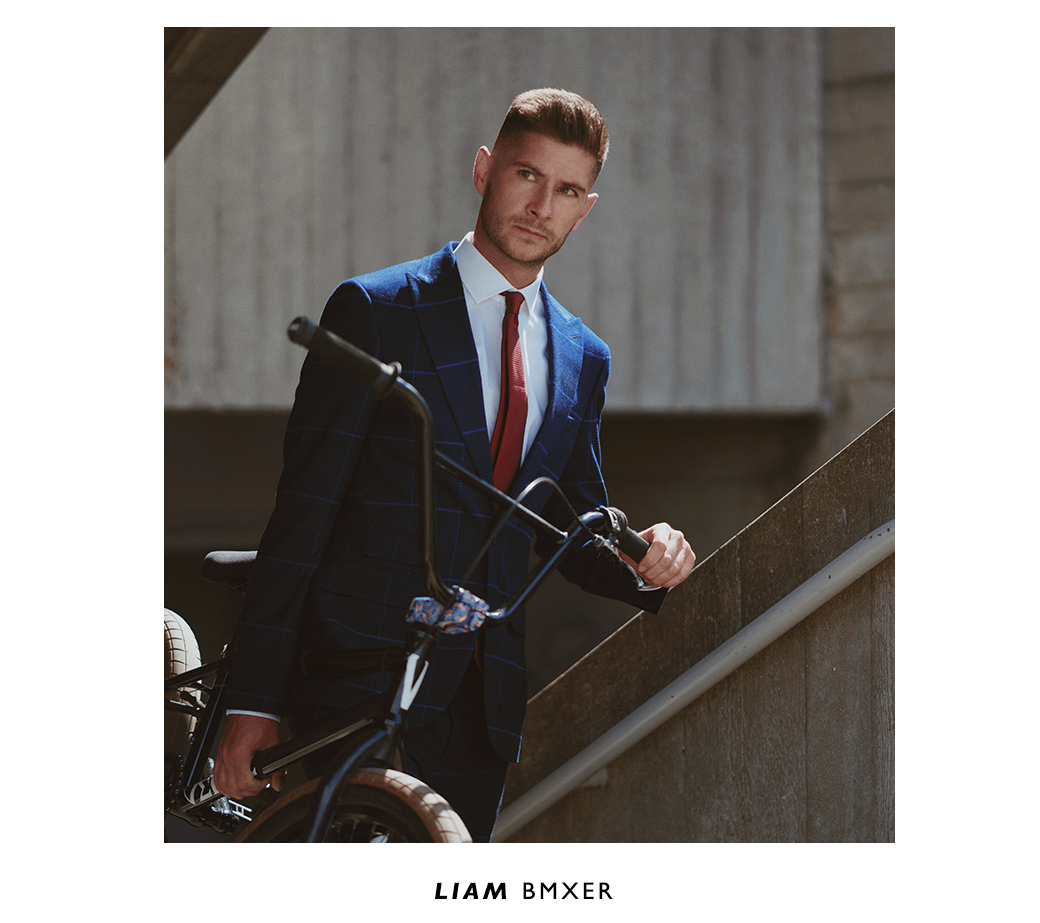 When and how did you get into BMX?
When I was about 12 or 13 and a new skatepark got built in my village. Hooked ever since.
What is it you love about it?
Travel, meeting people and the experiences, that's just without being on the bike. Riding-wise, it's the freedom and creativity.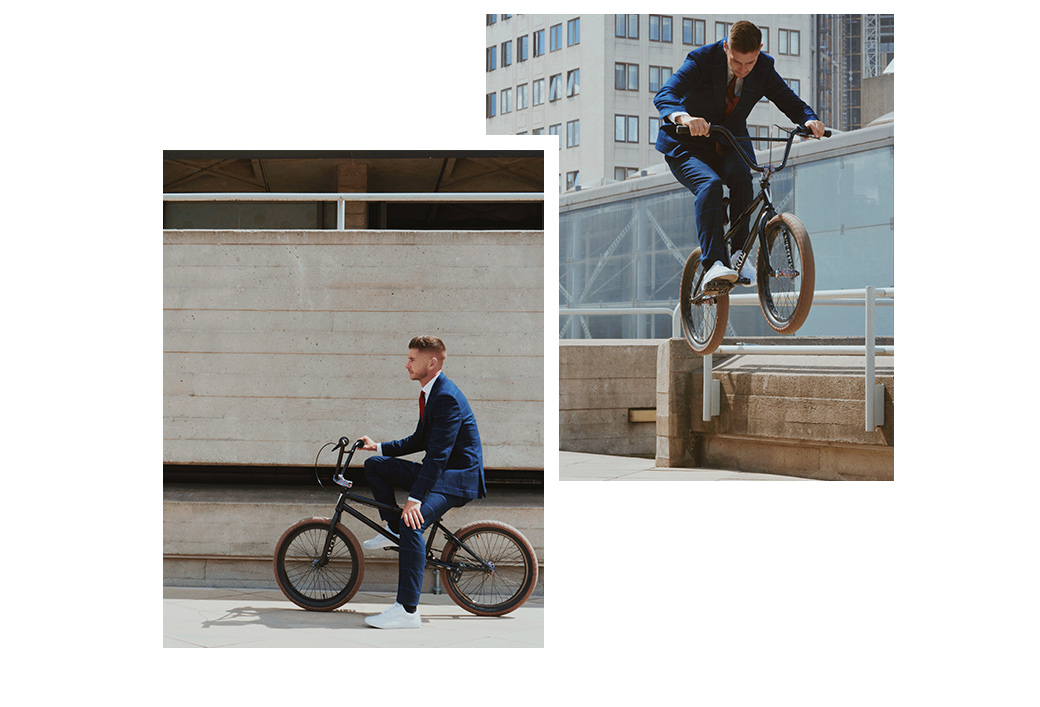 Tell us about a time you've stretched yourself and what you thought you were capable of – on your bike or in life?
Most times when filming a video part you need to push yourself. Seeing things that you know are possible but will only do in that sort of situation when the camera is out and the videographer says GO. This has happened numerous times, and the reward generally is worth it!
What helps you feel confident when you're faced with a challenge?
I always liked the saying 'looking good, feeling good, riding good'. That can come from anything – a new bike, a fresh haircut, anything which makes you stoked and feeling good.