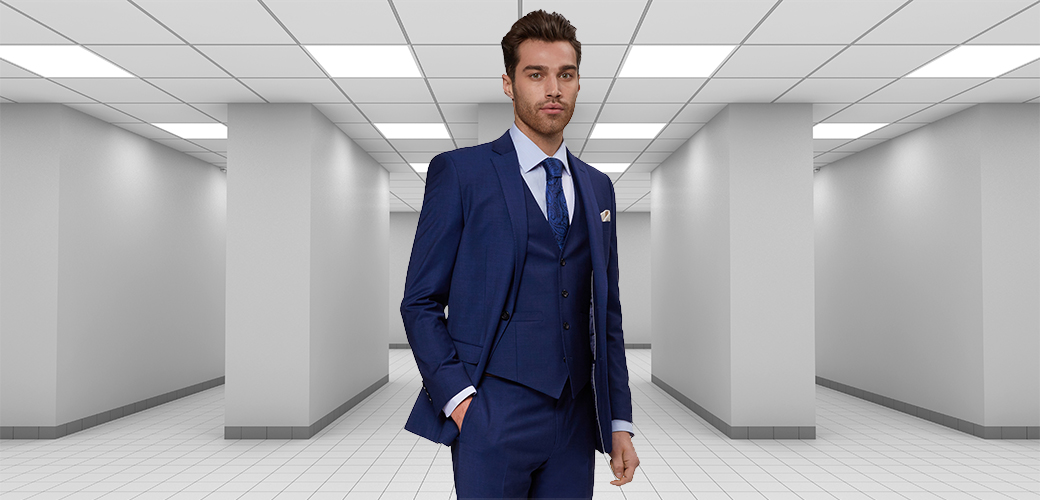 The weekday wardrobe: it's easy to get stuck in a rut when you're faced with strict office dress codes. But with a few styling tricks up your well-ironed sleeve, you can create a bank of different looks to get you through the week. Here's how to build a wardrobe that'll get the job done:
Let's start with the suit. For busy days, we suggest the Performance suit. With natural stretch, a breathable lining, crease recovery and a water and stain resistant finish, it's made to take care of business. Save the waistcoat for days you need to make a big impression and stick to a 2-piece for easy-to-wear, everyday style. This bright blue shade will set you apart from all the usual greys and navies in the boardroom but still looks professional.
Next up, the shirt. A traditional choice for the British office, the formal striped shirt is a classic you can rely on. If you're a regular fit guy, opt for Savoy Taylors Guild. Choose bold stripes in bright colours for impact, or a slimmer stripe for a more discreet effect.
For a contemporary look, our pick is this Moss slim fit textured stripe shirt. Made from 100% cotton with an easy-to-iron finish, it'll get you out the door through to post-work dinner without breaking a sweat. Even better, its optic-effect stripes and wider collar give it a premium feel that's bound to impress clients – and your boss.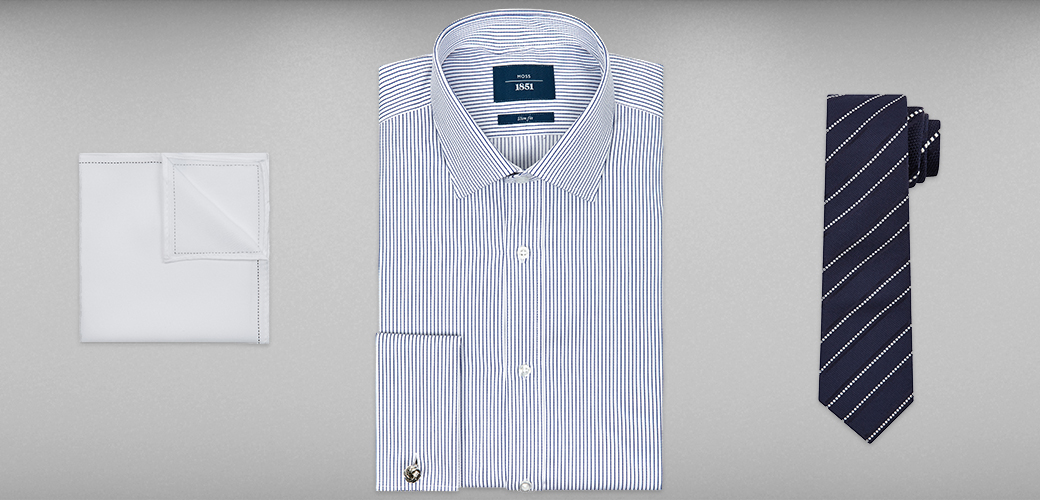 And now the accessories. Here's where you can dial up the mood, depending on what's on the agenda for the day.
For a failsafe option to complement your blue suit and striped shirt, stick to similarly coloured accessories.
This navy knitted tie will add a little texture for interest and a plain white pocket square will always look smart. Fold it in thirds, rather than half, for a neater look. A bit of advice: always stick to cotton pocket squares for the office as a satin one is better suited to weddings and other special occasions.
Bring the look up a notch by keeping the white pocket square but swapping the navy knitted tie out for this wine coloured one, which will really pop against your blue suit. Great if you want to stand out in a meeting, without distracting from all the important things you've got to say.
Want to take it a step further? This navy striped silk tie will mirror the pattern of your shirt but its broken stripe pattern is a more modern take on plainer styles. Switch out the plain pocket square for this Moss stitched edge version. It's a sharper option and its edging picks up the colours of the tie. Little touches like this make all the difference to set you apart as someone who cares about the details.
Last but not least, let's talk about what you put on your feet. Blue suits should always be worn with brown shoes, and you can't go wrong with classic derby lace-ups like these ones by John White. Unadorned bar the neat stitching, they're a sophisticated finishing touch that'll take you seamlessly from the office to the bar.
Alternatively, these textured derbies will subtly complement the knitted tie options mentioned above. They're a little less formal, though, so keep these for days when you can afford to dress a touch more casually.
And there you have it: one suit, several styling options to see you through the week. The kit you need to work smarter.