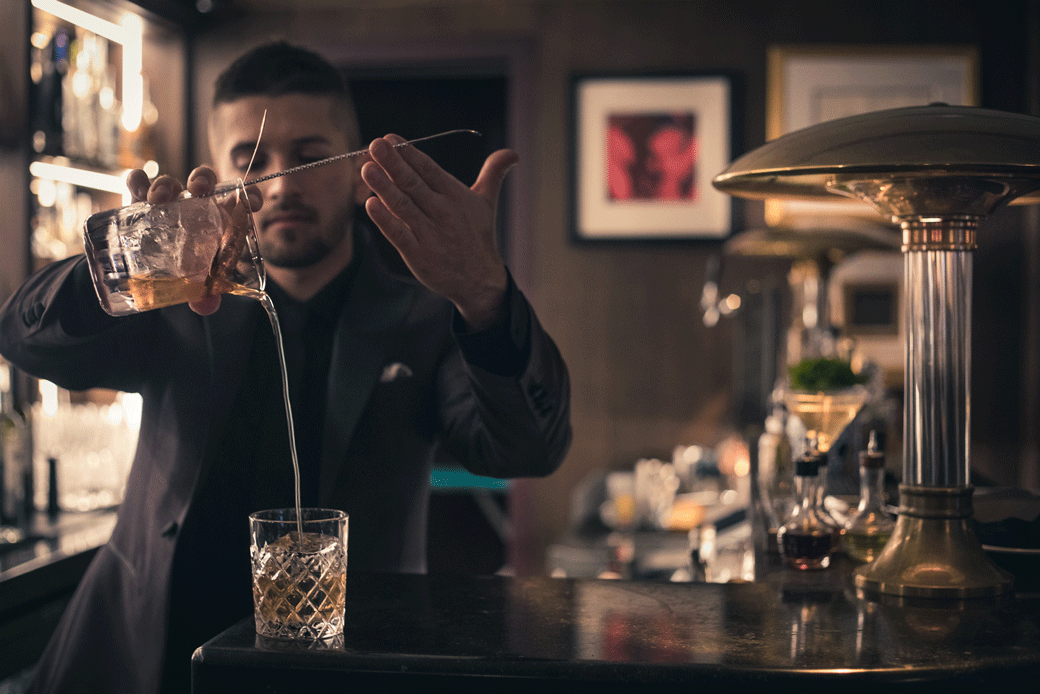 When the nights draw in and the lights go down, embrace the spirit of night-time revelry.
Party season is here and with it, your chance to shake off the 9-5 and revel in the promise of a great night out.
Who better to show off this season's partywear than the men who get the party started? We tasked mixologists from top London bars to create a cocktail inspired by this season's sharpest night-time looks.
The party starts here.
Mixologist: Adrien Russotto
Location: Henson's Bar at Mimi's Hotel Soho
"This white dress jacket is very elegant, very refined, and has lots of character. It said one thing to me: the Savoy American bar! I wanted to recreate one of the iconic bar's most popular cocktails from its heyday in the 1930s – the 'Atty' – in a modern way. I reduced the absinth flavour to a gentle rinse and added some floral and nutty notes with a blend of Amontillado sherry and dry vermouth. Everything's given a sharp finish with frozen FAIR. Quinoa Vodka. The result is a very elegant, gentlemanly drink – boozy and full of flavour."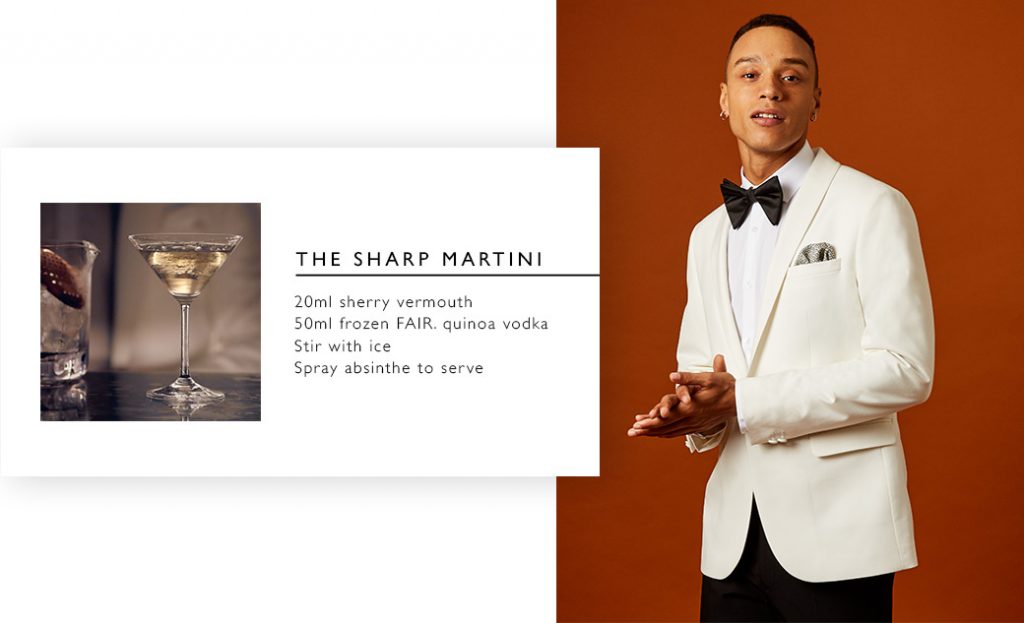 Mixologist: Phil Docherty
Location: Kurobuta Chelsea
"Once shaken, the Espresso Martini shares the jacket's subtle, elegant aesthetic. Both are a stunning mix of light and dark with the Martini's thick crema sitting upon a dark layer of fair trade coffee, while the jacket's striking and bold with its unique dark pattern. Both are are a standout, both compliment each other perfectly."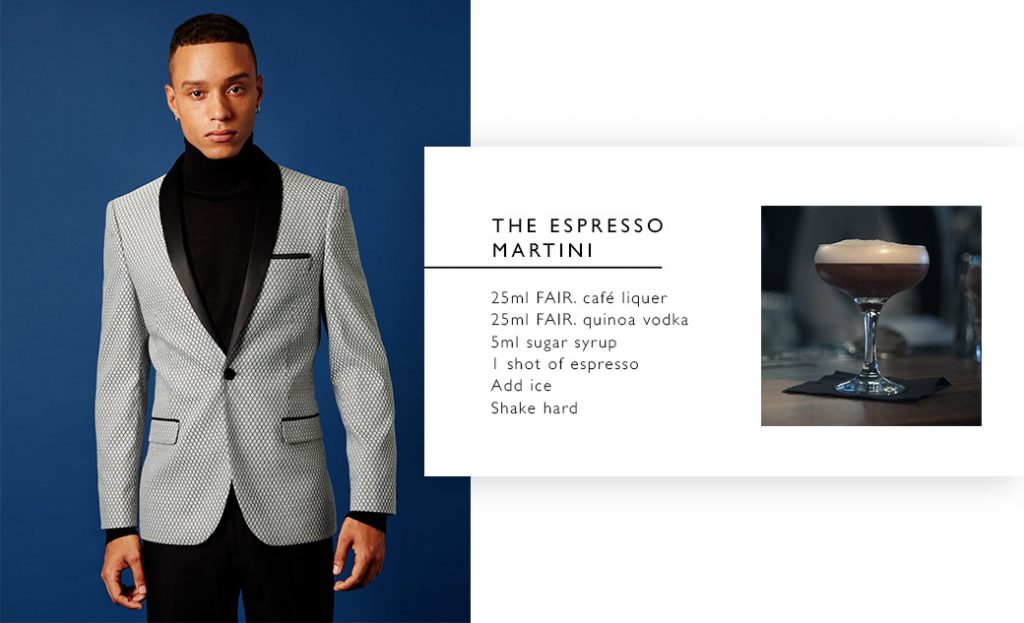 Mixologist: Adrien Russotto
Location: Henson's Bar at Mimi's Hotel Soho
"A twist on the classic Old Fashioned, this cocktail uses modern techniques and ingredients such as a butter fatwash in FAIR. Rum from Belize and young coconut water syrup. Its coppery tones reflect the jacket's fabric – a rich, warming shade with unexpected depth and texture."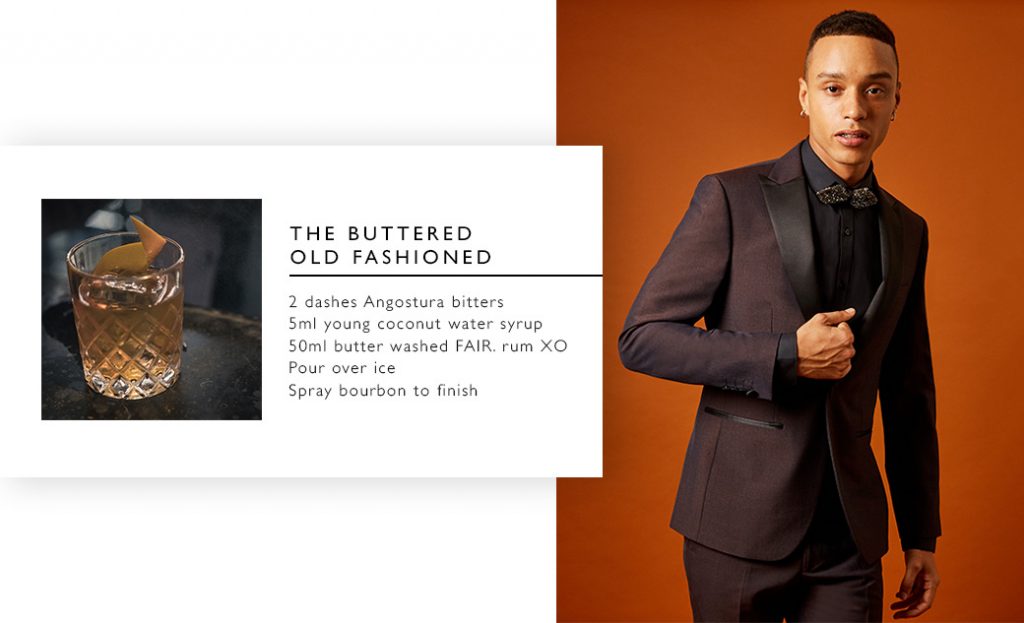 Mixologist: Phil Docherty
Location: Kurobuta Chelsea
"The the Merman cocktail was inspired by the ocean-like blues and dark currents of this jacket. Both a new kind of masculine, the cocktail's bold pink peppercorn and shiso garnish is a delightfully odd but modern mix for a gentleman – much like the jacket."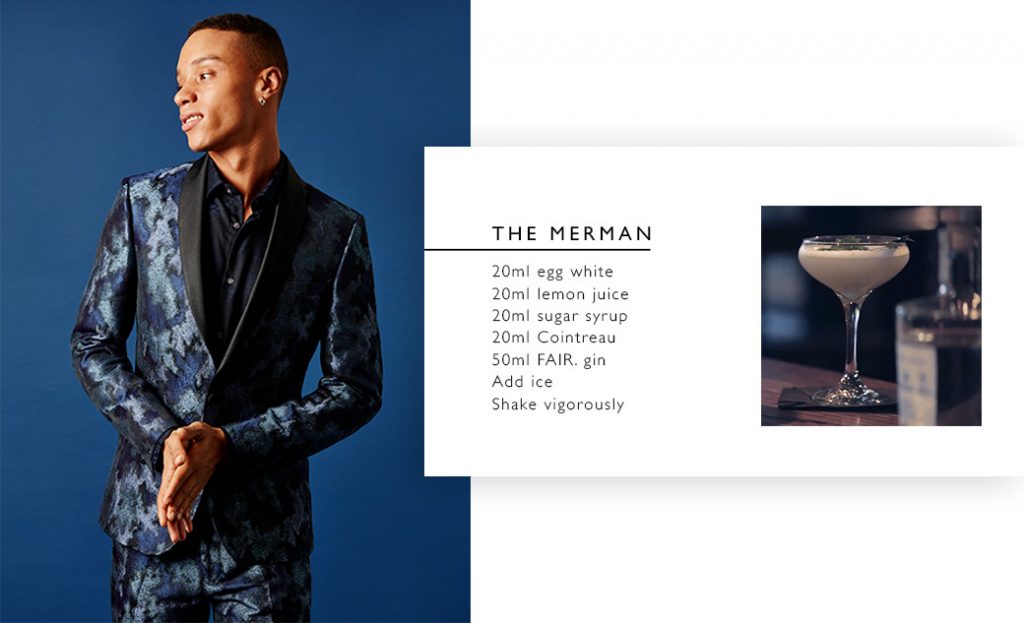 START THE PARTY
Moss Bros. supports Drinkaware. Find out more at drinkaware.co.uk