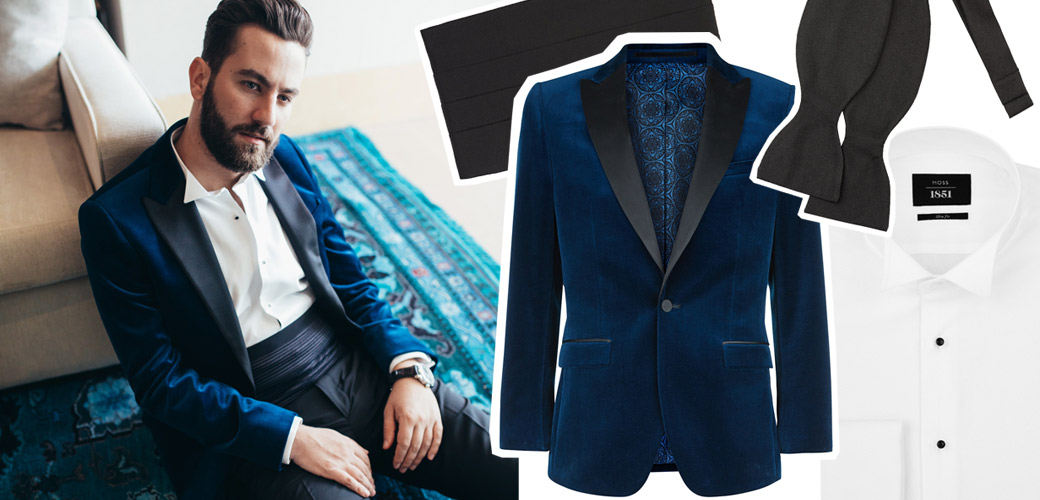 Got a Christmas party on the radar but tired of the same old black tie look? Take your style cue from The Gentleman Blogger Matthew Zorpas, the sharp dresser who's all about encouraging men to be a bit braver in their fashion choices.
Case in point: here he shows how embracing a bit of colour can bring your evening look to life. Forget the loud party shirt – Matthew's look is all about the subtle statement of his inky velvet jacket. Paired with classic men's eveningwear, a hero jacket is an elegant way to stand out of the party crowd.
Get the look with the Moss 1851 Tailored Fit Teal Velvet Jacket and complement its standout shade with Moss London Skinny Fit Navy Jacquard Dress Trousers and the Moss 1851 Slim Fit Marcella Wing Collar Dress Shirt. A classic silk bow tie will look all the smarter when coordinated with a cummerbund. It's a crying shame that the traditional cummerbund isn't in every man's wardrobe, as it's just the trick to streamline your silhouette (and hide the evidence of that extra mince pie). As the night goes on, slip the bow tie in your pocket and loosen the collar of your shirt for a look that'll take you right through to the early hours.
Find your hero velvet jacket here.
SHOP MATTHEW'S LOOK