Colour combos for all your suiting looks.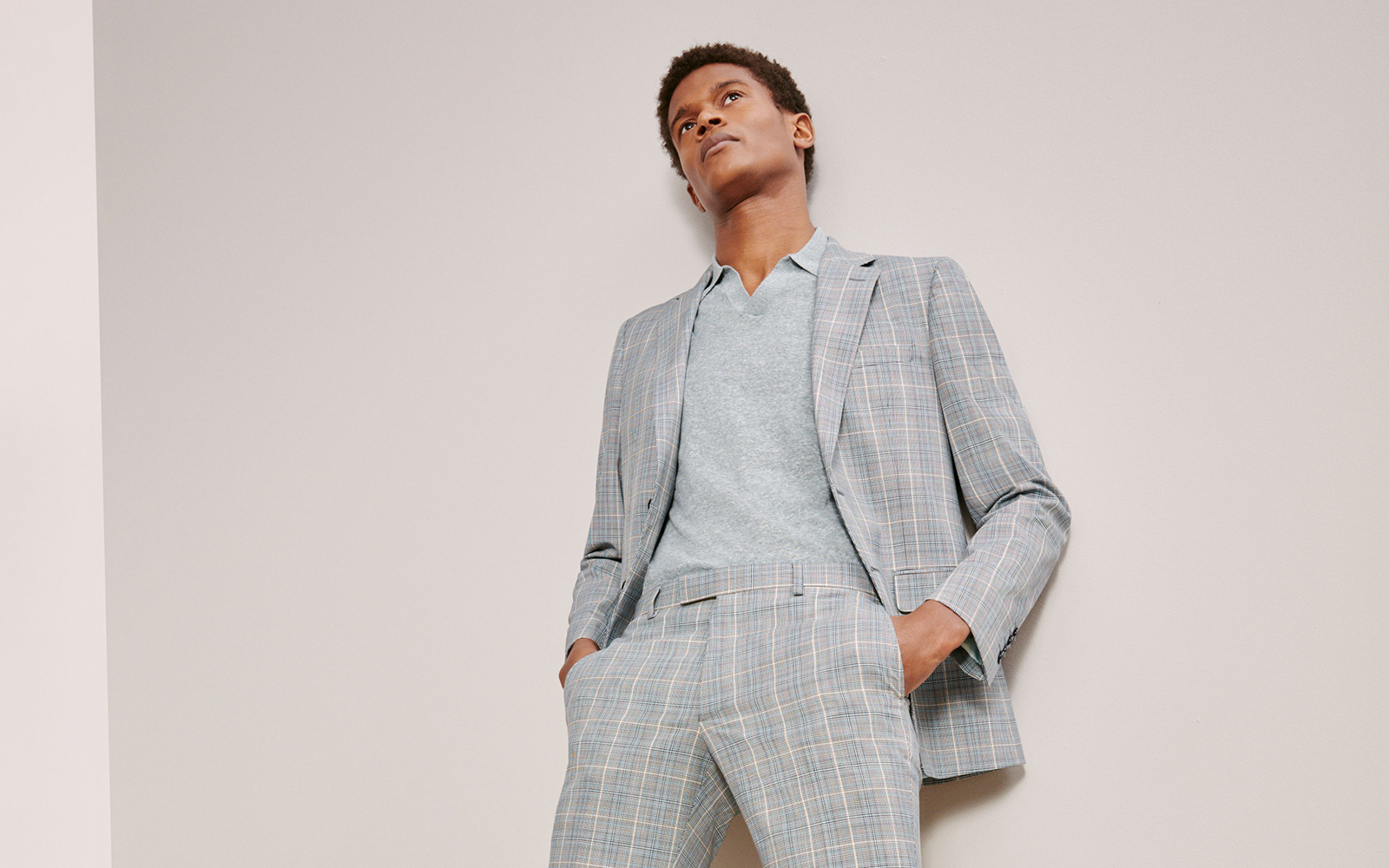 This with that: what shoes to wear with your suit
Finding a great suit is a win. It fits just right, the colour works with your skin tone, and the style is perfect for where you're wearing it. But, the next hurdle is choosing the perfect accessories.
A super important consideration is your shoes. And it's not an easy puzzle to piece together, since there are so many unwritten rules to follow. Can you wear black shoes with a brown suit? Can you mix different tones of the same colour? Can you go for a more casual pair to dress your look down? The answer most often is "it depends," which isn't always helpful.
So, we've put together some examples of suit and shoe pairings that make for a great outfit. We've broken a few of those age-old rules, but that just goes to show you can, too.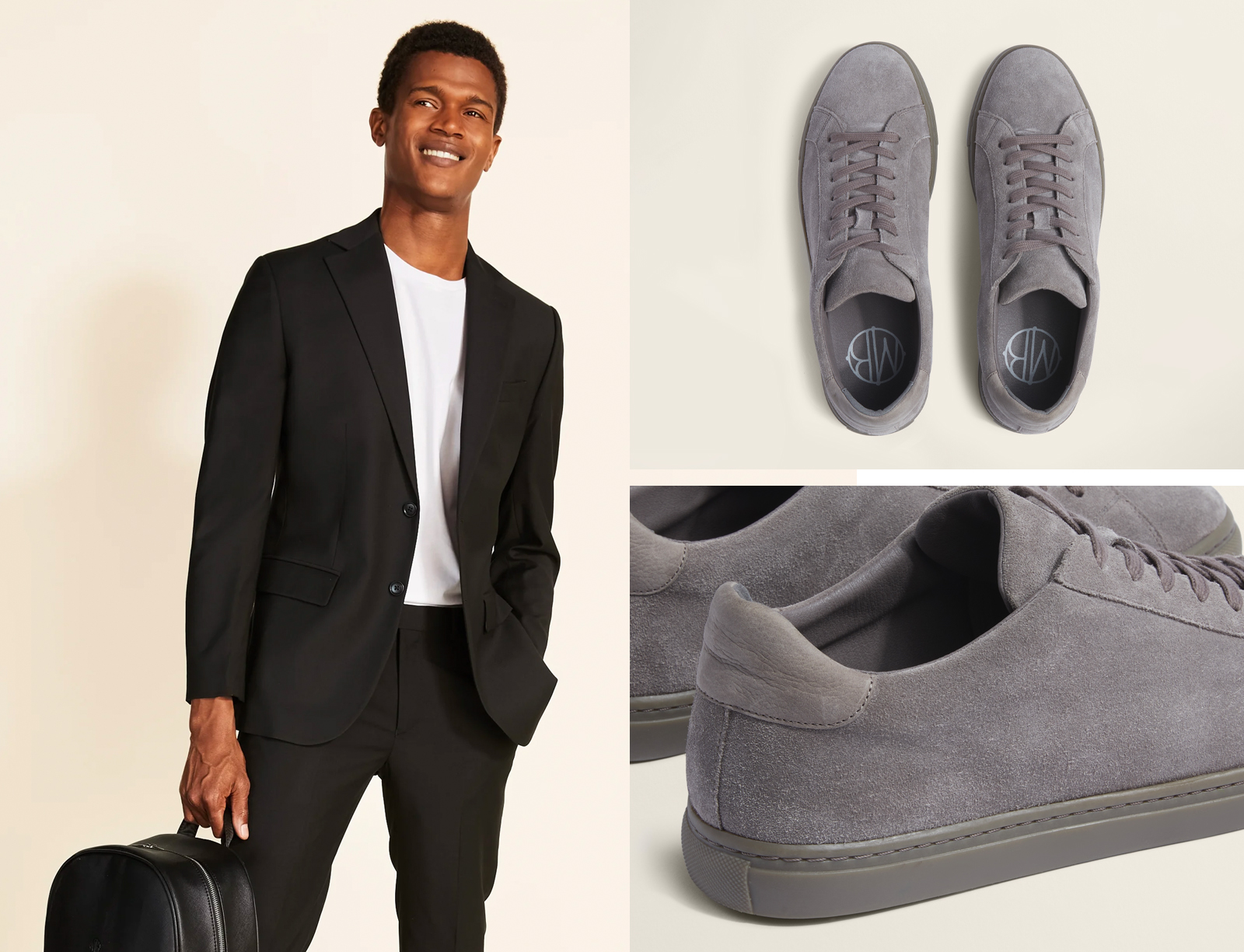 Black suit with grey trainers
A black suit is probably one of the more formal options. So, if you're headed to an event that doesn't call for black tie, try wearing a black suit with a pair of trainers. And while solid white trainers might be an obvious choice, we like the texture and tonal look our grey suede ones offer.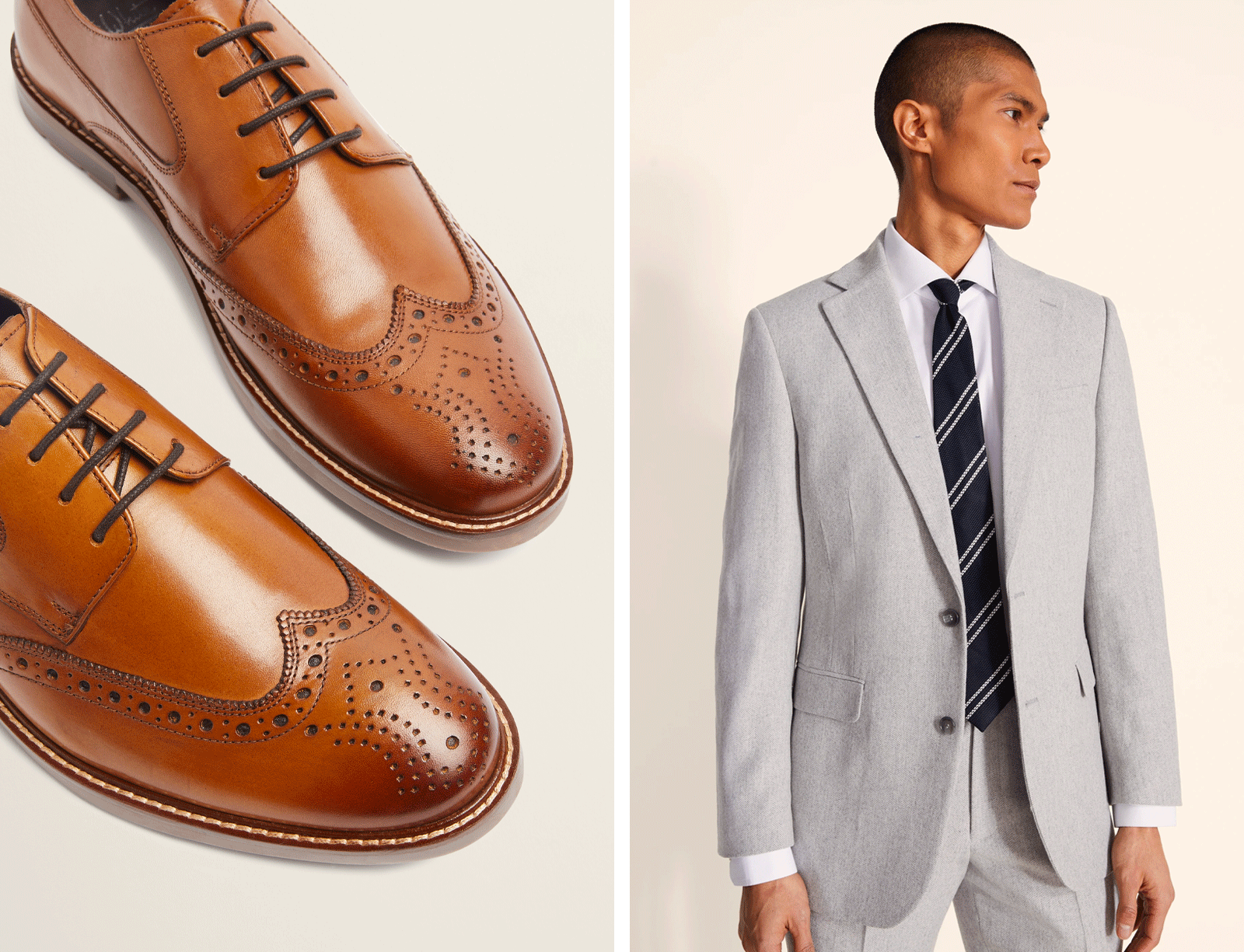 Grey suit with brown brogues
You might be tempted to go for black shoes with a grey suit, but particularly for spring or summer events, opting for a brown pair is a much lighter look. Choose a pair with warmer undertones that will compliment the cooler tones of your grey suit, and look for a tie or pocket square that contrasts with the shoes. This look is really versatile, as well, ideal for the office or a wedding.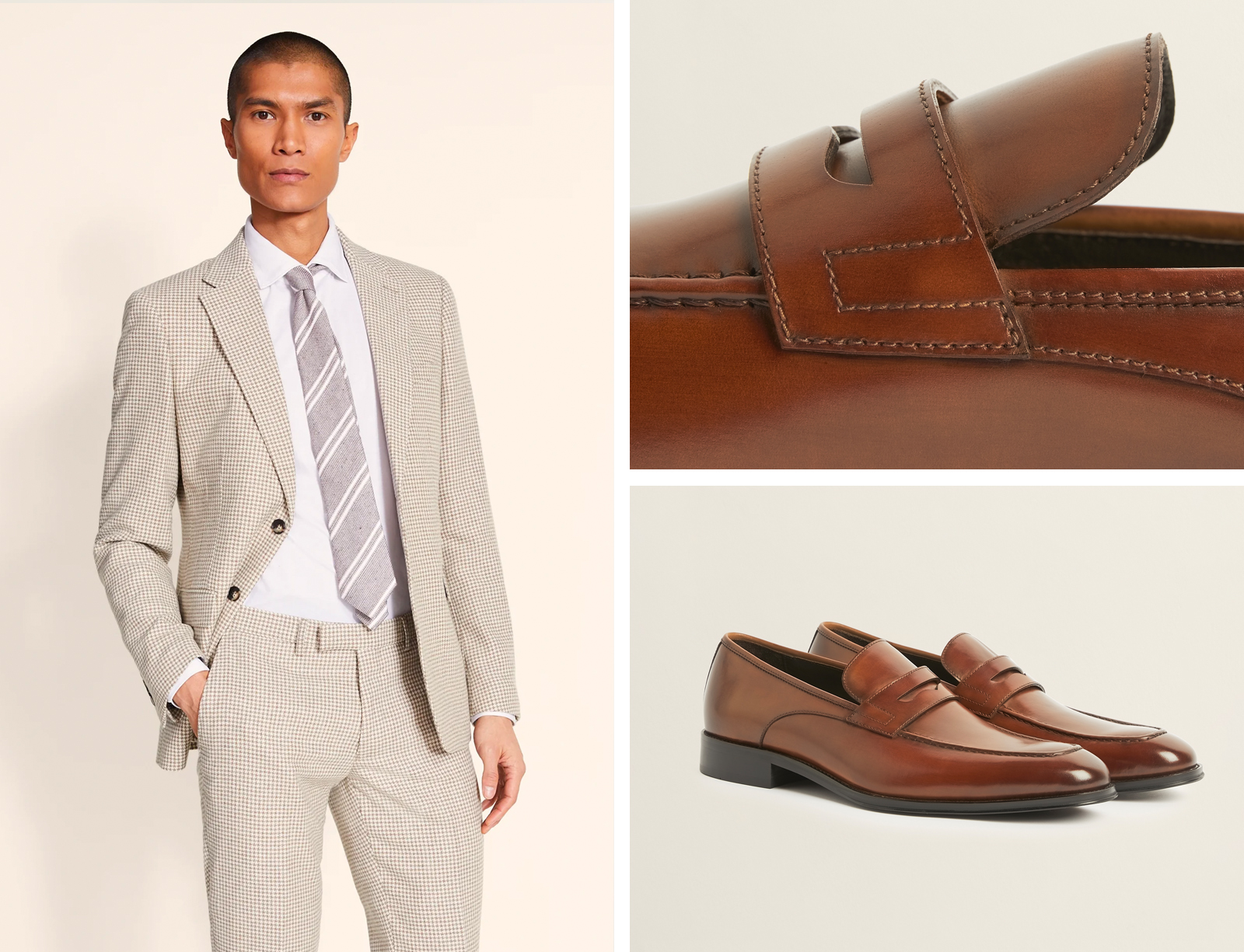 Taupe suit with leather loafers
Neutral looks are on-trend for spring and summer, and our taupe houndstooth suit is the perfect base to achieve that look. Finish it off with a pair of brown leather loafers that will add a bit of polish, but maintain that overall, cohesive tone.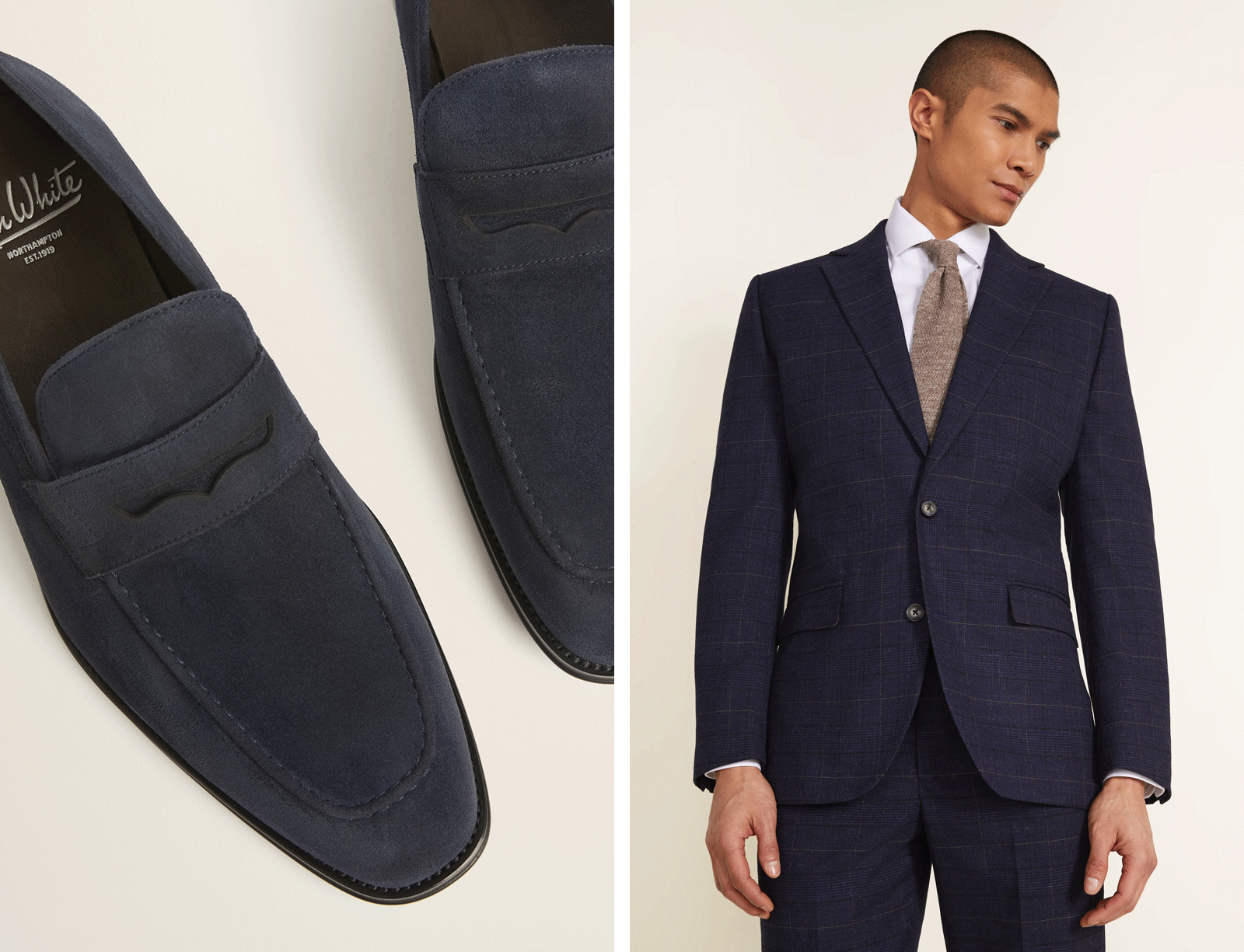 Navy suit with navy suede loafers
Another tonal look, but in blue this time. Putting a modern spin on a classic look, take your blue suit up a notch with a pair of blue suede loafers. Depending on the accessories you choose, this unexpected pairing could be dressed up for a groom, or down for a more casual evening event.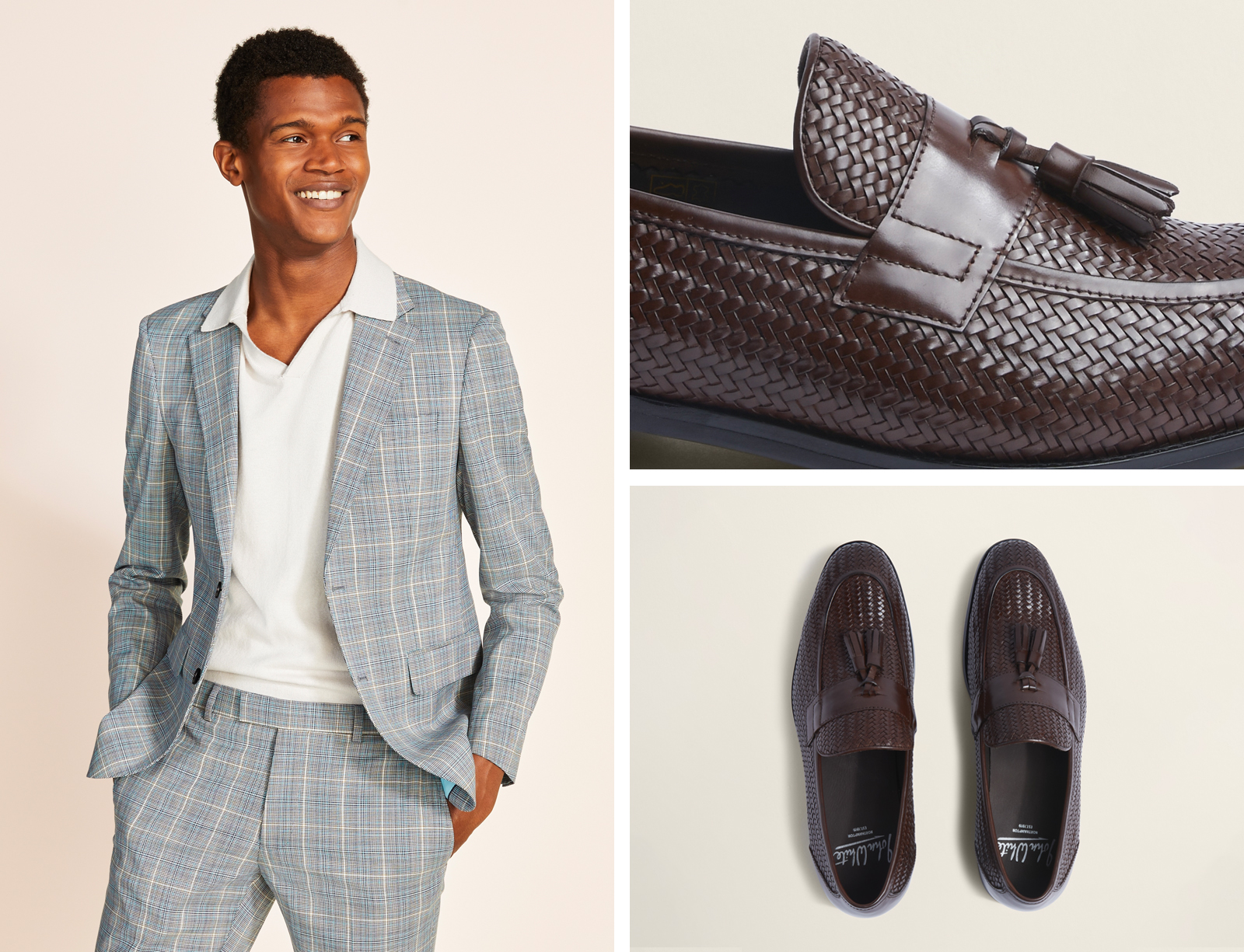 Colourful suit woven loafers
A bold suit can be intimidating. Don't overcomplicate things and go with a wearable pair of loafers that have a bit of visual interest in the form of woven leather. The warm brown won't compete with the colourful suit, but they'll also look intentional thanks to the texture.
No matter what shoes you choose to wear with your favourite suit, make sure you feel comfortable in them and you'll wear them again. If they tick both of those boxes, you've got a great investment on your hands (or feet).